1967 Coronet R/T Coated with ArmorBlast
When ArmorThane owner, Garry Froese, bought a 1967 Coronet convertible, it was in bad condition, to say the least.  After hundreds of hours breathing new life into the car, Froese knew they should coat the chassis and other parts with the toughest, most flexible material they had.  While there was no reason for the explosion-shielding qualities of ArmorBlast Polyurea, the other characteristics such as corrosion resistance and elasticity would protect the car for years.
The Dodge Coronet brand, developed in 1949, went through four design generations during the 1950's but was dropped from the line for 1960.  It was re-introduced with a new look using straight lines and a unique air intake of a high-performance "muscle car" in 1965.  This fifth generation of the Coronet ran from 1965 to 1970.  The R/T (Road/Track) version was introduced in 1967 and continued through 1970.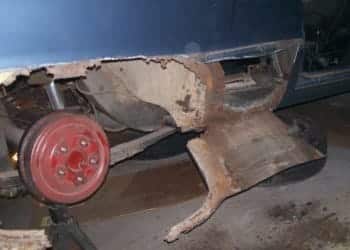 Early on, Froese worked on cars and rebuilt engines with his father who was a mechanic.  He, in turn, worked with his son to renovate a 1973 Camaro Z28.  After several years of abandoning this hobby, the interest was renewed and he began the search online find one to restore.
When a vintage Mopar vehicle was found in North Carolina, it had two bonuses.  First, the 1967 Coronet had always been a favorite.  Second, Froese presumed that a Southern car would have less damage from the road chemicals of a snowy Northern location.  The car body looked to be in good shape, although not great.  The condition of the standard 440-cid V-8 big block engine did not matter since the plan was to rebuild it for maximum performance.
Unfortunately, the car had more rust than expected.  Under the quarter panels was a badly damaged interior.  It was transported to the ArmorThane facility in Springfield, Missouri, where Froese had greater access to equipment and recruited the help of company staff who shared the passion and experience of restoring cars.
The Challenge
Exterior body panels and other parts had to be patched, replaced or in some instances completely rebuilt.  As with any restoration project, challenges were abundant, but after six long years, tenacity prevailed.
One of the overall problems was that, unlike other muscle cars, the Dodge Coronet has few aftermarket parts to order.  Most components had to be located in junk yards, from parts collectors or rebuilt in the shop.
Basically, the car became one giant puzzle. It was critical to keep an overview of the total project.  With the magnitude of repairs, numerous parts had to be removed and coded to be put back together.
A convertible with no doors raised the concern of the car folding in as it was maneuvered for repairs.   The solution was to weld extra bracing and reinforce the door openings.  A body rotisserie added support and made the work areas much more accessible.
Some parts, such as the rear frame rails and the right front wheel well, were in too bad of condition to use and had to be fabricated.  Parts that could be saved were repaired by welding and using body work on the panels.  Other sections, including the fenders, quarter panels and trunk were replaced with clean, rust-free junkyard items coming from Arizona. They made certain to use the same year and model.
After all of the parts were replaced or repaired, the bare metal floorboards, trunk pan, wheel wells and underbody were primed then sprayed with ArmorThane's ArmorBlast coating.   This would ensure ultimate long-term rust-free protection.
The 440-c.i. Magnum V-8 engine was reconstructed using parts from various locations.  With a stroked crankshaft and 493 cube inches, the car was built for being especially fast in straight line start up.  Froese went to a third party bench-testing facility in New Jersey to make certain the motor ran correctly.  It met his expectations with 550 horsepower and 610 foot-pounds-force of torque at 3200 RPMs.  The R/T speedometer goes to 150 mph.
The car was ready to paint.  A glossy black with flat black stripes replaced the original blue color.  While not part of the 1967 model, stripes and a decal of the Super Bee were added.  The Super Bee was placed on the rear quarter panels with the name JAKE under it in memory of Froese's father and their shared love of cars.
The only part of the project that had to be redone was sections of the paint after the installation of the convertible top.  The original cover was in fairly good condition for the age, but after a new paint job, it was simply not good enough.  When the car was taken to have the new top fitted and installed, that company splashed glue on the paint job and it had to be repaired.
Applying Blast Protection Material
While one of ArmorThane polyurethane coatings used in bed liners would have prevented scratches, dents, cracks and corrosion, Froese opted for the ultimate blast mitigation material.  After that much effort, why cut corners?
ArmorBlast is a two-component 100% polyurea sprayed coating.  It is used in military and law enforcement vehicles, grenade training camps, high profile buildings and combustible-prone environments such as chemical plants and refineries.  This coating creates a blast-resistant barrier to reduce structural damage and injury or even death by keeping surfaces from fragmenting under massive pressure.
The value this coating brings to the '67 Coronet is maximum stability and durability for the frame and other areas.  The elongation and tensile strength also give the best balance of flexibility and rigidity for a smooth ride.  The coated metal parts will never rust again.
With a tuned exhaust system, the sound can be quite loud.  Adding layers of ArmorBlast on the bottom also provides sound deadening from both the pipes and road noise.
Conclusion
With the help of Jack Anderson, ArmorThane Technical Supervisor, Froese transformed the faded, warped and extremely rusted blue piece of junk to a sleek, black show car.  They learned new lessons and enjoyed overcoming the challenges along the way.
They caution that sequence has to be followed with a project of this size.  There can be no shortcuts.  You have to think ahead on how one decision impacts the overall build of the car.  Knowing now what has to be done will make the next project go faster.
Will there be a next project?  Anderson says he already has one planned.  Froese will enjoy the car for a while before eventually selling.  He would like to find a sportier project.  This one will have parts readily available and hopefully less damage.
The car debuted at the Street Car Take Over in the St. Louis area on Memorial Weekend.  The fact it was sprayed with ArmorBlast got a lot of attention.  Froese, who travels to distributors all over the world, commented, "With this much blast protection, the car may even end up in the Middle East some day."