ArmorThane Part Of
NIKE FASHION WEEK​
When a Nike display set designer saw a video spraying polyurea, she called ArmorThane for help.  The idea for one of twelve displays at the Nike Innovation Summit 2016 in March was to spray an old F16 jet ejection seat.
While the project sounded simple enough, ArmorThane dealer Mike Chudzik, owner of Cove Coating, had a challenge on his hands.  Working toward the designer's specific idea, Chudzik's task was to put that vision into reality.  He took his equipment and chemicals from Massachusetts to the New York City production house where he sprayed samples and set up a test chair before tackling the hero prop.  The look was to be contemporary, glass-smooth and shiny yet rugged enough to retain its original features.
Chudzik spent a day and a half testing and another day and a half coating the final seat. There were multiple types of surfaces to consider.  One was the hard metal of the frame and oxygen tank.  Another part included the soft material of the cushions and harnesses.  The cushions and small pieces were coated separately then glued back to retain distinction.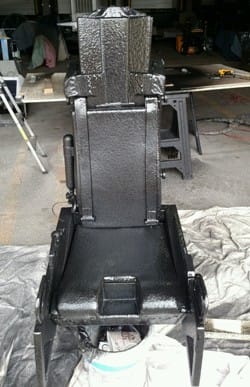 To ensure a good bond, the surfaces were scuffed then primed.  The cushion seams were taped for a sleeker appearance.  Everything was sprayed with several coatings of ArmorThane STS-300 polyurethane to achieve one-sixteenth minimum thickness.  The next step used white Polyaspartic for a smoother texture.  The final step was four coatings of auto-grade clear urethane spray to accomplish the high gloss look the designer required.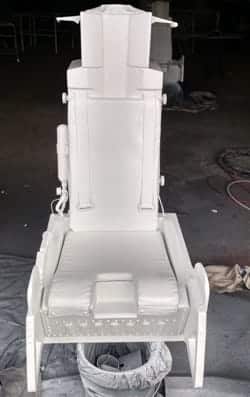 The Nike Innovation Summit 2016 event was an invitation-only show for fashion media, athletes and celebrities.  This million-dollar experience touted more than the typical seasonal updates.  Nike unveiled several truly new products backed by years of research and development.  It was held in the Skylight at Moynihan Station, located in the historic James A. Farley Post Office in Manhattan.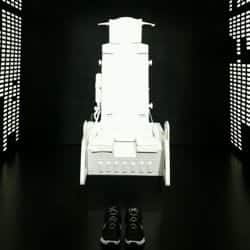 Although Chudzik found the project a bit stressful at times and sought some technical support from ArmorThane, he welcomed the challenge. His philosophy is to never say "no".  In fact, he has sprayed antique full-size trains for museums and dog wheel chairs along with the typical ArmorThane jobs such as floors, fountains, trailers and trucks.  His great work and enthusiasm on the Nike project opened the door to future ventures with the design house.
BE YOUR OWN BOSS

START YOUR OWN COATINGS BUSINESS
Without a profit stealing franchise model that restricts business potential, we assist you in developing a financial plan and formulating product costs that position you for success once you join the ArmorThane applicator network. Starting your own coatings business has never been so easy.
A small investment for coating equipment and products will get you started in a new polyurea, polyurethane, and spray foam business or increase the revenue of an existing company. With no franchise fees or royalties, starting a protective coating business or other ArmorThane dealer business is a relatively low cost venture. 
We provide personal training to get your new polyurea or polyurethane system up and going. Plus, we have a dedicated support team ready to assist you anytime you need us. We sell to dealers around the world who use our products for a wide variety of applications. These include everything from truck bed liners to animal habitats.