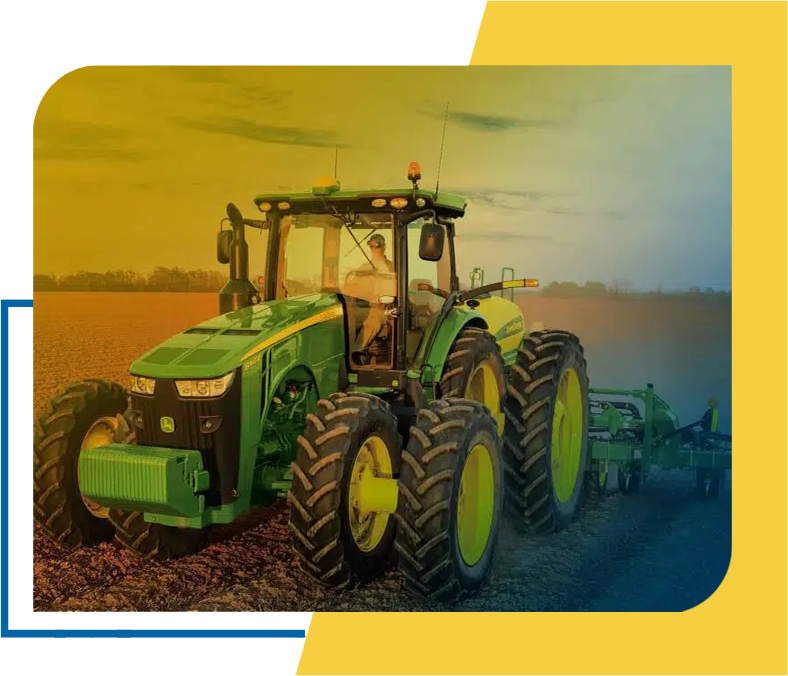 IMPROVE WEAR RESISTANCE AND EXTEND THE LIFE OF THE EQUIPMENT
The Solution
The use of food-grade coatings like Polyurea for the agriculture industry will help reduce the cost of these products while enhancing safe sanitation practices.
What is Polyurea?
Polyurea is a highly flexible protective coating that is suitable in a variety of residential and industrial projects. It is a great way to safeguard a wide range of materials from rust, corrosion, water damage, and various other kinds of damage.
Made up of an aliphatic or aromatic isocyanate blended with an amine blend, Polyurea is applied by sprays. The gel forms and becomes dry to the surface in just a few minutes, making a smooth, chemically resistant, scratch-resistant, and waterproof surface.
Benefits of Using Polyurea To Aid In The Agriculture Industry
Polyurea is a cost-effective way to shield equipment used in agriculture and trucks, and food processing facilities from contamination. Here are a few benefits of using Polyurea protecting coatings within the agriculture industry.
Polyurea is among the most flexible, durable, and abrasion-resistant protecting coatings available. Because of its polymer properties, Polyurea is also highly waterproof, abrasion-resistant, and chemically resistant. It won't break or crack when exposed to high-pressure washing methods or harsh sanitation chemicals. Other coatings can chip or crack when exposed to these techniques for cleaning, which can permit microbes to enter the cracks and grow.
If you have the help of a polyurea coating, you can avoid this. Polyurea's powerful anti-bacterial properties guarantee that food processing facilities' health and safety regulations can be easily adhered to.
It insulates against Cold and Hot Temperature Variations.
Apart from adhering to strict sanitation standards, another important issue facing the beverage and food industry is keeping products at the right temperature. Certain items must be kept at a specific temperature to preserve their freshness, keep their spoilage during changes, and extend their shelf-life.
Polyurea can protect food processing equipment, facilities tanks, and vehicles regardless of temperature or fluctuations. Polyurea can stand up to a wide temperature range and isn't susceptible to thermal shock. Certain foods like meat need freezing temperatures, while beverages need cold temperatures, and some products, like certain tropical fruits, are best kept at moderate to warm temperatures.
It's Environmentally Friendly
Pure polyureas are completely solids, free of solvents or VOCs. They are eco-friendly coatings that do not emit any smell or release during installation.
Polyurea It is applied through certified installers who use a specific multi-component high pressure, temperature control system using a spray gun. Because it gels in six seconds, it can be applied in a virtually unlimited thickness in just one stroke. You can return the area to serve in 24-hours or less.
Protective coatings made of Polyurea can save the food industry much time and cost and require minimal maintenance and work. Here are a few food industry applications of polyurea coatings.
Flooring protection is among the most commonly used applications of Polyurea protecting coatings. Polyurea is the safety, cleanliness, waterproof, abrasion-resistant, and chemically resistant surface for people to walk on. It is also cured within minutes, which avoids lengthy interruptions in operations and allows them to be resumed quickly.
Protective coatings made of Polyurea protect against cold air loss, which can lead to food spoilage, and an increase in the use of energy or operating costs for food processing facilities. They are also able to withstand very cold temperatures and not crack.
Food Processing Equipment
It's not just the food processing and storage infrastructure that needs protection from contamination–equipment is also a major risk. It is recommended that food-grade polyurea protective coatings are a good choice to avoid cross-contamination between equipment utilized to handle more than one kind of product since they are simple to clean. These coatings can also safeguard equipment such as feed troughs in farms against wear and tear.
Silos are structures that are utilized to store large quantities of materials. For the agriculture industry, silos can store grains, animal feed, coal-based products, including cement, woodchips, sawdust, and other products. The items stored within these areas are referred to as silage. To avoid these products getting damaged or exposed to potentially harmful contamination, the interior silos' exterior and interior silos must be sprayed with a tough polyurea protecting coating.
If used to make the lining of tanks inside, Polyurea provides a completely seamless, monolithic surface that serves as a layer between potentially harmful contaminants and food items. This is particularly important for food transportation and delivery processes in which the danger of contamination is always very high.
Get in touch with ArmorThane for Polyurea Coatings for your Farm and Food Processing Facility.
ArmorThane is one of the top providers of premium polyurea protection coatings. Our wide range of highly effective polyurea protective coatings has been tested and proven to work in various situations and applications. Get in touch with us now to learn more information about Our solutions and find out how they can enhance the safety and efficiency of your processing operation.