Repairing Deteriorating Sewer Systems, Part 2
In Part 1 of Repairing Deteriorating Sewer Systems, the set up and demonstration of spraying a concrete box culvert was explained along with some of the challenges of working internationally.  Part 2 addresses the specific steps in repairing manholes.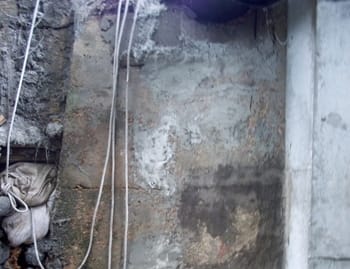 Brick and mortar sewer manholes are particularly vulnerable to crumbling.  As the initial access point to inspect, rehabilitate and maintain the sewer system, it is critical to preserve their reliability and safety.  They are typically 4 feet to 40 feet deep (about 1-12 m).
"Because sewers are a grid of underground tunnels that carry waste throughout the city to the treatment facilities, there are always a number of challenges facing the task," says Anderson.  "And, Hong Kong was no exception."
The first challenge on a sewer project is circumventing the flow of sewage to work on manholes and tunnels without creating significant problems upstream.  Because of the extra time involved with demonstrating and training, a less used line is selected.  An airbag is inserted upstream and inflated to stop the flow.  Next, the flow has to be diverted around the area to a downstream line using a trash pumping system.
Once the sewage line is cleared, all surfaces have to be power washed, thoroughly dried and repaired.  ArmorCrete 110 Primer Sealer is sprayed before the special polyurea because it seeps into holes and cracks and completely seals weak areas.  This gel material also holds its position and remains tacky.
Next, our HighLine 510 polyurea is sprayed.  This is specially formulated to not react to residual moisture inherent in Hong Kong and sewer systems in general.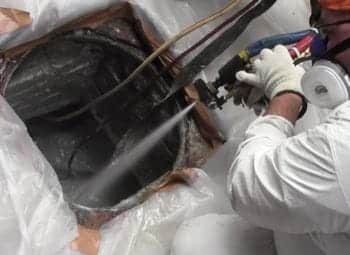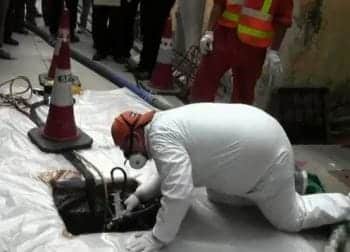 The two-component polyurea coating involves heating and spraying.  Our high-speed, high-pressure HighLine equipment provides the control needed for successful results.  The chemical reacts quickly to form a seamless protective barrier. A second coating was applied to yield an approximate total thickness of 120 mils.
HighLine polyurea outperforms other coatings because it does not crack even as the conditions cause the surface to expand and contract.  It is extremely resistant to corrosive chemicals and temperature change.
During project approval, Anderson demonstrated processing chemicals and gun operation for maximum control and performance to local applicators.  Then they trained by spraying felt samples to gain experience with the equipment before working on a manhole.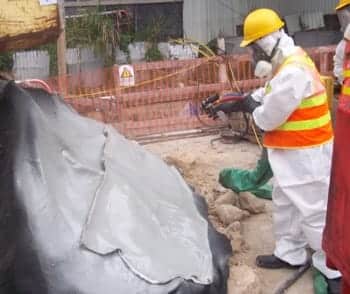 Actual spraying of one manhole takes about four hours.   The total time for each is one to two days depending on the size and deterioration of the manhole.  This allows for all of the steps involved in cleaning, drying, repairing, spraying and curing.
Moving forward, 40 manholes were scheduled for maintenance.
Read Part 1 on how the project was proposed.
Learn more about sanitation systems the repair and coating of 12 to 25 story high Refuse Chutes in Singapore flats.
Read more about all of the ArmorThane Sewer, Trash, and Wastewater applications.