Which Is Better…a Spray-In Bed Liner or Factory Installed?
Today's pickup trucks are expensive and whether we keep for years or want to maintain the best resale value, we want that truck to look great while driving. Even if the truck is not used for work every day, it eventually gets scratched and dented. The best insurance for keeping it looking great is a bed liner.
Factory Spray-on Bed Liner Considerations
Five points are important in comparing factory bed liners to spray-on ones. First is the thickness, the biggest complaint with factory coatings. They are usually very thin (50-60 mils or 1/16 inch)…more for slip resistance than protection. ArmorThane specifies spraying of 125-250 mils or 1/8 inch to 1/4 inch. This ensures against scratching, cracking and chipping even under heavy usage. If a bed liner scratches or bubbles, rusting starts in no time.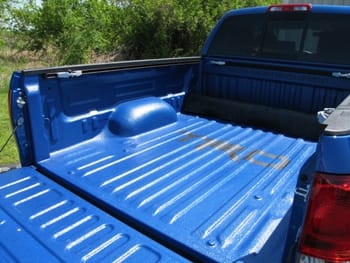 A second issue is that factory coatings are what's termed "aromatic" and will fade over time. We use an "aliphatic" ColorCoat system that doesn't fade, even in extreme weather conditions and prolonged direct sunlight.
Thirdly, while most manufacturers simply offer black, ArmorThane's ColorCoat system can match any automaker color, even metallics. Some owners want to match; others want a contrast.
Another point is that many truck owners want more than beds sprayed. By going to aftermarket applicators, they can also add protective or decorative coatings to bumpers, fenders, grills, rocker panels, undercarriages, and floors. All matching, all ultra protected.
Finally, if a bed liner has to be repaired after an accident, it can't be taken back to the manufacture. With a spray-in bed liner, the original product is easily repaired by a dealer.
Drop-In Bed Liners
Spray-on bed liners are difficult to do in factories because of the preparation and curing times. Don't settle for the drop-in versions. For a few dollars more, you can get a professionally sprayed-on bed liner that lasts for years. Read more about the issues with drop-in liners.
Dealership Bed Liners
Getting that new truck is exciting and it should have a bed liner installed right away. Otherwise, those first scratches and dents are painful. Our polyurethane sprayed-on liners form a permanent bond with the metal to become completely water, dirt, and chemical resistant.
Many of ArmorThane's customers are truck dealerships and they provide the quality you want right from their service shop. If they don't spray bed liners, most will know who in the area offers ArmorThane products. Or, you can always call us for locations.
Check out this YouTube video of what it takes to spray on an ArmorThane bed liner.
Here's what cladding did to one customer who turned to ArmorThane for repairs and restoration.