ArmorThane Holds Spraying Refresher Course
Garry Froese, CEO, and two technical staff members provided a full day class in the Training Lab at ArmorThane headquarters.  While initial training is given at the dealer's location, the questions coming into the support line led to the decision for further instruction.  Froese recognized that it is hard to grasp the finer points of the operational procedures in a day or two.  Also, as new applicators come onboard and training is done "second hand", some information can be lost.
The Refresher Training is offered at no cost to dealers except for travel expenses.  The class started with understanding the importance of each step of the process.  Knowing the chemistry behind a procedure reinforces the need for precision and helps identify and fix potential problems.  Staff covered everything including safety, setting up equipment, mixing and testing product, spraying the perfect coating, complete tear down/rebuild, clean up and basic maintenance.
Although dealers work in different industries, such a truck bed liners and secondary containments, much of the process is the same.  Detailed demos were done on sample boards.  Both high pressure and low pressure equipment were shown.  Applicators had a good chance for Q&A and printouts were given as requested.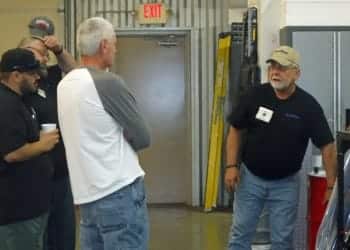 All of the participants were extremely pleased with the information and highly recommend it to others.  While they were already experienced with ArmorThane spraying, they didn't see this being too remedial because of the extra detail and great tips.  Most were particularly interested in the best way to tear down and clean guns and pumps since this is critical for both maximizing project time and safeguarding the equipment.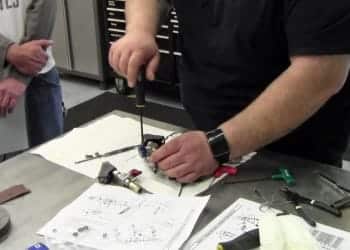 Froese expects to benefit from these initiatives.  "Our goal is for applicators to deliver excellent products.  However, spraying polyurethane and polyurea coatings is a relatively complicated process.  Therefore, the more our applicators are trained, the better the project results are for their customers."
The next Refresher Training will be offered for ArmorThane dealer applicators on Saturday, September 17.
Want To Become an Applicator?
A small investment for coating equipment and products will get you started in a new polyurea, polyurethane, and spray foam business or increase the revenue of an existing company. With no franchise fees or royalties, starting a protective coating business or other ArmorThane dealer business is a relatively low cost venture. 
We provide personal training to get your new polyurea or polyurethane system up and going. Plus, we have a dedicated support team ready to assist you anytime you need us. We sell to dealers around the world who use our products for a wide variety of applications. These include everything from truck bed liners to animal habitats.