Turn-Key
Mobile Spray Rigs
TURN-KEY
MOBILE SPRAY RIGS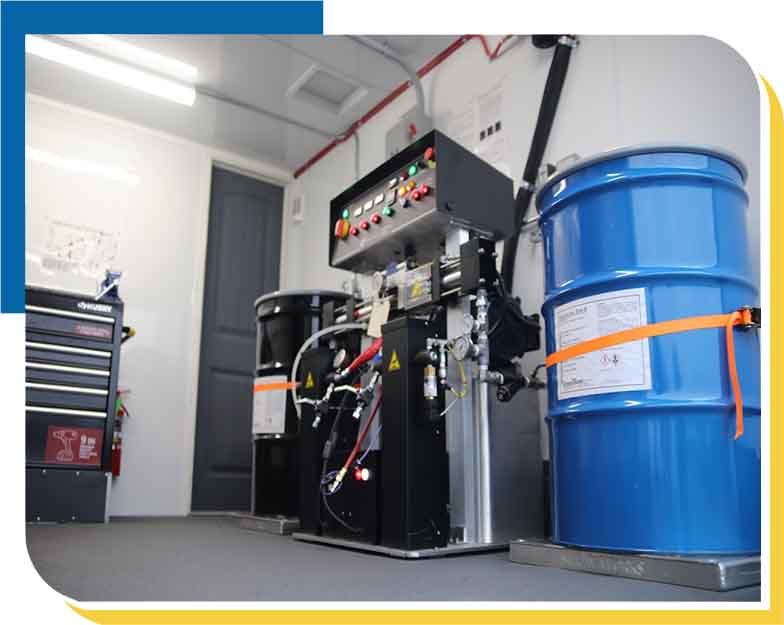 CUSTOM TURN-KEY
MOBILE SPRAY RIGS
 ArmorThane is proud to announce the completion of our new Mobile Spray Rig builder. It is now very easy to submit your needs and provide you with all the features and equipment you need for your protective coating business. ArmorThane offers a full line of custom turn-key mobile spray rigs and equipment specifically for you. From residential insulation to pipe coating ArmorThane has you covered.
ArmorThane has been building mobile spray rigs for over 30 Years. That's about twice the time most rig builders have been in business. Each mobile spray rig is custom-built using only the best time-tested equipment in the USA. We do not hire out the construction of our spray rigs like many competitors. We do not subcontract any phase of the build. All our Spray Rig work is accomplished in-house at ArmorThane. When you need some help and call us for technical support on your Mobile Spray Rig, you will speak directly with the team that built your spray rig, not some salesman who never set foot in the rig. We are proud to say that hundreds of mobile spray rigs across the country were built… "at ArmorThane by ArmorThane."

Built Solid to Support
Equipment and Materials​

ArmorThane Mobile Spray Rigs are custom designed specifically to fit your exact needs. We know what it takes for a contractor to succeed and stay up and run — attention to detail is crucial when dealing with moisture-sensitive isocyanate and resin with a blowing agent that can easily froth.
Our rigs can handle the most difficult spray coatings. We can customize our rigs with agitators, heated hoppers, off-ratio pumps, and many other accessories to handle the most demanding products.
The introduction of Polyurea was a game changer. Polyurea is a spray-on elastomeric system that can be sprayed on concrete and metal roofs to waterproof and protect. Polyurea can be applied to a thickness of 2-3mm, giving you an elongation property above 300% and a tensile strength of >15Mpa. Sprayed as a single coat system, it eliminates joints and overlapping within the coating itself, reducing the chances of leaks. As a roof coating repair system, it can be sprayed directly on the existing surface after sufficient surface preparation is completed, thus lessening the need to hack and remove existing screed, which could be costly and time-consuming. Furthermore, the shutdown time of the affected sites can be reduced to a minimum due to the quick-set nature of the polyurea resin, typically less than 2 minutes post-spraying.
There is a paradigm shift currently happening in the roofing market. Liquid coatings have become increasingly widespread over the last few years, and Polyurea is the latest phase in the industry's evolution. Polyurea spray coatings can go directly over an existing roof, concrete, metal, mod bit, EPDM, wood, PVC, TPO, BUR, and more.
Backed by Quality
Products and Service

Several components make up an ArmorThane Mobile Spray Rig — and we use only the finest products on the market. You can trust that ArmorThane only chooses premium-grade equipment manufacturers with national service networks to ensure you are always up and running.
Your new spray rig will be ready to go to work for you. Our custom mobile spray rigs are tailored just right to meet your specific spray foam and polyurea needs and are built to order. There are several options to choose from, and all come standard with many bells and whistles, including a Spray Machine, Spray Gun, Heated Hose, Fresh Air Supply, Generator, Safety Supplies, and much more. Our knowledgeable tech team will fully train and support you as you learn the operational details of your new spray rig from start to finish. Find out more about available options by going directly to the MCU builder.