Why You Should Drop The Drop In Liner and ArmorIT
DROP THE DROP-IN AND... ARMORIT!
\Let's face it; drop-in bedliners are cheap. These bedliners are made from low-quality rubber or plastic that will eventually crack, warp and fade. Even worse, moisture and debris can get trapped under the liner, leading to the bed becoming rotten. Give your truck the respect it deserves. 
COMPARING BEDLINER TO BEDLINER
 Let's compare the two bedliner types so you have an understanding of the stark differences between the two before you go and spend your hard-earned money on one.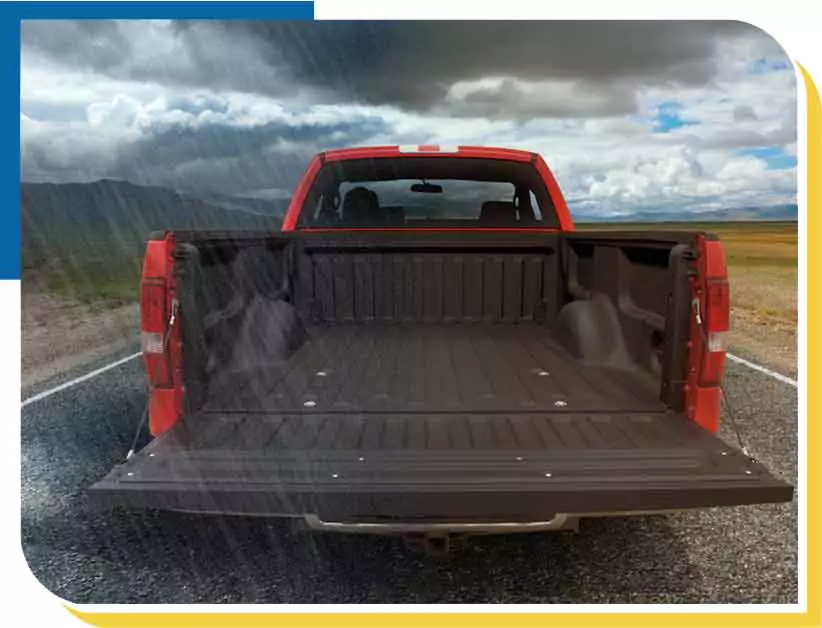 DURABILITY
Drop-in liners are typically made from either rubber or plastic, but many are made with low-quality materials that are susceptible to warping and cracking.
AESTHETICS
Drop-in liners are a less expensive alternative to spray-on, but they sacrifice aesthetics. Drop-in liners look extremely sloppy, limited to one color, and most come with a large permanent logo at the center.
PROTECTION FROM IMPACT & ABRASION

Drop-in liners provide a buffer between your truck bed, rough cargo, and loose material. However, loose material can get trapped underneath and scratch your truck bed.
INSTALLATION
To attach the drop-in plastic liners to the truck bed, you will need to drill holes. These cheaply made plastic liners can trap water between the truck bed and the liner, leading to corrosion or rust. Poor installation can cause liners to vibrate loose and fall out of the truck bed.
REPAIRABLE
Drop-ins cannot be repaired or replaced. Every few months, they need to be removed to remove any small debris, dirt, or moisture that may have built up underneath the liner. This can cause major dilemmas as well as lots of wasted time.
ArmorThane bedliners can be sprayed thick enough to handle almost any material. To ensure the best thickness, ArmorThane applicators conduct a multipoint inspection.
ArmorThane provides UV protection that resists fading and endless color options, so your truck bed looks and performs its best for many years. ArmorThane bedliners are tough and durable, with a look that no drop-ins can match.
PROTECTION FROM IMPACT & ABRASION
ArmorThane bedliners can be used for both daily driving and work truck use. Every ArmorThane bedliner is made with the same ArmorThane technology that's trusted by police and military forces all over the globe. You can safely transport heavy cargo thanks to its superior tensile and tear strength.
INSTALLATION
All ArmorThane bedliners must be sprayed by professionals and go through a multipoint inspection. This ensures that prep, quality, and thickness are all optimized for maximum utility.
In a short amount of time, ArmorThane can restore any spray-on bedliner that has been damaged, faded, or gouged to a new finish.
THE CUSTOM LINER
ArmorThane lets truck owners customize the color, texture, and thickness of their ArmorThane bedliner for various automotive specialty applications. 
Want To Become an Applicator?
A small investment for coating equipment and products will get you started in a new polyurea, polyurethane, and spray foam business or increase the revenue of an existing company. With no franchise fees or royalties, starting a protective coating business or other ArmorThane dealer business is a relatively low cost venture. 
We provide personal training to get your new polyurea or polyurethane system up and going. Plus, we have a dedicated support team ready to assist you anytime you need us. We sell to dealers around the world who use our products for a wide variety of applications. These include everything from truck bed liners to animal habitats.