Mobile spray rigs are a smart investment to any spray foam insulation business. They can substantially increase both the performance and productivity of your operation by allowing job sites to keep running smoothly with minimal downtime.
For those contractors new to the coating business, a spray rig serves as a self-contained, complete job site, all in one convenient, compact transportable unit. It contains all of the necessary spray equipment to complete a protective coating job, in a setup that is easily moved and transported to your next job site.
Spray rigs give the benefit of having an enclosed space within which all of your required equipment and supplies can be filed securely and protected from the elements.
At ArmorThane, we offer the following types of mobile spray rigs: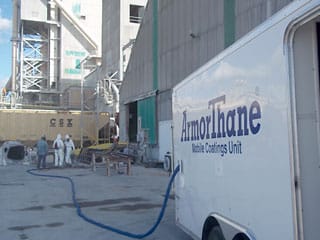 Towable Spray Trailers
We design the majority of our mobile spray foam rigs on towable protective coating roofing trailers that you pull via a pickup truck or other work truck. The size and cost of the spray rig differ depending on the particular design and the different components included in the setup, but these spray rigs can be 24 feet or longer. The availability of used mobile spray rigs can help contractors control costs.
In many instances, larger protective coating projects require a spray rig specifically designed for high-volume operations. These more extensive trailer rigs also require a giant truck with more exceptional towing capabilities.
Box Trucks
We also can build spray foam rigs within a box truck. These models are the latest in self-contained operations. Box trucks offer several benefits; mainly, that they have larger storage space and can hold more protective coating equipment within the unit.
These mobile spray rigs can transport a more significant amount of chemical materials, making them an ideal option for high-volume operations.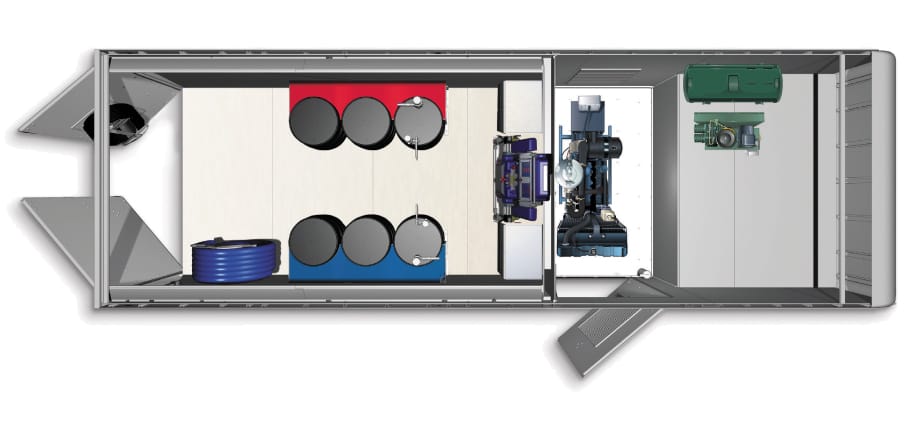 Compact units
Small spray foam rigs are a relatively new addition to our line-up, and they are becoming increasingly popular. As the name suggests, they offer a more condensed unit with a more modest footprint. These spray systems take advantage of using flexible equipment that serves various purposes.
Learn More About Our Spray Foam Rigs
At ArmorThane, we provide custom-designed mobile spray foam rigs that we design and build at our home location in Springfield, MO. We provide service, maintenance, repairs, and all necessary accessories as well as training to get you started. Learn more about our mobile spray rigs by calling or emailing us today!