MOBILE SPRAY RIGS
MCU MOBILE COATINGS
Mobile Coatings Trailers Custom-Built
To Your Specifications
PROJECTS ARE DIFFERENT FROM ONE APPLICATOR TO THE NEXT. ​
SO, WHY BUY A TRAILER DESIGNED FOR SOMEONE ELSE? ​
INSTEAD, WE CUSTOMIZE THE DESIGN OF A TRAILER
TO FIT YOUR PROJECTS.​
Our Coatings Units take power and equipment to any industrial, commercial or residential jobsite. Customers look to us for guidance, but the final choice of equipment and layout is yours. Options vary from a smaller, high or low pressure configuration to a longer, two-compartment version that's fully outfitted with a high pressure system. Sizes typically range from 16′ up to 36′.
OUR MCU'S ARE BUILT TO TAKE THE COATINGS BUSINESS
DIRECTLY TO THE JOB SITE​
Whether you decide to run completely mobile or simply add flexibility to a workshop business, ArmorThane helps you select the materials and application equipment that fits your plans.
Trailers are specifically designed for easy access with all of the tools needed to produce high-quality ArmorThane coatings. A gas generator even allows you to bring power to any site.

While No Two Trailers are Alike, Here are Some Features of One-Compartment and Two-Compartment MCUs: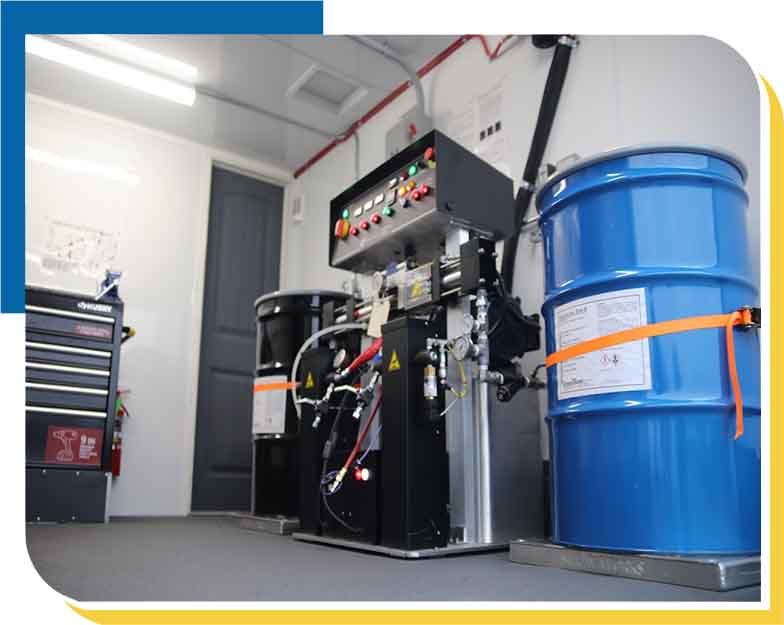 Several Questions Help Us Make
Key Design Recommendations