PROTECTIVE COATING
APPLICATIONS
Get The Most Durable Surface Protection For The Toughest
Conditions With ArmorThane.
PROTECTIVE COATING
APPLICATIONS
Get The Most Durable Surface Protection For The Toughest
Conditions With ArmorThane.
PROTECTIVE COATING APPLICATIONS
Different industrial protective coatings possess various chemical as well as physical properties such as corrosion resistance, durability when exposed to UV radiation, and so on. But there is no coating that can provide all the protection that a structure requires. This is why structures are coated with at least one or more coating types to create an overall protection coating system or a system that provides all the chemical-physical, galvanic and chemical protection needed to shield the structure from the elements.
Knowing the most commonly used general coating types and how they interact to create a comprehensive protective coating system- allows owners and designers to select the best system for their current service location.
Apply protective coatings to truck beds, RV roofs, secondary and oil
spill containment
, garage floors, waterproofing basements, and much more. Applicators have access to ArmorThane High-Performance Polyurethane and
Polyurea
Coating products and spraying systems.
POLYUREA PROTECTIVE COATINGS
Polyurea is able to bond to many substrates, such as wood, metal, and concrete. It is able to set up quickly, allowing you and your employees to get back to work faster. Spray-on polyurea coatings comprise two parts. When applied, they mix with the spray gun, immediately triggering a chemical reaction that is permanently bonded with the substrate. Polyurea will tack in seconds and cures in just minutes. This High-Performance Protection Coatings application process incorporates high temperature and high-pressure heating both components to 150degF before applying them in 1:1 ratio. The intense heat and high pressure allow for a wider spray pattern, resulting in an extremely smooth surface. The molecular bond created through heat and pressure creates an extremely durable coating better than the cold low-pressure systems utilized by some commercial sprayers.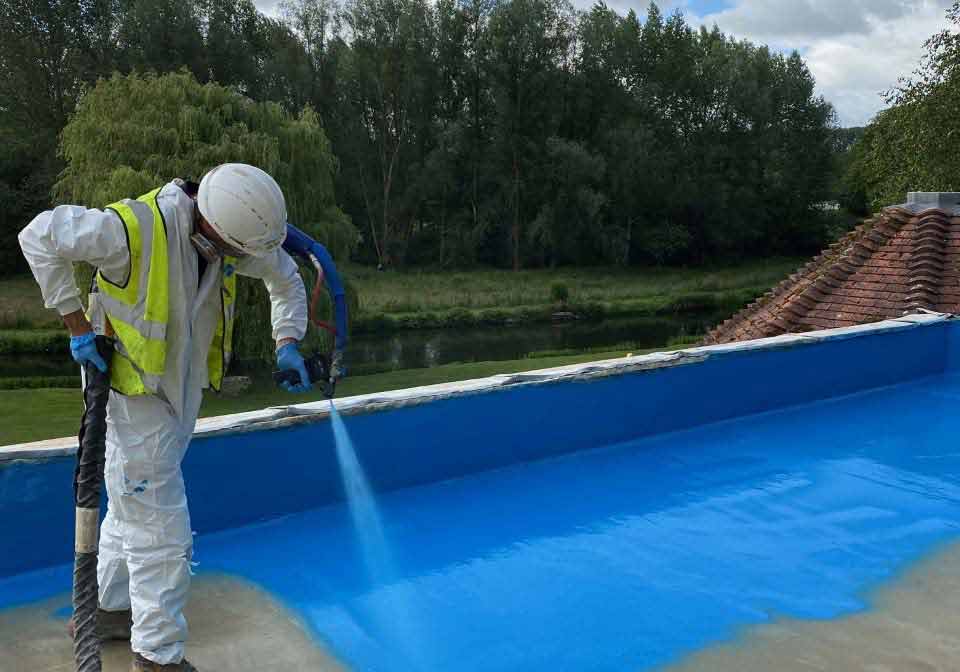 | Some of the product qualities include:
> Added Surface Durability and Strength
> Corrosion and Rust Resistance
> Color Choices, ColorCoat UV Stability
> Primary and Secondary Containment
> Blast and Ballistics Mitigation
> Potable Water Applications
> Waterproofing
> Weatherproofing
> Renewed Appearance
JUST HOW GOOD IS OUR PRODUCT?
When it comes to chemistry, not all polyurea products are created equal. ArmorThane takes its products very seriously. ArmorThane has been the best polyurea distributor for over thirty five years.
With a dedicated full-time Research & Development team, ArmorThane delivers the toughest spray-on polyurea material available in the industry. ArmorThane has doubled the hardness rating compared to competitors, offering superior impact resistance and tensile strength, resulting in outstanding abrasion resistance. Because the material is sprayed, there is a total encapsulation or complete seal, making the coating watertight.
A small investment for coating equipment and products will get you started in a new polyurea, polyurethane, and spray foam business or increase the revenue of an existing company. With no franchise fees or royalties, starting a protective coating business or other ArmorThane dealer business is a relatively low cost venture.
We provide personal training to get your new polyurea or polyurethane system up and going. Plus, we have a dedicated support team ready to assist you anytime you need us.
We sell to dealers around the world who use our products for a wide variety of applications. These include everything from truck bed liners to animal habitats.