CANNABIS GROW ROOM FACILITY
FLOOR COATINGS
CANNABIS GROW ROOM FACILITY FLOOR COATINGS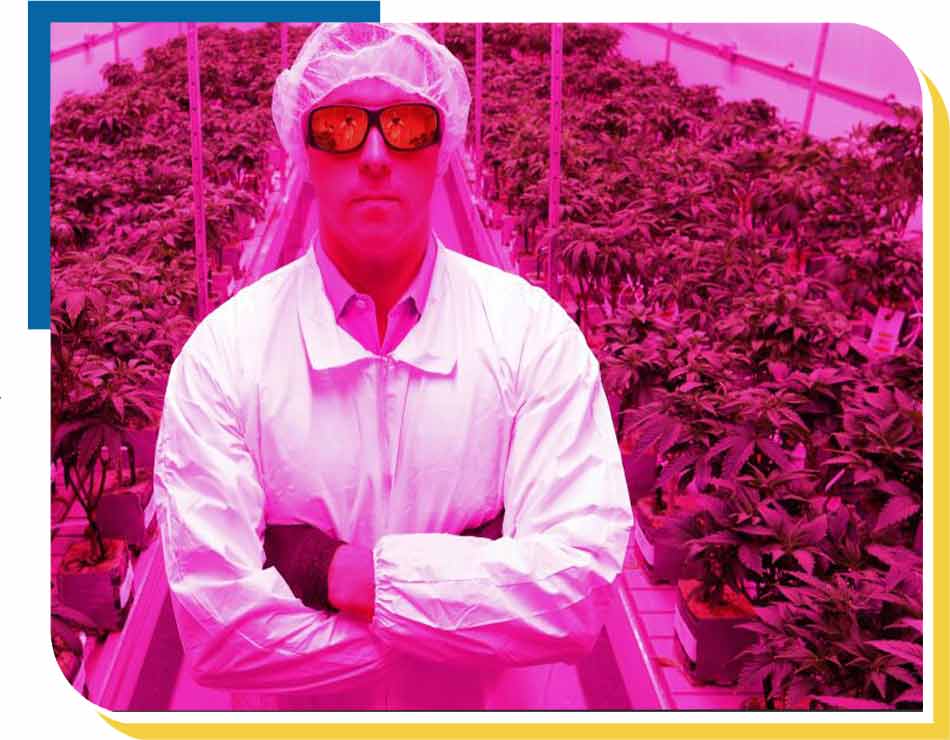 THE EVER EXPANDING
CANNABIS MARKET
In the ever-expanding cannabis market, grow facilities encounter more and more competition every day. New indoor cultivation enterprises are often set up in formerly vacant industrial buildings and commercial spaces. Some companies plan and construct new growth facilities from the ground up. For all these facilities, continuously reducing production costs while supplying the most elevated possible quality in ever-increasing yields is the pathway to ensuring a prosperous business.
Concrete floors are ubiquitous throughout most cannabis-growing facilities, whether an existing or new structures. With the proper treatment, these indoor concrete traffic surfaces can significantly contribute to a company attaining its operational goals. Alternatively, insufficiently protected concrete floors can create annoying and costly barriers to accomplishing company goals.
Challenges in Cannabis Grow Facility Construction
Like every other new industry, widespread acceptance and market expansion bring regulation to the cultivation of cannabis. Local governments pay greater focus on how cannabis cultivation facilities are constructed and managed. Alongside the usual concerns of safety in the construction and working conditions for employees, and tax incentives elected officials are becoming subject to pressure by their constituents to study the effects of cannabis cultivation on their localities.
The high energy usage for lights in the grow room, and high use of water are only one part of the equation. The requirements for humidity and temperature could be comparable to the indoor swimming pool setting. Although moisture and warmth are perfect for the growth of cannabis they also create the perfect conditions to encourage the growth and expansion of fungi as well as other harmful microorganisms. Thus, it is important to ensure the health of plants in a moist indoor climate.
Carbon dioxide (CO2) enrichment of the grow room air is a common practice that has proven to boost crop yields also presents a health and safety issue in urban areas with high density.
A lot of cannabis cultivation facilities create plants that are destined for medicinal or pharmacological use and pose a number of issues. This alone requires attention from regulators for the health of the consumer.
In the end, producers must be aware of the changes in the industry's regulations of federal and local agencies regarding their operations, facilities, and the products they sell.
Bare Concrete Floors
in Grow Rooms
As a construction material, concrete continues to be the leading choice for industrial and commercial construction. Despite the numerous advantages of concrete flooring, it may be a major challenge for cannabis grow rooms if without protection.
Untreated, concrete can be naturally porous and absorbs water and liquids.

 The substances found in grow rooms like fertilizers, fungicides and other chemicals are able to leach across the concrete floor slab to the groundwater and soil. 

It doesn't matter whether they are synthetic or organic, the concentrations of these substances can be extremely damaging to the environment around it.

In an existing or newly built facility, it's unusual for the under-slab vapor barrier to get damaged during the construction.

 

In this case, moisture from the soil underneath the floor slab could be able to enter the concrete and then move upwards osmotically and cause a phenomenon known as Moisture Vapor Transmission (MVT).

 

The resulting vapor and moisture tend to become more alkaline as it moves up and over the concrete slab.

 

MVT may cause blisters bubbles, bubbles, and other harm to floor and wall coverings.

The high temperatures, the regular irrigation of plants, and the high relative humidity that is maintained within many grow rooms, could compromise the structural integrity of grown room slabs that aren't protected.

In the small area of a grow room, the humid, warm air can encourage the proliferation of microbes.

 

Food and pharmaceutical facilities are top of the priority list for facilities' sanitation, as stipulated by the code.
The guidelines for public health for cannabis cultivation facilities across different areas of the nation are becoming increasingly similar to the requirements for food processing. Common requirements include:
Smooth and durable floor surfaces that can be easy to clean and are in good condition.

Possess a proper floor slope to a clean floor drain that is free of puddling.

A cove floor-to-wall that is integral to the base.
These directives can't be fulfilled with only concrete by itself.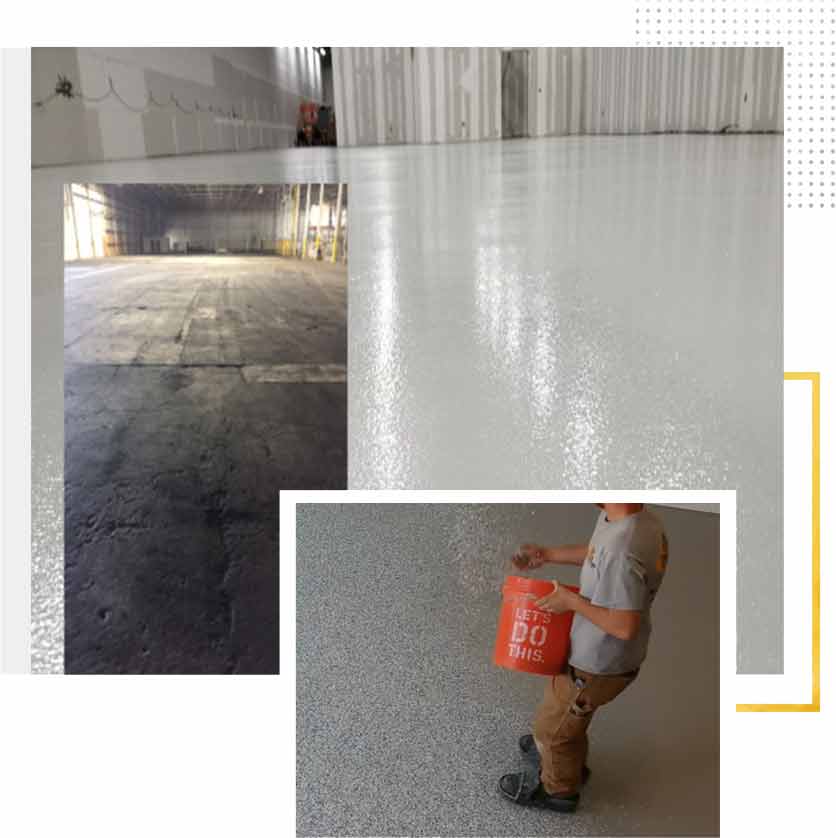 Optimal Grow Room Flooring Performance
In certain areas, the cannabis cultivation facilities are under strict construction codes and regulations. This is sure to expand to new areas soon.
Floors in Grow Rooms, as those in their food and pharma industry similar rooms, must be designed to:
Create a monolithic, nearly seamless surface to remove crevices, grout lines, and other damp, dark places where pathogens and dirt are likely to hide.

They should be waterproof and non-porous, thereby providing the surface with the ability to separate harmful materials on the surface to allow for appropriate cleaning up when required.

Let you correct or improve the slope in the floor slope for drainage, and without low points to prevent puddling

Install with integrated coves that connect to the floor for washing down and sanitizing.

Have the strength and the thermal shock resistance and a strong bond that allows for steam-cleaning or hot power washing when required.

Allows seamless continuous surface installation on concrete curbs, as well as containment areas.

Offer antimicrobial solutions for extremely sensitive areas.

Demonstrate superior compression strength as well as impact resistance for durability when undergoing heavy loads

Displays outstanding abrasion resistance which allows the system to operate in the face of relentless wear-and-tear

Offers customizable slip-resistance options that are able to be balanced by easy clean-ability

Allows making use of floor warnings for safety, including colored traffic markings and work zone indications

Formulated with low-odor and low-VOC chemicals that comply with all E.P.A.

 

or similar laws.

Allow you to earn LEED Green Building Credits where desired.

Offer options to refurbish damaged or old concrete surfaces that allow for the reuse of facilities' resources, instead of needing to be destroyed and thereby contributing to unnecessary landfill waste

Stand up and perform under constant humid grow room conditions without damaging

Make sure you are in compliance in accordance with F.D.A., USDA, E.P.A., A.D.A., OSHA, and local regulations and guidelines.

Provide MVT mitigating solutions when Moisture Vapor Transmission Site problems are evident

Offer waterproofing options for buildings with multiple stories

Provides excellent resistance to a variety of chemicals including fertilizers and extreme pH chemicals
Finding a reasonable floor system that includes all of the above elements might seem like an impossible task. However, ArmorThane now offers cannabis facility flooring that is designed to meet the requirements of cultivators' hygiene safety, regulatory compliance, longevity, and financial requirements.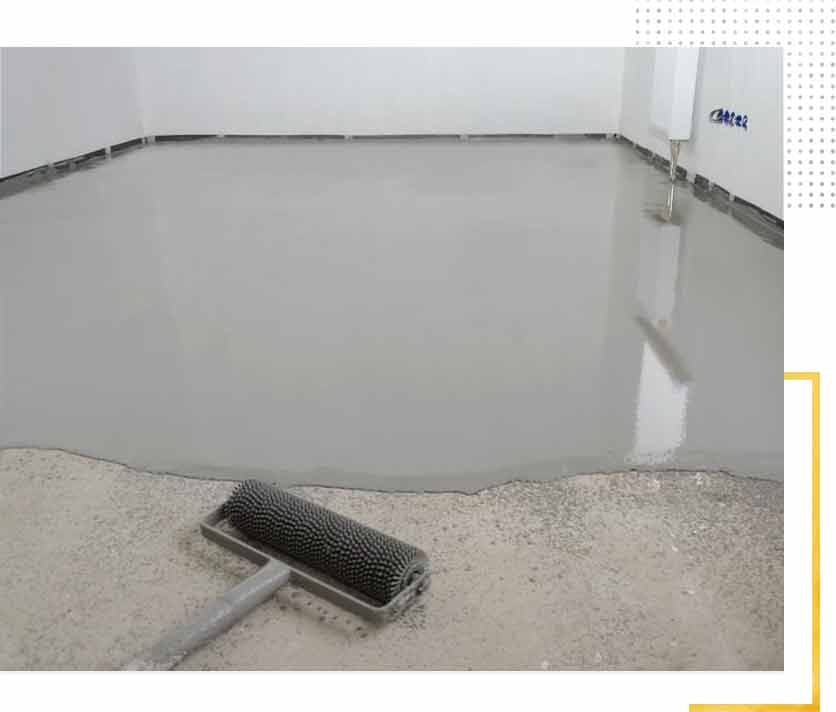 Resinous Flooring Value
for Cannabis Facilities
Selecting the best floor options for a specific cultivation space could be the biggest choice. Because floors are everywhere in the structure, inadequate selection and inadequate protection from concrete slabs could cause destruction to yields and profits over time.
Many facilities cannot afford the expense and inconvenience of unneeded floor maintenance or repair. Moving plant beds that are heavy and pots that weigh a lot to allow employees an access point to floor space can cause an overwhelming task. Additionally, the unplanned downtime and the general juggle of materials that must always be arranged make a convincing argument to invest in high-quality flooring for your grow room at the beginning.
A great long-term investment, resinous products that are of professional quality floor systems provide cannabis growers with a distinctive collection of options for their cultivation rooms. The type of flooring has all of the features you want to be listed above, but it offers a range of additional advantages to the operation of a growing room which include:
Support From the Ground Up
From groundbreaking medical breakthroughs to high tensile fibers in construction materials, The growing cannabis industry opens up exciting opportunities for various sectors that are part of our economy. As more new growers join the market there is a pressure to compete increases.
By choosing seamless, moisture tolerant resinous flooring that meets regulatory policies for grow rooms, growers can help reduce their overhead costs on multiple fronts — and gain an edge over the market.
Click here for more details on The ArmorThane's collection of resinous coating options.
Highly reflective floor surfaces allow light that enters the area through the overhead area to bounce upwards, opening the underside of leaves to the light, thus increasing yields.

High-gloss, exceptional floor finishes that are light in color allow you to make the most of your lighting sources effectively increasing the amount of light that your room receives.

Getting more light without having to add fixtures reduces the use of energy and costs associated with it.
VIRTUALLY Seamless Material
Flooring made of resin that is fluidly applied offers a monolithic, impermeable surface that is extremely easy to clean and maintain.

The almost seamless finish of resinous-coated floors significantly minimizes the areas for pathogens, soil, and microbes.

Resinous floors, with integral cove bases for eliminating 90-degree angles, adjusting floor slopes to avoid puddling, and providing an almost seamless surface, make for a highly sanitary flooring option.
Outstanding Moisture Tolerance
Designed specifically for use in wet industrial environments, cementitious urethane flooring is a top choice for humid grow rooms.

Also called "urethane mortar," this type of floor can help mitigate certain undesirable site conditions, such as Moisture Vapor Transmission (MVT)
Concrete floors are commonplace in the majority of cannabis-growing facilities, regardless of whether they are new or existing structures.

 

If properly treated of these indoor concrete traffic floors can greatly aid a business in achieving its objectives in operation.

 

However, unprotected concrete flooring can cause a number of annoying and expensive barriers to achieving corporate objectives.
Resinous coating systems are slip resistance can be completely customized during the time of installation time that allowing the growers to have greater traction on pedestrian walkways, and lower the slip resistance in raised beds.
Urethane as well as polyaspartic flooring systems made of resin allow for installing safety lines and colors that mark specific work areas.

Antimicrobial floors that are available from certain manufacturers provide additional protection against bacterial contamination in very sensitive areas.

The current industry epoxy floor coatings from trusted suppliers are extremely low to no V.O.C.

 

and are compliant with E.P.A.

 

and other environmental regulations.
Resinous coating systems offer a great value for growers who are informed and require reliable, durable long-lasting, high-performance flooring for their farms.
Many facilities cannot afford the expense and inconvenience of unneeded floor maintenance or repair. Moving plant beds that are heavy and pots that weigh a lot to allow employees an access point to floor space can cause an overwhelming task. Additionally, the unplanned downtime and the general juggle of materials that must always be arranged make a convincing argument to invest in high-quality flooring for your grow room at the beginning.
A great long-term investment, resinous products that are of professional quality floor systems provide cannabis growers with a distinctive collection of options for their cultivation rooms. The type of flooring has all of the features you want to be listed above, but it offers a range of additional advantages to the operation of a growing room which include:
What Should I Put On My Grow Room Floor?
An excellent long-term value, professional-grade resinous floor systems present cannabis growers with a unique set of solutions for cultivation rooms. Not only does this type of flooring offers all the desirable features listed in this article. Two products from ArmorThane that will work well are ArmorFloor, and ArmorLiner. Contact us to find out more about these great products.
Which is better, Polyaspartic or Polyurea?
Polyaspartics are a type of polyurea however, polyaspartics have been developed to address the issues that polyureas face. Polyaspartics have a longer pot life, which makes them much easier to set up and improves adhesiveness to concrete surfaces. They also are more resistant to UV. But, it's crucial to keep in mind the fact that not all polyaspartics are equal. To ensure that your product won't fade over time the polyaspartic must be 100 percent alphatic. A majority of polyaspartics have only 51 percent of aliphatic material and leave you exposed to the possibility of discoloration caused by UV.
What Is Polyurea?
Polyurea is a synthetic polymer that is the result of the reaction of a diamine with diisocyanate. the polymerization process is like the polyurethane one, however, in the case of polyurea, the resultant link is called "urea" which is why it is referred to as polyurea. Through this link, we can gain by generating molecular structure, an insensitivity to water, which makes the polyurea (if it is pure) the most effective waterproof membrane.
How Is Polyurea Used?
Polyurea properties make it a chemical for applications where waterproofing, protection, and durability are essential. The adaptability and adhesion of polyurea permit use in almost any application requirement. Waterproofing, coating, and protection can include waterproofing and corrosion protection on steel, concrete, and many other application types. The unlimited possibilities for polyurea are a clear advantage in those applications where the aesthetic aspect plays a vital role.
Will Polyurea Burn?
ArmorThane polyurea starts to establish it physical properties within minutes after application. One of the most sought-after properties is their quick gel time and glass transition temperatures which average 40 degrees F, as well as +480deg F. Deflection temperature in the absence of load, is 250degF subject to the system. The maximum safe working temperature is 350degF with no load. This is, of course depends upon the particular system. Although polyurea is a glass-like material with high glass transition as well as the high heat of deflection It will ignite upon exposure to flames direct. It will cease to burn after the flame has been removed. Polyurea exhibits thermal shock debonding when exposed to repeated blasts of steam that are live.
What's The Difference Between Aromatic & Aliphatic Polyurea?
Aliphatic polyurea systems are usually high-temperature/high pressure sprayed systems, and also "polyaspartic polyurea" type systems. The Polyaspartic method can be manually applied with brushes, rollers or rakes, and even airless sprayers. Aspartic systems are generally employed to apply a thin layer of coating to the surface of aromatic polyurea for it to protect the substance from ultraviolet damage. Aromatic polyurea systems are processed by lower pressure "cold" cartridges or high pressure and heated plural component pumps and sprayed with an impingement spray gun. This is also true for the aliphatic variant of this kind of system, with the primary differentiator is the stability of color in the Aliphatic systems.
Epoxy Vs. Polyurea Vs. Polyaspartic
Epoxy is inexpensive and can be used in DIY projects, but there are a few drawbacks to this popular floor coating. It is as thick as molasses, so it will not be able to penetrate every crack and crevice in the concrete garage floor and can cause adhesion issues later on. Polyaspartic's consistency is similar to water, and polyurea is even thinner which makes it easier to absorb into concrete pores. Epoxy floors are generally not durable and maintenance can be a hassle particularly if applied by a DIY approach. Epoxy floors aren't UV resistant, meaning they turn yellow in time and are typically more prone to delamination and damage. The biggest drawback of epoxy floor coating has to do with the long cure time. Other floor coating alternatives have shorter cure times and greater longevity. The two options, polyaspartic as well as polyurea have quick cure times, about an hour in the case of polyaspartic and less than 60 minutes for polyurea. Actually, polyurea cures so quickly that it gives almost no time to fix mistakes. Both are excellent for DIY projects, however, the end product will last longer than epoxy DIY coatings which means you don't need to replace them often after the initial professional application.
WANT TO BECOME A
CERTIFIED POLYUREA APPLICATOR?
A small investment for coating equipment and products will get you started in a new polyurea, polyurethane, and spray foam business or increase the revenue of an existing company. With no franchise fees or royalties, starting a business or other ArmorThane dealer business is a relatively low cost venture.
We provide personal training to get your new polyurea or polyurethane system up and going. Plus, we have a dedicated support team ready to assist you anytime you need us. We sell to dealers around the world who use our products for a wide variety of applications. These include everything from truck bed liners to animal habitats.

NO FRANCHISE FEES

TRAINING PROVIDED

24/7 TECHNICAL SUPPORT

MARKETING ASSISTANCE