SPRAY FOAM INSULATION
Energy-Saving, Structure Strengthening Spray Foam Insulation
Energy-Saving, Structure Strengthening Spray Foam Insulation
UNDERSTANDING SPRAY FOAM
INSULATION AND R-VALUE
In the construction industry, R-value (resistance value) is the measure of the length of time an object resists heat flow. The higher the number, the more energy efficiency is obtained.
According to the Department of Energy, sprayed foam or foam-in-place insulation is best, being twice as effective as conventional applications of glass fiber batts and blown-in cellulose per inch. And, because R-value is based on air movement and foam prevents all air movement, actual values are expected to be better than a rating of 6 per 1″ thick versus 3 for conventional insulation.
Studies suggest polyurethane spray foam insulation lowers energy costs 20%-40%, depending on lifestyle, location, and building design. Benefits are gained with a minimum 2″ application. The colder the winter, the higher the R-value needed.
Besides having one of the highest R-values in the industry, ArmorFoam™ polyurethane sprayed foam insulation outperforms conventional insulation.
Read on to learn how…
why choose ArmorThane
spray foam insulation?
These points make closed cell spray foam the choice for both residential and commercial construction. ArmorFoam's ability to reinforce and reduce potential structural damage caused by earthquakes, tornadoes, hurricanes, and severe straight winds is particularly effective for protecting metal and wood frame buildings.
SPRAY FOAM INSULATION FOR EXISTING STRUCTURES
Sprayed foam insulation is the obvious choice for new buildings, but what about existing structures? The Department of Energy recommends doing a professional energy assessment.
Studies suggest polyurethane spray foam insulation lowers energy costs 20%-40%, depending on lifestyle, location, and building design. Benefits are gained with a minimum 2″ application. The colder the winter, the higher the R-value needed.
Increasing the thickness of insulation improves of the R-value. Spraying the foam insulation twice as thick gives twice the R-value. However, doubling then compressing traditional insulation does not achieve twice the R-value; this removes the trapped air they rely on for insulation. Therefore, space may restrict the ability to properly add traditional materials. Replacing traditional insulation with spray foam will double the efficiency rating in the same amount of space.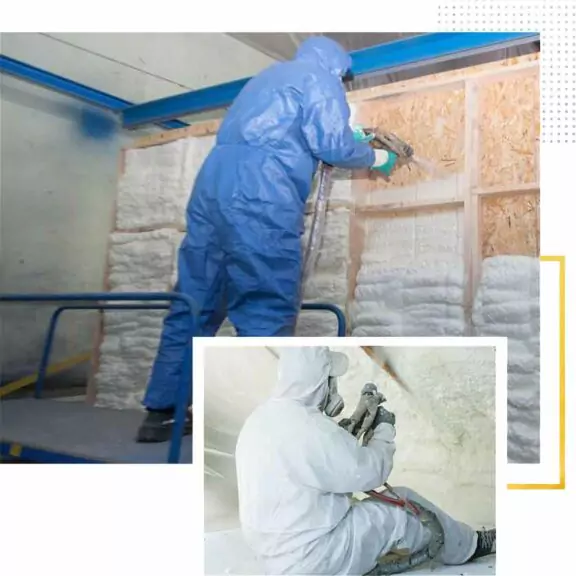 JUST HOW EFFECIENT
IS ARMORFOAM?
The installation of spray foam is simple and can significantly increase a house or building's energy efficiency and resistance to heat. Closed-cell foams are so efficient that just three inches sprayed in wall cavities can provide an insulation value of more than R18! Our products are specifically designed to be used in new construction as well as existing buildings and homes.
This would include: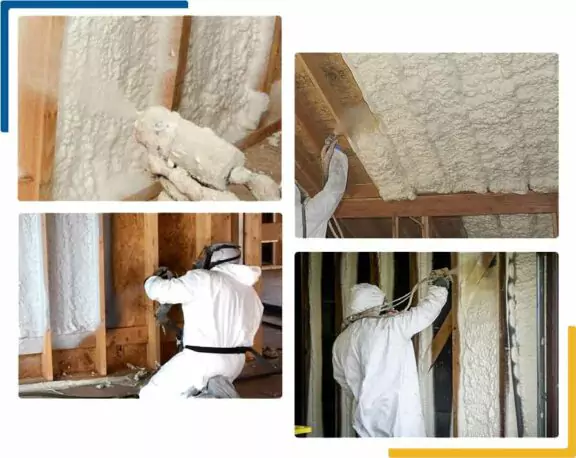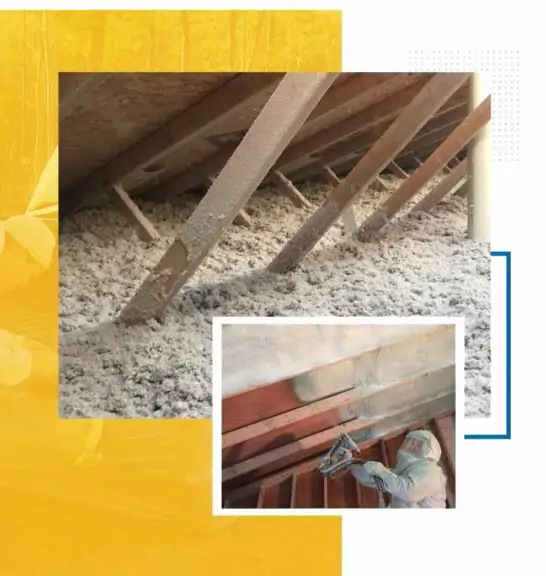 Energy savings begin with
QUALITY INSULATION
Traditional insulation leaves gaps and gaps, and air infiltration can be a major reason for energy losses.
ArmorFoam is a perfect sealer for spaces and creates a vacuum barrier that stops air loss and heat transfer that comes along with it.
Spray foam provides the most effective air-sealing properties and the highest R-Value per inch for residential and commercial uses.

It's not difficult to see that the right insulation can significantly save cooling and heating costs.

Homes and buildings insulated with ArmorFoam will easily cover the installation costs by lowering costs for utilities.
Is Spray Foam Insulation Worth It?
While spray foam insulation generally costs more to install than other insulation, it often makes up for it in the long term in energy efficiency. Spray foam attic insulation energy savings range between 15% to 50% on energy bills. You'll also notice a distinct difference in comfort levels inside your home. Because spray foam seals up spaces when properly installed, it keeps more of your conditioned air inside the home. This also causes your air conditioner or heater to run less, while still keeping your home comfortable.
How Is Spray Foam Different From Traditional Insulation?
The biggest difference between spray foam insulation and traditional forms of insulation like fiberglass and cellulose is that spray foam insulation is an air barrier and thermal barrier all in one (with closed cell spray foam even offering a moisture barrier as well). This means that spray foam insulation accomplishes the job of providing insulation and air sealing with one product. In contrast, traditional forms of insulation do not provide any barrier to air flow. This is important for establishing a continuous and complete thermal/air barrier with the building envelope.
Do I need to renew my license?
Marks and devious Semikoli but the Little Blind Text didn't listen. She packed her seven versalia, put her initial into the belt and made herself on the way.
What's The Difference Between "Open" Cell And "Closed" Cell?
There are two different types of spray foam insulation: open and closed cells. Closed-cell spray foam cures into a hard, rigid state, whereas open cell cures with a spongy, softer feel. In terms of R-values, closed-cell spray foam is close to R-7 per inch and open cell around R-4 per inch. Also, closed-cell becomes an air barrier at only 1" of application, while it takes on average 3" of open-cell foam to achieve an air barrier. Another big difference is that open-cell is water permeable and closed-cell is not. Open-cell also has soundproofing qualities that can help in dampening outside noise.
Open Cell vs. Closed Cell Foam: Which one should I Choose?
Are you trying to determine what kind of Foam to use for your projects? It's a bit more complicated than you think. No worries, we are here to help you the whole way! Even though closed-cell foam and open-cell foam provide insulation to homes, they do this in different methods.
Does Foam Break Down, Shrink Or Sag?
The reaction that creates spray foam insulation is irreversible, preventing the breakdown into its constituent parts. Therefore spray foam is stable and will not shrink or sag.
Are There Issues With Overheating Of Electric Wiring?
There is no special requirement needed to encapsulate electrical wires other than what is required with all types of insulation. As with other types of insulation, when the properly rated size and type of electrical wires are used, there is no overheating of those electrical wires.
Does Foam Support The Growth Of Mold And Mildew?
Open-Cell and Closed-Cell spray foam insulation offers no organic food value. Therefore it cannot support bacteria or fungal growth. The effective air-sealing characteristic prevents the movement of hot air to the cold parts of the walls, preventing condensation from taking place within the wall cavities. The elimination of condensation within the wall assemblies prevents the growth of molds and mildew.
What Are The Acoustical Properties Of Spray Foam?
Spray foam insulation has excellent sound absorption properties and sound transmission properties. When comparing spray foam insulation to other insulations, there is a very noteworthy difference. As an effective air seal, they eliminate the air gaps through which sound travels easiest. In addition to controlling all frequencies, they are superior in controlling mid-range frequencies that include the most common sounds – the human voice and stereo music.
Why Choose ArmorFoam?
ArmorThane is a well-known leader in providing spray foam, foam supplies, and other accessories for homeowners and contractors alike. We provide retail sales for small jobs and wholesale bulk pricing for larger jobs. Our knowledgeable customer service team is available 24/7 to answer your questions and assist you with planning projects. You may cut costs on your monthly energy bill or please your clients; ArmorThane can help. The majority of our products are high-performance and of excellent value. Sign up today to receive the equipment you need to save money on energy. ArmorThane SPRAY FOAM HAS ONE the highest R-values of the Industry. ArmorThane Foam Insulation quick curing recyclable Two-component polyurethane spray foam insulation is made according to ASTM E-84 Specifications and classified as fire-rated foam insulation. Each of the insulations we offer is produced with the highest quality blasting and flame-retardant chemicals available today. They do not contain VOCs, CFCs, Formaldehyde, or PENTA-BDEs and are free of their negative health and environmental effects. ArmorFoam Advantage: Huge savings. Homes constructed by ArmorFoam will begin saving money on the day you put up the spray foam. Installation of spray foam insulation can save you money by reducing your monthly energy costs. Air Barrier Leaks cost you a bundle. Adding just an inch or so of Foam to your home's insulation will drastically reduce air leaks. Vapor Retardant. In contrast to open-cell spray or fiberglass insulation, or cellulose, the ArmorFoam closed-cell insulation can be described as virtually waterproof. Easy To Apply ArmorFoam is designed to be easy to use. You will see the results you want right from the initial spray. There are simple instructions, free assistance, videos on how-to, and a 100% satisfaction guarantee against any flaws.
LEARN MORE ABOUT SPRAY FOAM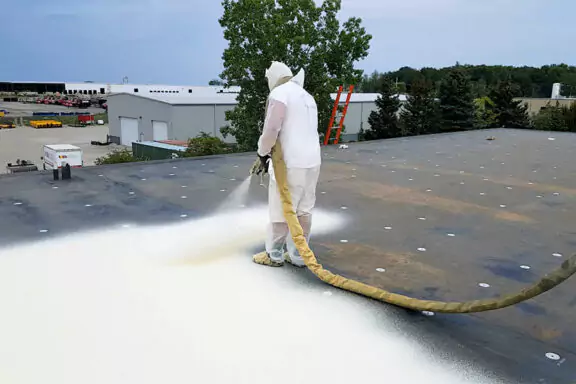 Spray Foam Roofing
Sprayed polyurethane foam (SPF) is quickly becoming a popular choice amongst homeowners and commercial businesses in need of a durable, dependable roofing system. Thanks to its unique properties, such as being both waterproof and insulating, this type of coating can provide enhanced protection to your building while also helping boost energy efficiency.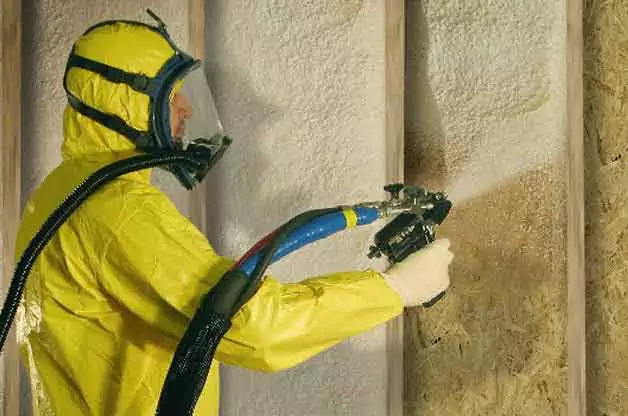 commercial foam insulation
ArmorThane's commercial foam insulation is the perfect choice for any industrial or commercial building. Not only does it provide superior protection from extreme temperatures, but it also helps reduce energy costs in a cost effective way. Our formulation provides the highest R-value of insulating material available on the market today!
Attic Foam Insulation
Does the temperature in your home fluctuate and make it hard to stay comfortable? Are you tired of seeing soaring energy bills every month that eat up a large portion of your budget? If so, then investing in attic foam insulation by ArmorThane may be the solution for you.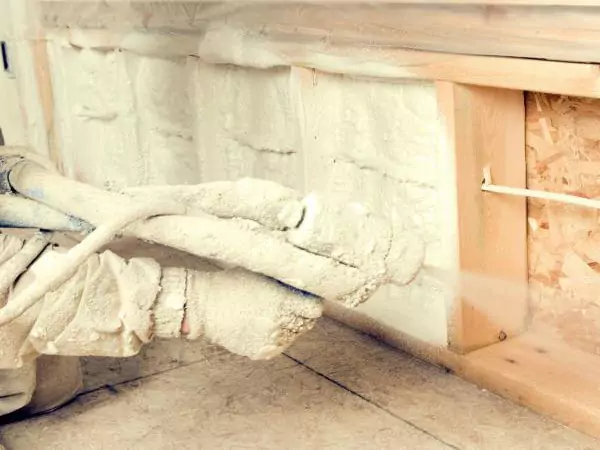 Spray Foam Soundproofing
If you're someone who values peace and quiet, then soundproofing your living space is probably high on your priority list. Whether you live in a busy city or have noisy neighbors, unwanted sounds can disrupt your relaxation, sleep, and overall wellbeing. Thankfully, there are several soundproofing solutions available, and one of the most effective and efficient options is spray foam.
BE YOUR OWN BOSS

START YOUR OWN COATINGS BUSINESS
Without a profit stealing franchise model that restricts business potential, we assist you in developing a financial plan and formulating product costs that position you for success once you join the ArmorThane applicator network. Starting your own coatings business has never been so easy.
A small investment for coating equipment and products will get you started in a new polyurea, polyurethane, and spray foam business or increase the revenue of an existing company. With no franchise fees or royalties, starting a protective coating business or other ArmorThane dealer business is a relatively low cost venture. 
We provide personal training to get your new polyurea or polyurethane system up and going. Plus, we have a dedicated support team ready to assist you anytime you need us. We sell to dealers around the world who use our products for a wide variety of applications. These include everything from truck bed liners to animal habitats.
Take the first step towards a low cost polyurea, polyurethane, or spray foam business opportunity and call us at 800.227.2905 or fill out our contact form below. Someone from our company will contact you to answer your questions and provide you more information.