Best Coatings for Wood Decks
Wood Porch Floor Coatings
Best Coatings for Wood Decks - Wood Porch Floor Coatings
Best Coatings for Wood Decks
Every year homeowners look at a wooden deck or porch and wonder:  How well is that wood holding up?  How can I restore the look I want?  Is there any rot I can't see?  Am I going to put my foot through this step the next time I'm carrying a plate of burgers out to the grill?
You may think your only choice is to live with deteriorating surroundings or pay for extensive repair. However, by applying a seamless moisture barrier with ArmorThane's spray-on polymer coatings such as polyurea or polyurethane, our dealers can repair existing damage now and prevent problems for years to come. Besides protection, color and design options open all types of possibilities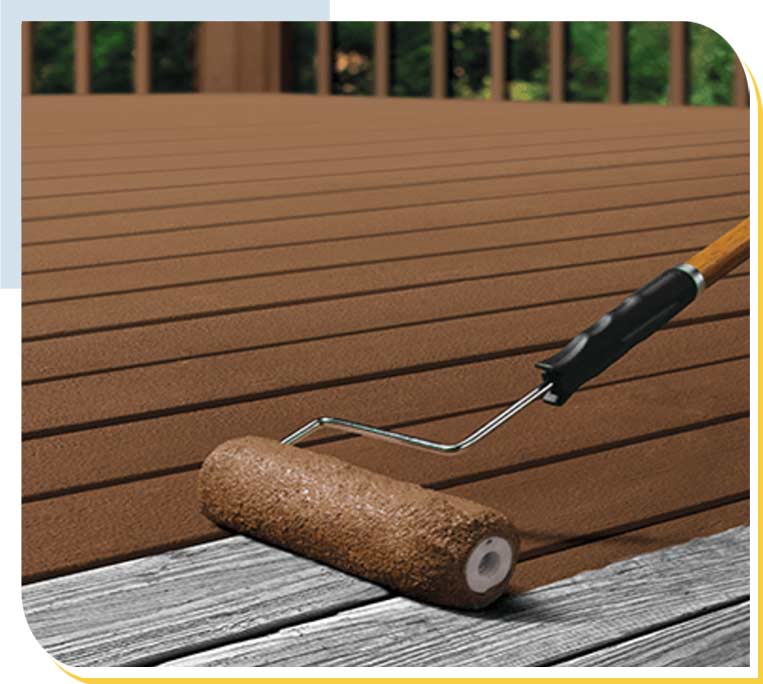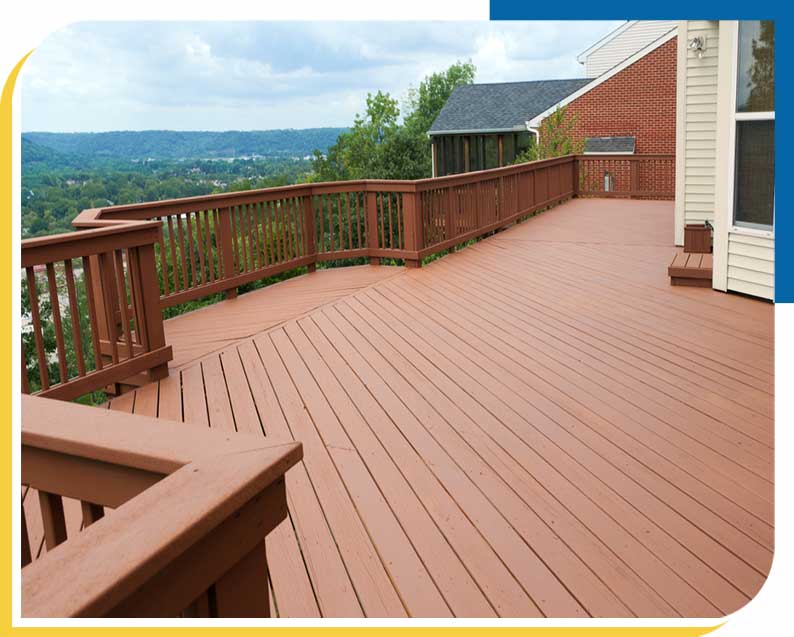 What Goes Wrong with Wood?
What homeowners don't realize is that conventional wood coatings such as paint, stains or other sealers look good at first but eventually wear through to the bare surface.  Water seeps through cracks and worn or damaged areas.
We have all seen wood warp, discolor and eventually rot when exposed to harsh weather – cold, moisture, heat and UV sunlight.  Temperature changes expand and contract wood then standing water accelerates the damage.  The sun dries out wood and causes it to darken and turn gray and eventually crack.  Power washing wood to remove dirt and mildew wears down conventional surface coatings and the etching causes permanent damage.  The older the wood, the worse the results.  Pots and planters that sit in one spot trap moisture for long periods. Deicers also discolor many wood finishes.
With wood, the most important step for long life and low maintenance is to block moisture from soaking in.  This requires a seamless barrier also called a "waterproof membrane" and can be done in a couple of ways. The spray-on nature of ArmorThane polyurethane and polyurea materials allows for easy coating protection.
Because decks are often built with strips of boards, one approach is to encapsulate each board before putting a new deck together.  Unlike surface coatings, this prevents damage caused from water seeping between boards and the moisture that can build up underneath the structure. This method also preserves the architectural look of a slatted deck or balcony.  The problem is that it cannot be used on an existing deck, unless the boards are wide enough for complete coating between the slats.
The best approach is to use large sheets of plywood and seal all visible seams.  When ArmorThane polyurethane or polyurea is sprayed over the entire structure it creates the seamless membrane.
To ensure a seamless waterproof barrier, an area to watch is where the deck or porch connects to another structure such as the house, patio, fence or even supporting beams.  Watch for the next article on how this works best.
Want proof of lasting quality? One of ArmorThane's dealers put the strength of our coatings to the test by running a machine with steel blades over a finished wood deck.  Watch the deck torture-test results.
Construction Uses for ArmorThane Coatings
ArmorThane dealers have the products, equipment, and training to turn old and worn features into new and bright property thus improving the value of homes and commercial settings.  For more ideas and information, check out the article on landscaping water features, construction applications, other outdoor projects and outdoor products.  Also read the article on Best Way to Fix Patios, Porches, Concrete Floors.
Our products are reliable and incredibly versatile.  Check out starting a new business or adding to an existing one.  Become a Dealer or Find a Dealer.
Want To Become an Applicator?
A small investment for coating equipment and products will get you started in a new polyurea, polyurethane, and spray foam business or increase the revenue of an existing company. With no franchise fees or royalties, starting a protective coating business or other ArmorThane dealer business is a relatively low cost venture. 
We provide personal training to get your new polyurea or polyurethane system up and going. Plus, we have a dedicated support team ready to assist you anytime you need us. We sell to dealers around the world who use our products for a wide variety of applications. These include everything from truck bed liners to animal habitats.
Take the first step towards a low cost polyurea, polyurethane, or spray foam business opportunity and call us at 800.227.2905 or fill out our contact form below. Someone from our company will contact you to answer your questions and provide you more information.