Greenhouse Floor Coating Options
Greenhouse
Flooring Options
GREENHOUSE FLOORS
GO FIRST...
Before installing your new greenhouse, you may want to consider your flooring options first. Floors are the foundation of the greenhouse in more ways than one. They need to provide good drainage, insulate the greenhouse from cold, keep out weeds and pests, and be comfortable for you. 
You may be asking, what type of flooring could i possibly need other than concrete?
Well, there are many greenhouse flooring options available. Read on to learn about all of these available options for your new greenhouse floor. 
What to Use for Greenhouse Floors
There are several options for greenhouse flooring materials. The most economical option is a poured concrete floor. A concrete floor is easy to clean and walk on, and if poured correctly, should drain away any excess water. Concrete will also reflect light and retain heat throughout the day. 
However, concrete is not the only option available for the floor of your greenhouse. It's also not the best available option. With the amazing advances in the floor coating industry, recent years has seen a huge uptick in the overall effectiveness of floor coating applications. Let's look at some of these revolutionary options and see which fits your overall desired outcome for your greenhouse.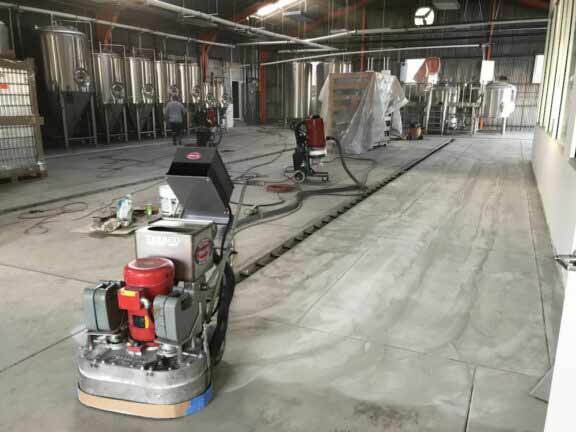 HOW TO PROPERLY APPLY GREENHOUSE FLOOR COATINGS
Before installing the floor, decide what is most important to you regarding greenhouse flooring supplies. Consider how much time you will be spending in the greenhouse and how long different flooring materials last. Concrete, for example, will last many years, but a mulch floor will degrade rapidly. Also, keep in mind your budget. Depending on your budget and consideration, there are many other ideas for greenhouse flooring, some with better results than others. Here are a few greenhouse flooring ideas to consider: 
A greenhouse foundation can be wood and filled with crushed stone or gravel and overlaid with weed cloth. This floor is well-draining and easy to clean, easy to install, and fairly inexpensive. Lava and landscape rock is an attractive greenhouse flooring idea. Lava rock soaks up water and adds to the humidity level, but neither lava nor landscape rock is easy to clean. They are easy materials to employ; however, they can be pricey. Mulch flooring is the least beneficial flooring material for greenhouses. While it is cheap, it can't be cleaned and harbors bacteria and fungi. It also decomposes rapidly. Bricks add humidity to the greenhouse. They should be laid over a layer of sand to improve stability and drainage.
Similarly, a rock foundation should be laid atop a layer of sand. Clay floors are another durable option that is easy to walk on. Used in commercial greenhouses, weed mats are excellent greenhouse flooring options. They drain well, keep out weeds and pests, and are easily stretched and then stapled into place. Specialty greenhouse vinyl tiles are gaining a following due to their ease of cleaning and excellent drainage. They can be used as a path or laid over an entire foundation.
If you are looking for a reliable, highly appealing coating that will not be affected by moisture or heat and will last many years past the lifetime of the greenhouse itself, look no further than ArmorFloor™. ArmorFloor is a two-component, aliphatic polyaspartic for use in moderate to severe chemical environments in indoor or outdoor applications. Its resilience, durability, and UV resistance make it an excellent choice for Greenhouses. Slip resistance Color Quartz or other abrasive materials may be applied. Decorative Color Chips are often used for design. If you would rather go with a spray-applied coating, we suggest ArmorLiner. ArmorLiner is the most versatile product in our inventory. It is scratch-resistant with a textured surface that provides traction wet or dry. As well as being cost-effective, it has great all-around application effectiveness. Both of these options will work wonders for your greenhouse flooring. Just remember that they require concrete flooring to be in place before applying.

Many types of greenhouse flooring are suited to the task as long as they are easy to clean and drain well. Suppose you choose to have a concrete foundation, lay carpet, or rubber mats in areas where you will be working for lengthy periods. If you choose to forego a poured concrete foundation, install a weed mat barrier over bare dirt or gravel and you have a working floor. 
It all just depends on your budget and how much you are willing to put into your greenhouse. If you have any questions about any of this, we at ArmorThane will be happy to assist you. Feel free to send an inquiry anytime. You can also reach us at 800.227.2905.
As one of the most advanced flooring solutions available to the market, ArmorFloor provides homeowners with an exceptional level of strength and durability. Not only is ArmorFloor developed to withstand the harshest abuse, but it will also resist the harshest elements. Things like oils and chemical spills can be easily cleaned while leaving no damage or stains to your basement floor. One of the primary considerations with floor coatings is the strength and durability the coating delivers. You'll have a coating that forms a superior bond with concrete surfaces with ArmorFloor. Not only will you be provided with the greatest bond, but you'll also have a more rapid solution than all the other coating types out there.