Spray Foam For
Pipeline Trench Breakers
Spray Foam For
Pipeline Trench Breakers
THE NEW BETTER TRENCH SOLUTION
Traditionally pipeline construction has turned to sandbags to create ditch breakers and efficiently provide pipeline support. These breakers are effectively small dams placed regularly along the trench to keep the trench from collapsing. The function of these sandbags is to thwart erosion of the trench while also supplying a temporary "bed" or "pillow" for the pipeline itself. However, the problem with them is that they are heavy, difficult to maneuver, and prone to leaking over time. Additionally, sandbags tend to scrape and scratch the pipelines, causing abrasions and compromising the pipeline's structural integrity.
Today, there is a new, better solution for trench breakers. More and more pipeline construction contractors are instead turning to spray polyurethane foam  (SPF) insulation.
SPF is a material that has many uses in a variety of industries. In this blog, we are going to take a look at SPF trench breakers as well as some of the benefits associated with them.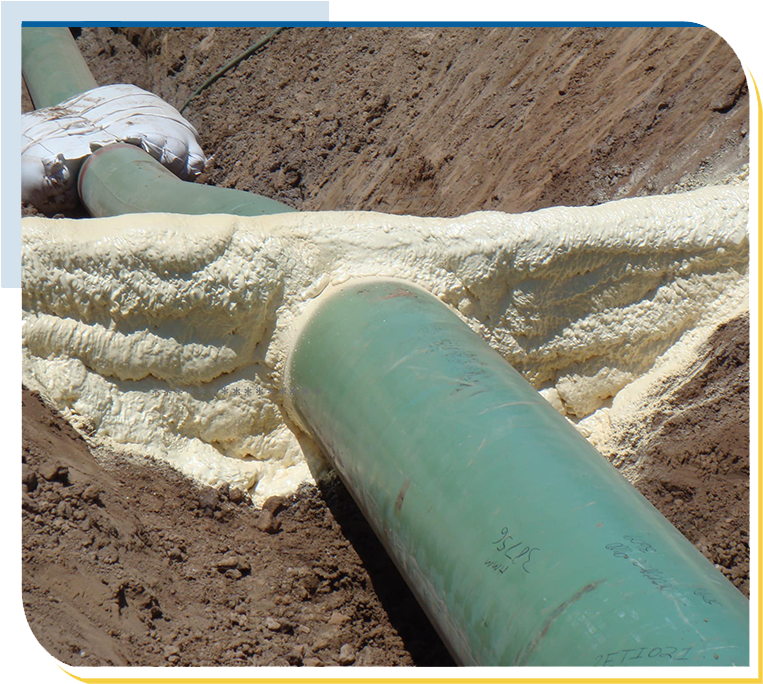 WHAT IS SPRAYED POLYURETHANE FOAM?
Spray foam is an incredibly strong and durable material. Although it is mostly known for its R-value and insulation properties which lead to energy efficiency and comfort in buildings, the application of SPF in pipeline construction is a clever and effective long-term alternative to other materials used as trench breakers.
When mixed, spray foam compounds react, creating a rapidly expanding foam. This foam has exceptionally adhesive properties and forces itself into loose soil, creating a tight bond to the sides of the trench and delivering erosion control. The foam then hardens and cures, resulting in the ideal support for piping and quickly completing the job.

Let's take a look at some of the essential benefits of SPF trench breakers:

By constructing your trench breakers using spray polyurethane foam, you can expect a much longer lifespan on your pipeline. This also means that less work will have to be done to maintain your pipeline in the years to come. 
If you are looking for spray foam ditch-breaking solutions, look no further than ArmorThane!
Contact us today to learn more about our industry-leading polyurethane foam system!