Renovating a Swimming Pool Deck With Polyurea Coatings
A backyard pool is a magnificent luxury for any family. Take a dip whenever you want, have friends over for a pool party, and you can beat the summer heat whenever you'd like. However, the reality is that not every family makes the most of their prize pool. For some, the deck has become too risky, grimy, dirty, or damaged. Traditional decking materials such as wood, tile, and concrete eventually develop issues, affecting usage and enjoyment. If you want something better, then consider polyurea pool deck floor coating services.
Over the years, we have seen many pool projects. We always make sure to take the time to measure the exact distances around the swimming pool, prepare the job site, and install the product.
Each of the clients now has an amazing pool deck that is beautiful and much more involved than stained concrete!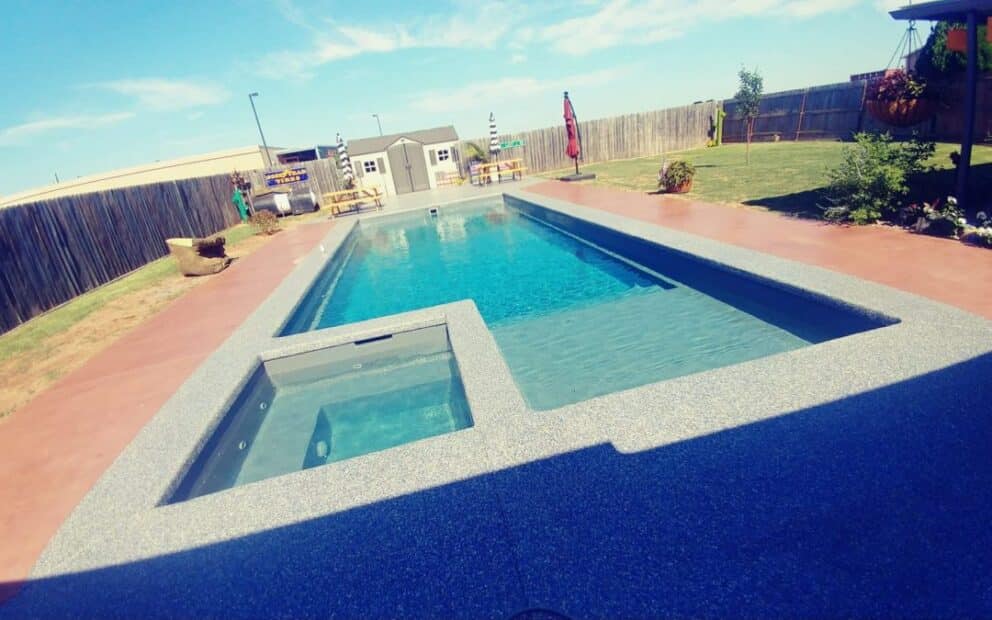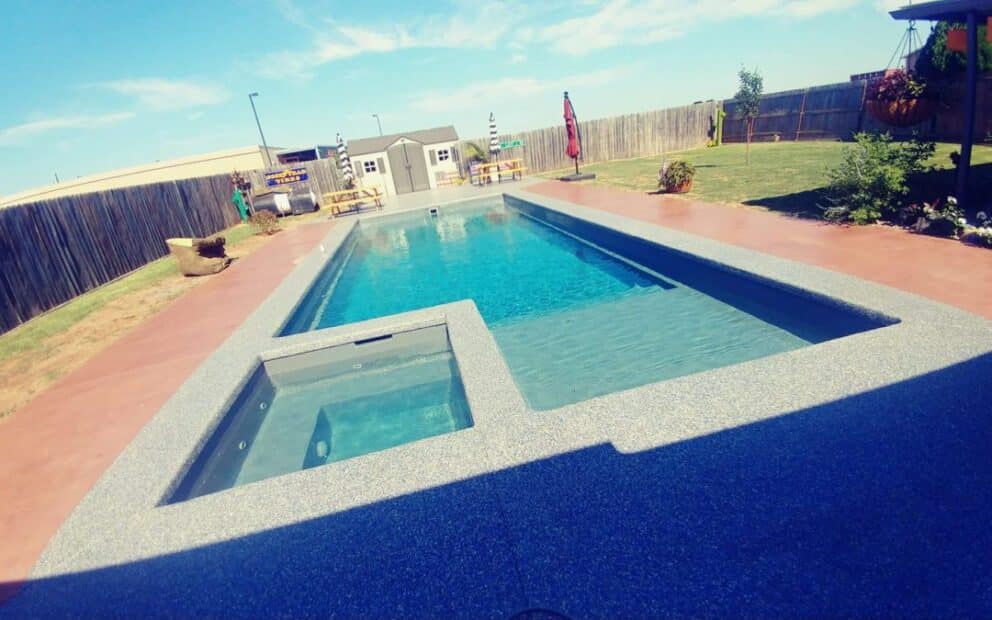 This fiberglass swimming pool has a cantilever concrete deck. That means that the deck is 100% concrete – this allowed us to install our Polyurea Floor Coating around the edge to create a custom coping look!
Fiberglass swimming pool with cantilever concrete coping.
Fiberglass pools can be single-body pools made out of fiberglass. They are installed by excavating the area and setting it up in one step. Many times, fiberglass pool builders will put in a concrete pool deck around their swimming pool. This fiberglass pool has a cantilever deck for those with an eye for swimming pools.
Preparing the Job Site for Our Installation
There is always necessary prep work to ensure that the installation looks amazing and lasts as long as the pool. It's important to keep the pool deck clean and free of debris. Typically we apply a polynomial liner to the pool's surface and then tape it to the edge with painter's tape.
We then take measurements at equal intervals around the pool's edge. Our diligent crew creates a pool coping running parallel to the pool, with equal distance from all sides.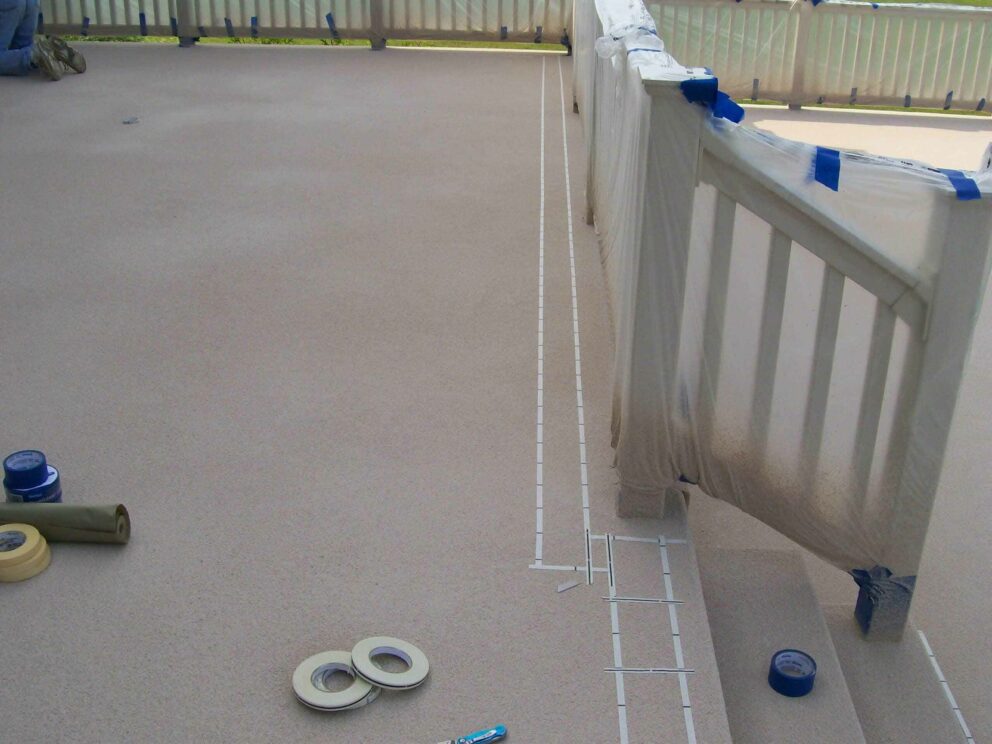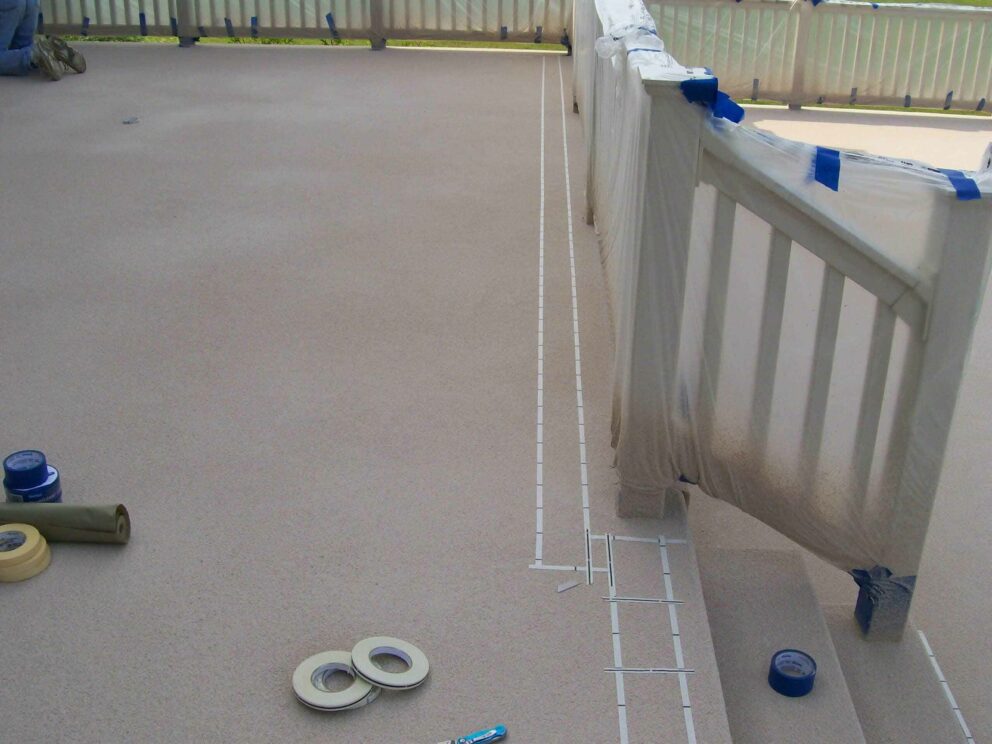 Here you can see professionals double-checking their chalk lines before commencing with our Polyurea floor system installation.
Measure twice – Apply once: Keep Our Eyes on The Details
We are all about the details. Our crews have installed some amazing projects through the years. From commercial kitchens to Prisons, Hospitals, Machine shops, Sports Car Garages, Back Patios, Sidewalks, Driveways to Pool decks are all application examples we have used our polyurea products through the years to enhance.
Teams work together in small groups of two or three to ensure that our jobs sites are properly prepared, installed, and cleaned. Our clients receive beautiful Polyurea floors in record time thanks to this high customer service and speed level. Our products create a smooth texture that is comfortable, safe, and tough! 
Our Polyurea Concrete Coatings can hold up against all forms of abuse, including:
Chemicals for Pools

Foot Traffic

UV Light

Abrasions and Impact
Polyurea floor coatings are waterproof and provide an additional layer of protection. They have a higher coefficient of friction than wet concrete. Meaning our Polyurea material is not as slippery as concrete, making it safer for you and your guests to walk on. Also, our product has 100% anti-microbial and 100% anti-bacterial properties. This is a big benefit for our clients, who now have their most water-sensitive surface covered with our Polyurea floor coating.
Our Polyurea floors are more durable, more beautiful, and safer than regular concrete.