Building A Polyurea Koi Pond
Picture this… You have a pond in your backyard, with wildlife and viewing areas. This is a great way for your backyard to be a peaceful, relaxing place where you can enjoy some time alone and think. It all comes down to the materials you have, your land, your future goals, and your ability to manage them.
Check out these great ideas for designing and building your koi pond.
Koi Pond Basics – Specifications
To allow any species to thrive in your koi pond, it must be well-designed. Koi Fish are at the center of this article. These are the basic guidelines to create the proper environment.
3+ feet deep

25 sq. ft. of Pond per koi

No less than 1,000 gallons of water
You need to plant water plants that can provide shade for 15%-30% of your Pond's surface. You will need to have some plant life to maintain a healthy ecosystem and provide food for your Pond.
To manage organic waste generated by the system, good filtration is essential. Spray Polyurea Coatings are a better option than liner rolls. You can easily install a bottom drain in this situation with a clean and beautiful-looking pond.
To ensure that your koi and all other animals in the Pond are getting enough oxygen, you need to aerate. This can be done with jets, waterfalls, and shallow streams. Proper aeration is essential if you live in hot areas or have large Fish.
The last thing you want to overlook when designing your koi-pond is water quality. Water quality is determined by water temperature and optimum PH. Ideal water quality is between 39 F and 68 F, with a pH balance between 7.0 and 7.5.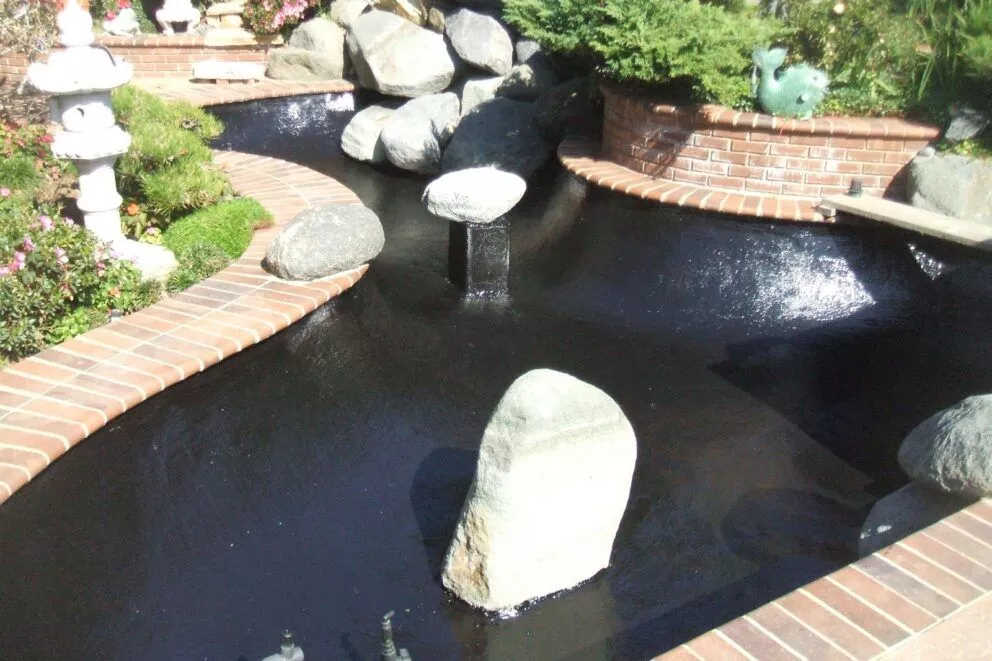 Your yard can be transformed into a painting. Many people may hire a landscape architect to help with the design of the koi-pond, the ground, and surrounding plants. There are many options for spray coating a koi-pond. To hold the plastic liner down or protect its edge, you don't have to line the Pond in heavy rocks and debris. You can also design any shape you like, unlike traditional ponds restricted to a particular shape, such as round, oval, or kidney-shaped. This is especially important in small areas, where you might want to place small veins or create a unique floor.
An ArmorThane consultant may be the right choice for you if you can't think in three dimensions and would like to have an experienced and trained Polyurea applicator.
You might be able to layout your ideas if you have the time.
Use small rocks in your Pond.
This is a huge no-no. Maintenance is a nightmare. You will need to clean the Pond rock each year and thoroughly clean it if you decide to do so. Small pockets of hydrogen can form between and under the rocks if you don't. You will end up with a koi grave rather than a Koi pond if one of these pockets bursts.
Polyurea and polyurea-hybrids are now very common and offer significant advantages over traditional pond liners and concrete.
Concrete can be very costly in terms of labor and time.
Although traditional liners are less expensive, they can be costly. These systems are usually only good for a few years however Polyurea coatings will last many years. The initial installation is much simpler than you might think, as there are no bulky seams or liners to worry about. You can spray the appropriate build on the area, allow it to cure, and then you're done. 
If you would like to learn more about how you can become a polyurea applicator click here!