CONCRETE DRIVEWAY
COATING & SEALER
Coatings Provide Construction and Renovation Solutions for Commercial and Residential Projects
CONCRETE DRIVEWAY
COATING & SEALER
PROFESSIONAL, AFFORDABLE CONCRETE DRIVEWAY COATING / SEALING SOLUTION
Are you tired of your aging, dilapidated driveway that is full of spills and cracks that are an eyesore and a rough ride? Is the only thing holding you back from having your driveway completely redone, the cost? Maybe it's time to consider a professional, surprisingly affordable driveway resurfacing job.
At ArmorThane we use the latest polyurea protective coating products that allow us to make your driveway look brand new without having to replace it.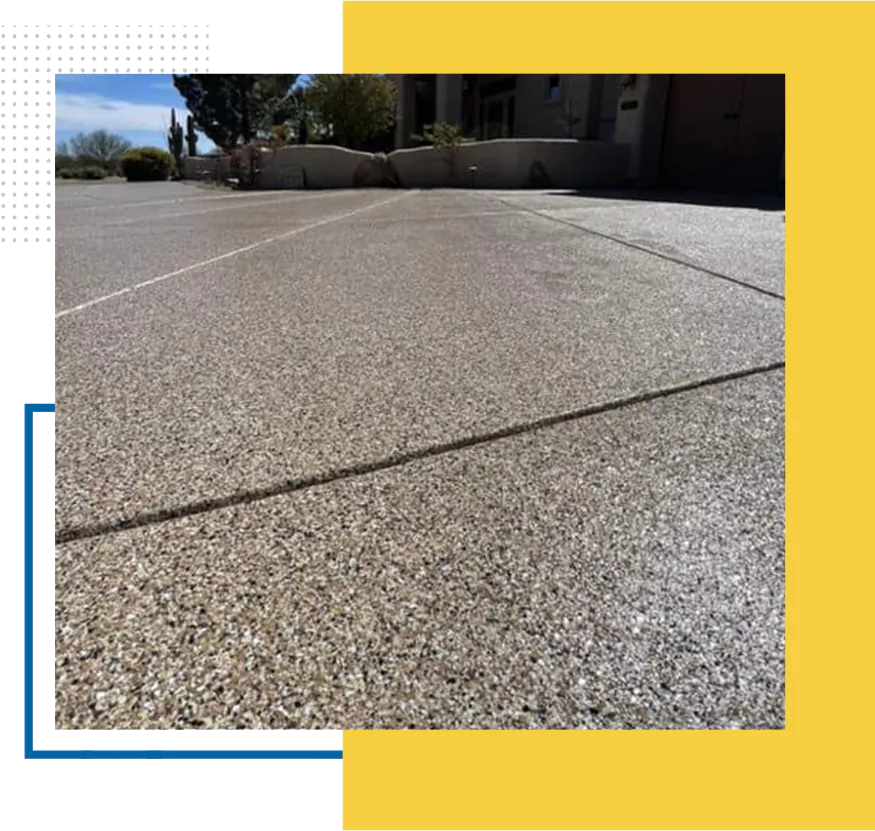 BENEFITS OF USING
ArmorThane DRIVEWAY COATINGS
Many people are under the false impression that you have to replace the entire driveway once it has reached the end of its life. Driveway restoration using polyurea is the ideal way to get your driveway looking brand new again without breaking the bank. Our polyurea coatings are professional-grade, hard-wearing, non-porous, and resistant to spills.
Benefits of polyurea coating:
Our concrete resurfacing lasts a long time. Not only does our driveway restoration make your driveway look brand new, but it will have it looking fantastic for many years. Having your driveway and garage restored is a wonderful way of quickly and cheaply giving your property value a boost, or increasing your house's appeal to a possible buyer.
Our professional team will assess your needs and make practical, cost-effective guidance, to assure that you get the best bang for your buck.
PROFESSIONAL, AFFORDABLE CONCRETE DRIVEWAY COATING / SEALING SOLUTION
Concrete driveways need a coating that reinforces the concrete while forming a surface that is more resilient to wear from steady traffic. Epoxies and other sealing products almost always fail under the harsh conditions of a driveway. These coatings look good initially but within a short period of time will break down, crack and become useles. The worn-out spots that start growing will continue growing until the coating is replaced. Polyurea creates an impenetrable barrier that protects your driveway day after day and year after year. Polyurea bonds with the moisture in the concrete (rather than fighting against the water like many coatings) it actually protects perfectly in outdoor conditions. Additionally, polyurea offers superior flexibility and UV protection over traditional coatings, allowing them to stand up to years of use and abuse outdoors without cracking or breaking down. The end result is an easy-to-maintain concrete driveway that looks good and stays that way. So much so that we offer a lifetime warranty for our residential coatings.
Since polyurea coatings are a smooth surface, we recommend combining anti-slip aggregate with the coating as well to give your car tires or shoes something to grip. Adding a smooth, easy to clean flooring to your garage or workshop adds not only to its aesthetics but also increases the value of your property. Anyone who wishes to buy your home will be happy to see that you have a polyurea floor coating on your driveway. For commercial property, polyurea flooring is a must-have for both aesthetics, cleanliness, and easy cleaning.
ArmorThane IS HERE TO HELP
Whatever your driveway recoating requirements, we have you covered.
Our professional team will assess your needs and make practical,
cost-effective recommendations, to ensure that you get the best bang for
your buck. Click here to contact us today!