Best Way to Fix Patios, Porches, Concrete Floors
Concrete is used throughout residential and commercial structures.  Outdoors we have patios, decks, driveways, sidewalks.  Indoors we have porches, commercial entryways, garages, decorative concrete floors.
Looking at a concrete surface, you may wonder: Are those small cracks going to grow and buckle?  Does the surface flaking mean I have to tear up and replace the entire patio? What is happening to the concrete under all of this ice and snow?  What happens if I shovel or de-ice?
Never fear, we have a solution that fixes many of these problems.  While we can't work miracles on severe buckling, our polyurethane and polyurea sprays fill and seal blemishes, waterproof surfaces, offer color options, and provide long-lasting color protection.
What Happened to My Concrete?
Despite the solid look of concrete, it is porous. Damage occurs because of 1) the initial project set up and/or 2) deterioration over time that is not repaired.
Concrete is poured wet and shrinks slightly as it dries.  A problem can occur as the water evaporates faster on the air-exposed surface and slower on the side resting on the ground.  Joint cracks, either created during the pour or cut afterwards, will help control damage.
Another problem is the use of steel rebar which is designed to stabilize large slabs of concrete. If the rebar gets exposed through a crack and begins to rust, the rust expands and cracks concrete even further.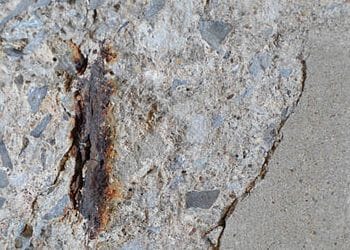 Even concrete that is sealed with a finish can have problems if the coating is done before trapped water and air have escaped. Environmental conditions (wind, humidity, air and ground temperature), structure type, thickness, and concrete mixture effect these cure times.  Always use a reputable construction service to do your projects.
Over time, as concrete absorbs water and other materials, freeze/thaw cycles and ground shift cause concrete to flake/scale off or crack.  Certain deicers cause mild to significant surface damage depending on type and strength of chemicals.
Also frustrating is the unsightly discoloration that occurs with the untreated, porous top layer.  It absorbs dirt, oil, and other liquids, often causing permanent staining.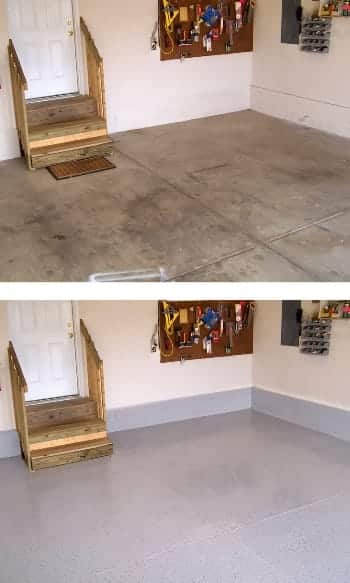 Repair and Refinish Concrete
ArmorThane dealers provide a number of options to protect concrete before deterioration takes place.  This bonding process strengthens, weatherproofs, and waterproofs the surface to reduce the chance of cracking or flaking.  The surface is no longer porous.  This even repairs leaks in water features such as fountains and ponds.
Once you have a problem, concrete repair can go in several directions depending on location and extent of damage.   The first step is to identify the source, likelihood of reoccurrence, and risk of continued deterioration. Major problems may require concrete slabs to be cut, removed and replaced.  But most areas simply need a crack repair or coating unsightly surfaces.
For crack repair, ArmorThane dealers clean the area of loose debris, apply bonding adhesive and strong patching materials, and assure that the surface is smooth.  Once the crack or flaking is repaired, there are a number of coating agents that both strengthen and waterproof the entire surface.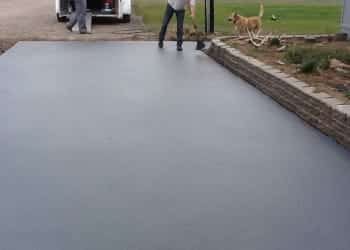 When the rehabilitation step is ready, ArmorThane dealers can transform that dingy and colorless concrete surface which has been marred with repair streaks and patches into something special. Decorative options are limited only by imagination.  Even better, many of these coatings can be applied to blend in with other structures and landscaping features such as wood, gypsum wallboard, cement board, brick, stone, and geotextile material on dirt or sand.  Unlike paint, polymers such as polyurethane and polyurea don't peel or chip.  Learn more about these products: ArmorFloor, ColorCoat, other outdoor coatings and construction applications.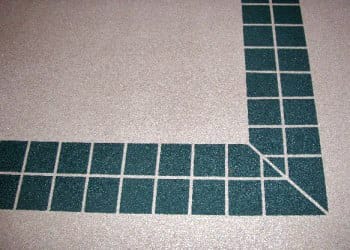 All of these products are professionally applied to ensure years of stability and beauty.  You don't want problems to start all over again after you just paid for finishing or repairs.