OIL / GAS BERM
APPLICATIONS
OIL / GAS BERM APPLICATIONS
Government Regulations
in the Oil Industry
The U.S. and other governments require containment of fracking fluids and other potential spills at oil and gas drilling sites. ArmorThane offers proven cost-effective methods to build the most reliable containment systems available. These systems meet or exceed regulations and help protect the company from environmental liability.
GAS BERM COATING
CHARACTERISTICS
ArmorThane offers polyurea as well as polyurethane and other polymers for sprayed-on coatings. These are specifically designed for building a number of containment systems used in the oil and gas drilling industries. Spraying a sand or soil pit covered with a geotextile material creates a bond that makes these barriers virtually indestructible being tear resistant, corrosion resistant and much more leak-proof. Our coatings do not absorb and will not react with chemicals, so spills and other fluids sit harmlessly in the containment structure.
The coating molds seamlessly to any in-ground pit or above-ground containment vessel. This offers the flexibility of creating an impermeable membrane that exactly fits the shape, even where poles, pumps and other internal or external structures attach. In addition to geotextile materials, our products coat a variety of surfaces including concrete, metal, plastic, fiberglass and wood.
The Oil & Gas industry operates in a variety of climates. ArmorThane sprayed products have excellent performance in extreme cold, blazing heat, soggy humidity, brittle dryness and freeze-thaw cycle expansion and contraction without degrading.
These spill berms, containment booms, tanks and pit solutions are easy to install and have low maintenance. With our custom-built Mobile Coatings Unit, spraying is done at any oil and gas field. It can be taken site to site or remain stationary for multiple projects.
Top Uses by the
Oil and Gas berm coatings Industry
Secondary and primary containment applications include:
Saltwater Disposal Wells (SDW)
Evaporative Ponds
Frac Pits for Holding Drilling Wastes and Fluids
Drilling Site Liners for Catching Spills
Liners for Building Emergency Water Ponds for Fires
Above-Ground Water and Fuel Tanks
Trenches or Baffle Curtains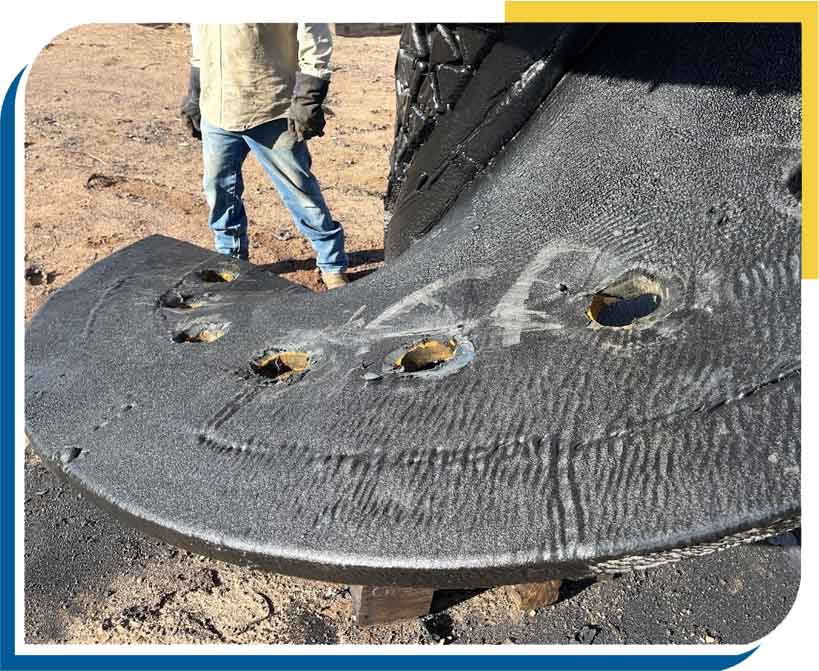 Coatings are often applied to trucks and other equipment to add years of service. This may be bed liners, construction equipment blades, excavating and drilling equipment and more.
Pipelines are much more resistant to cracking and deterioration when coated with ArmorThane. Products both prevent and repair pipeline corrosion.
In remote areas, potable water tanks are required. ArmorThane has a leak-proof and US ANSI NSF-61 certified potable water coating that is safe for drinking vessels.
Key Coating Products for
Oil and Gas Industry Projects
ArmorThane coatings are used in the Oil and Gas Industry for primary containment and secondary containment using metal, plastic, concrete; sealed or open air; permanent or temporary; water, fuel, waste, acidic and caustic compounds. The goal is for corrosion resistance, prevention of cross-contamination, substance integrity and protection against leaking. Here are products typically used: