POLYUREA WATERPROOFING/
WEATHERPROOFING
POLYUREA WATERPROOFING/ WEATHERPROOFING
POLYUREA
WATERPROOFING ​STRUCTURES
One of the main advantages of both polyurea and polyurethane is to protect against water damage. By creating a leak proof barrier, water cannot be absorbed into the underlying surface such as concrete or wood. This prevents rotting, rusting, warping and freeze-crack problems.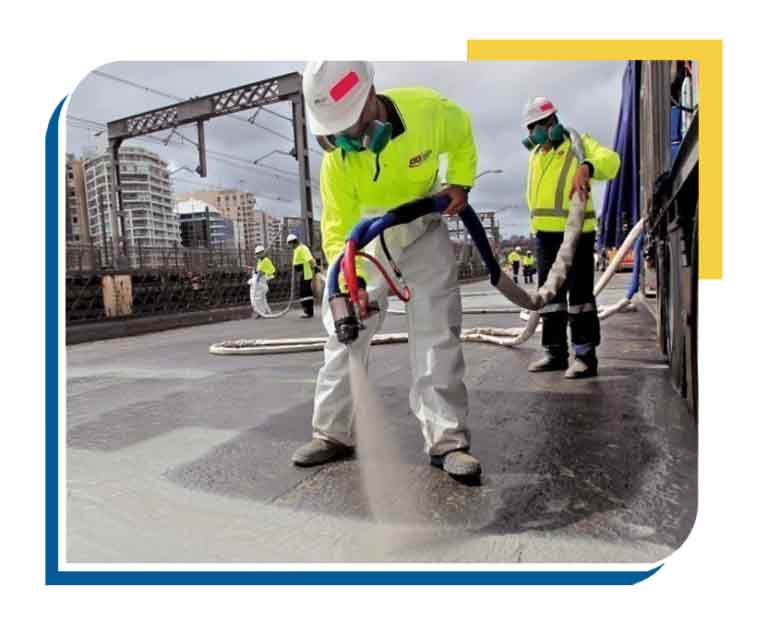 CREATING
WALL-FLOOR WATERPROOFING
Too often water is allowed to seep through the small crack where the floor meets the wall. Whether rain on a porch or wash water in a factory lunch room, liquid and microorganisms push under the trim and behind the wall where they fester and can damage the structure or create an unhealthy environment.
ArmorThane has the solution to create a seamless membrane by attaching chamfer molding and coating the floor and partway up the wall. Two minor seams replace the major one, making it easier to seal the cracks. Also read how to connect outdoor siding to wood decks to block water from penetrating the wall.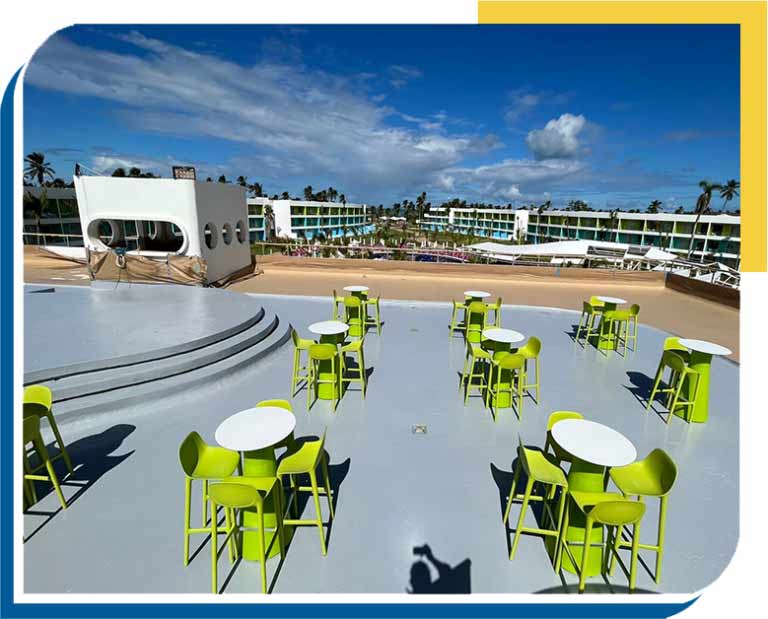 A major problem in construction is applying the right waterproofing treatment for the environment, one that will last for years. Some of these areas include:
POLYUREA WEATHERPROOFING
FOR STRUCTURAL STRENGTH
ArmorThane polyurea coatings actually make surfaces stronger against violent weather such as severe straight-line winds and even tornadoes, hurricanes and earthquakes. These brutal winds and ground shifts can easily bend, crack and break wood, metal and concrete. But, when polyurea is applied to outdoor walls, floors, decks, walkways, signs and other surfaces, it forms a bond that provides a high tensile strength. Therefore, the material stretches to absorb the impact, holding the structure together.
WATERPROOFING APPLICATIONS

Footbridge Waterproofing
By nature, footbridges are vulnerable to the elements. Attack from water, chemicals, and frost can lead to deterioration and loss of structural integrity.areas.

Stadium Waterproofing
The waterproofing of world-class stadiums and stadium structural maintenance management are essential elements that guarantee the security of players, fans, and staff.

Plaza Deck Waterproofing
Plaza decks are created in multiple forms with many distinguishable names—To name a few, there are Roofs, Floors, Driveways, Courtyard, and even Vegetative decks.

Silo Sealing/Waterproofing
Silos have been an integral part of the country for decades. These remarkable architectural designs are mainly used to store grain in optimal conditions to be used months after harvesting.

Manhole Restoration – Manhole Rehabilitation
Polyurea linings serve as a practical and ideal solution to manhole rehabilitation. They can be molded to the shape of the existing structure.

Basement Waterproofing
Over the past 20 years, polyurea has become the No. 1 choice in resolving many issues in the coating industry.
become a CERTIFIED applicator
Without a profit stealing franchise model that restricts business potential, we assist you in developing a financial plan and formulating product costs that position you for success once you join the ArmorThane applicator network. Starting your own coatings business has never been so easy. View the process of becoming an applicator in our video to the left.

Take the first step towards a low cost polyurea, polyurethane, or spray foam business opportunity and call us at 800.227.2905 or fill out our contact form below. Someone from our company will contact you to answer your questions and provide you more information.