Polyurethane | Polyurea Coatings Improve Landscaping Water Features
Polyurethane | Polyurea Coatings Improve Landscaping Water Features
Waterproof and Prevent Corrosion
Seamless membrane coatings like ArmorThane's line of polyurethane and polyurea protect the water basins, the channels and the water management parts of your custom water gardens.  Stopping the corrosion and erosion is just as important as keeping the water from leaking by sealing cracks and fissures.  In addition to the endurance that a protective coating offers, they can be decorative and attractive as well.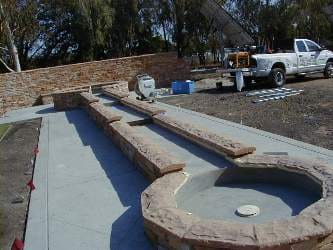 Protect Stone and Concrete
The stone and concrete used to shape the newest outdoor work of art needs protection from the rapid erosion  effects of moving water.  Protecting these landscaping surfaces with an ArmorThane polyurethane or polyurea coatings will retain the structural integrity and functionality for far longer than an unprotected pond. This works similar to a tank coating process.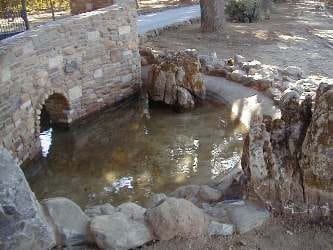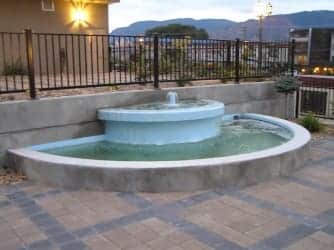 Eliminate Leaks and Drips
Don't waste water by allowing it to seep through cracks and fissures.  Using a liner eliminates the places for water to penetrate or escape. Custom spray-on liners fit everything from the smallest residential water feature to large industrial chutes and sluice gates.  Watermills run better and fountains look their fullest when the water they were designed to use gets to them.
Add Color and Style
The pigmentable and paintable nature of ArmorThane polyurethane and polyurea allows for a decorative coating as well.  You can color match to existing decorations or accent the patio and home colors.  For example, with ArmorShield you can even incorporate a faux stone on concrete to complete your oasis.  Custom looks and unique architecture can be retained with a spray on coating that conforms to your style.  With the addition of ColorCoat, your design is protected from harmful UV deterioration.
Other Water-Related Coatings
Many times landscaping includes wood decks.  It's frustrating to constantly refinish in order to prevent discoloration or wood rot.  Click here for an article that specifically addresses these wood deck problems and watch a video that shows how well these coatings stand up, even against steel rotary barbs.  Also check out the article on the best way to fix patios, porches, concrete floors.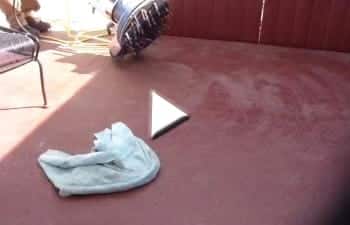 If you are interested in recreational water and ArmorThane, check out boat decks and hulls.
Want To Become an Applicator?
A small investment for coating equipment and products will get you started in a new polyurea, polyurethane, and spray foam business or increase the revenue of an existing company. With no franchise fees or royalties, starting a protective coating business or other ArmorThane dealer business is a relatively low cost venture. 
We provide personal training to get your new polyurea or polyurethane system up and going. Plus, we have a dedicated support team ready to assist you anytime you need us. We sell to dealers around the world who use our products for a wide variety of applications. These include everything from truck bed liners to animal habitats.