ArmorThane Montreal Aids in Olympic Stadium Renovations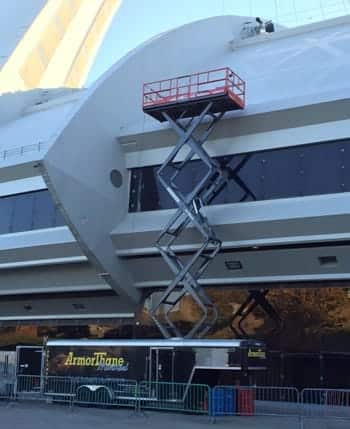 The Montreal Olympic Park is a source of national pride with the Olympic Stadium, 541 foot observation tower (165 meters) and The Biodome.  Built for the 1976 Summer Olympics, the Stadium is now used for sporting events, concerts and other activities.  Each year hundreds of thousands of visitors enter the park.
ArmorThane Montreal has worked on various coating projects throughout the Olympic Park for several years, including The Biodome.  The latest project involved coating the gutter system of the Stadium to repair and prevent further deterioration of the concrete.  Combining the domed roof shape with harsh weather, the large gutter troughs that channel the run-off have been damaged from years of rain erosion and the impact of ice and snow.
Besides the deterioration, the challenge for repairing these fairly narrow eave troughs was the height.  A scissor lift was used to raise people and tools to the 53 foot high sections.  With ArmorThane's mobile coatings unit, all of power and high pressure spraying equipment could remain in the trailer below.
Sitting high above the ground, harnessed workers first scraped off old finish to ensure the ArmorThane coating formed a permanent bond to the concrete.  Once cleaned, sheets of plastic were secured to the outside of the building to prevent overspray given the wind velocity at those heights.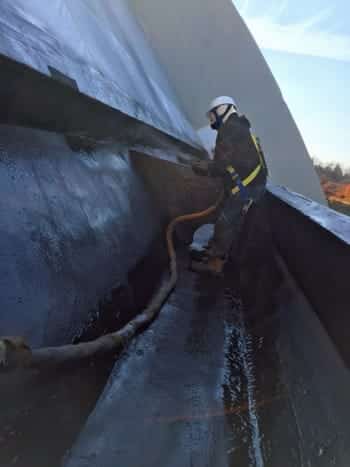 ArmorThane Highline 310 polyurea coating was sprayed onto the surface to form a waterproof barrier that expands and contracts with weather changes.  It doesn't crack, peel or corrode with rain run-off or snow build up.  Coatings hold up in temperatures from -80°F to +280°F.  The final step is to roll on a UV stable coating to match the white exterior.
The ArmorThane coatings will protect this part of the building for years.  It's a great one-time investment.