The Barrier Problem
To ensure a seamless waterproof barrier, an area to watch is where the deck or porch connects to another structure such as the house, patio, fence or even supporting beams.  This also applies to spraying inside floors where they connect to the wall or steps.  Rain or wash water can be trapped in uncoated crevices where the walking surface attaches.  Simple caulking will eventually expose the structure to deterioration leading to wood rot, concrete cracking, and mold and bacteria growth.
The best approach is to seal the cracks then also spray at least partway up the vertical section. Different substrates may require different preparation and primer since ArmorThane material sprays on wood, concrete, or even brick and stone.
Connecting Wall to Concrete
A chamfer molding can be used to connect the two right angle surfaces. It creates two minor seams instead of a major one and typically gives a more aesthetically pleasing edge.  To join an exterior wall and the floor, the chamfer is placed against the seam then attached with our woven fiberglass ArmorTape.  A primer layer and a polymer coating are applied on both the floor and either the whole vertical wall or just high enough to cover the taped seams, typically three to four inches. A top coat can be added for color or UV protection.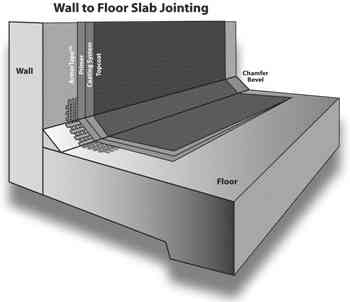 If the coating butts against concrete that is not to be coated or is covered with a different material, the best approach is to saw a quarter inch (deep and wide) groove where the wood meets the concrete. The ArmorThane primer, polymer, and topcoat are applied to the wood and into the groove for proper sealing.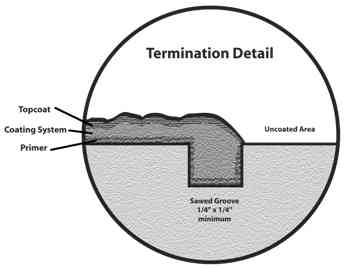 Connect Siding to Wood
In the case of wood decking that butts against siding, a metal flashing would be applied to cover the crack.  ArmorTape is applied to seal the flashing to the wood before coating.
The tape is also used to cover cracks between wood planks. The decking is then sprayed with ArmorThane primer, polyurethane or polyurea, and topcoat.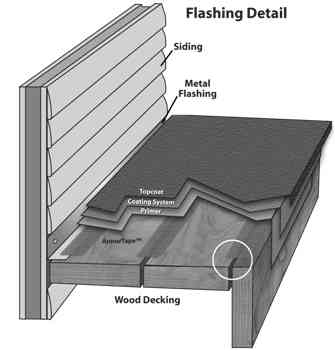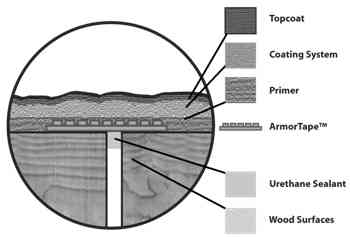 A Waterproof Barrier
These processes will yield years of easy maintenance with a waterproof barrier.  Both the top surface and the underlying structure resist weathering, foot traffic, and movement of furniture.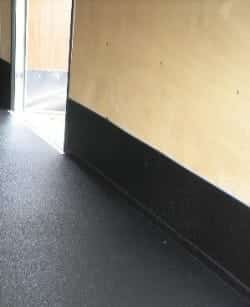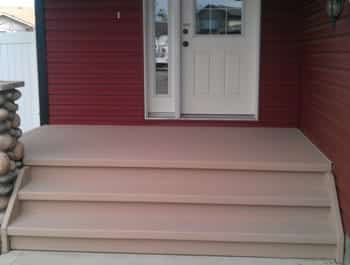 Note: These sketches provide guidelines for the installation of ArmorThane coating systems.  These details should be used as a guideline only.  Decisions on the final details should be made by the applicator after evaluating site conditions, code requirements and other standards.  Please read all information in the product technical data sheets, operations manual and material safety data sheets (MSDS) before applying any ArmorThane coating system.
Also check out these articles on the best way for fixing, waterproofing and coating wood decks and concrete patios / porches and protecting landscape water features.