Protect Your Houseboat Roof With Polyurea
PROTECT YOUR
HOUSEBOAT ROOF
Protecting a houseboat roof can be a complex task. Your houseboat is subject to many years of UV radiation and weather fluctuations. The roof can become brittle, unsafe, and unsightly over time. You can repair your roof by following the simple do-it-yourself procedures we will discuss in this article. You will learn how to paint and protect your houseboat roof, which will extend its lifespan. 
The key to protecting a houseboat roof is preventative maintenance. Your roof will last longer if you take care of it now. Fiberglass roofs typically begin leaking in as little as ten years without proper protection. This can lead to disaster and costly repairs. The same rules apply regardless of whether you have a Gibson Houseboat, Adventure Craft, Catamaran Cruiser, Fantasy, or Adventure Craft model. With some basic maintenance and preventive work, you can avoid costly repairs in the future. You'll be amazed at how easy it is to maintain a roof on a houseboat.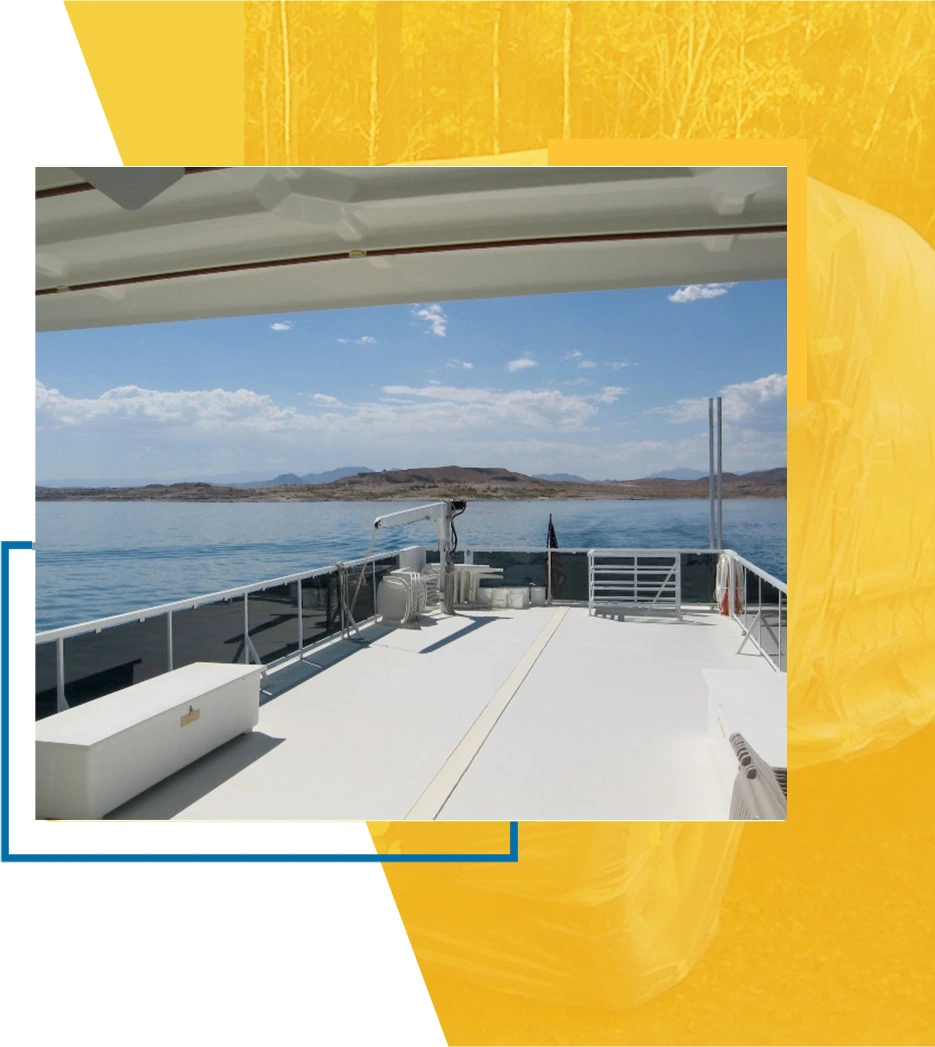 STEP 1 – CHOOSE A COATING
It is not possible to paint your fiberglass roof using any coating. There are many options. First, a gel coat. Although it is simple to apply, this material doesn't last as long as other materials. Acrylic paint is the second choice. This process takes a bit more work but lasts longer. Many people are unaware of a third option. It's Polyurea. It is easy to use, UV-resistant, waterproof and has non-slip characteristics. It won't crack or peel, and it works well in all climates. It's an excellent choice for your Houseboats roof.
STEP 2 – PREPARE THE HOUSEBOAT ROOF
You can sand the fiberglass roof surface if you have one. The surface must be rough to ensure that the material adheres to it. The applied coating will hold well to the roof substrate if it is scored and roughed up. Use 40-grit sandpaper to give the surface a dull look. You must first clean your fiberglass roof and be sure to remove all dirt and grime. This will disinfect the roof and protect against mold and algae. Before you start sanding, make sure to patch or repair any cracks and holes.
STEP 3 – PAINT YOUR HOUSEBOAT ROOF
You are now ready for the part that you have been waiting for. Now it's time for you to paint. A primer is an option, but it's not required for fiberglass. If this is the route you choose, ensure that the primer matches your paint. Then use 300-grit sandpaper for sanding. If you want to achieve the best results, make sure you adhere to the primer's guidelines regarding the ideal time for applying over-coating. Next, scrub the surface with 36-grit paper before you paint. Follow the instructions to mix your materials. Apply your first layer using a sprayer, brush, or roller. ArmorThane's ArmorLiner is a good option for your roof coating. Once the product has been sprayed, it hardens almost instantly. However, you should allow it to finalize the curing process for at least one to two hours. Be sure to let the roof dry completely before you use the boat. 
ArmorThane PROTECTS A HOUSEBOAT ROOF
The best way to protect a houseboat roof is with the use of ArmorThane protective coatings. We believe your houseboat deserves the best. All marine roofs are compatible with our material. All that's left to do is give us a call at 800-227-2905, so we can discuss your project in depth.
Professional Polyurea Application Training
Become a Certified Polyurea Applicator
Take the first step towards a low cost polyurea, polyurethane, or spray foam business opportunity and call us at 800.227.2905 or fill out our contact form below. Someone from our company will contact you to answer your questions and provide you more information.