Polyurea Over Geotextile Fabric
For Secondary Containment
Polyurea Over Geotextile Fabric For Secondary Containment
POLYUREA:
THE ULTIMATE CONTAINMENT SOLUTION
Due to it's flexibility, seamless nature, and strength, ArmorThane's polyurea geotextile geomembranes are being utilized as alternatives to traditional geomembranes. Seamless polyurea geotextile geomembranes are now preferred for many complex liner installations.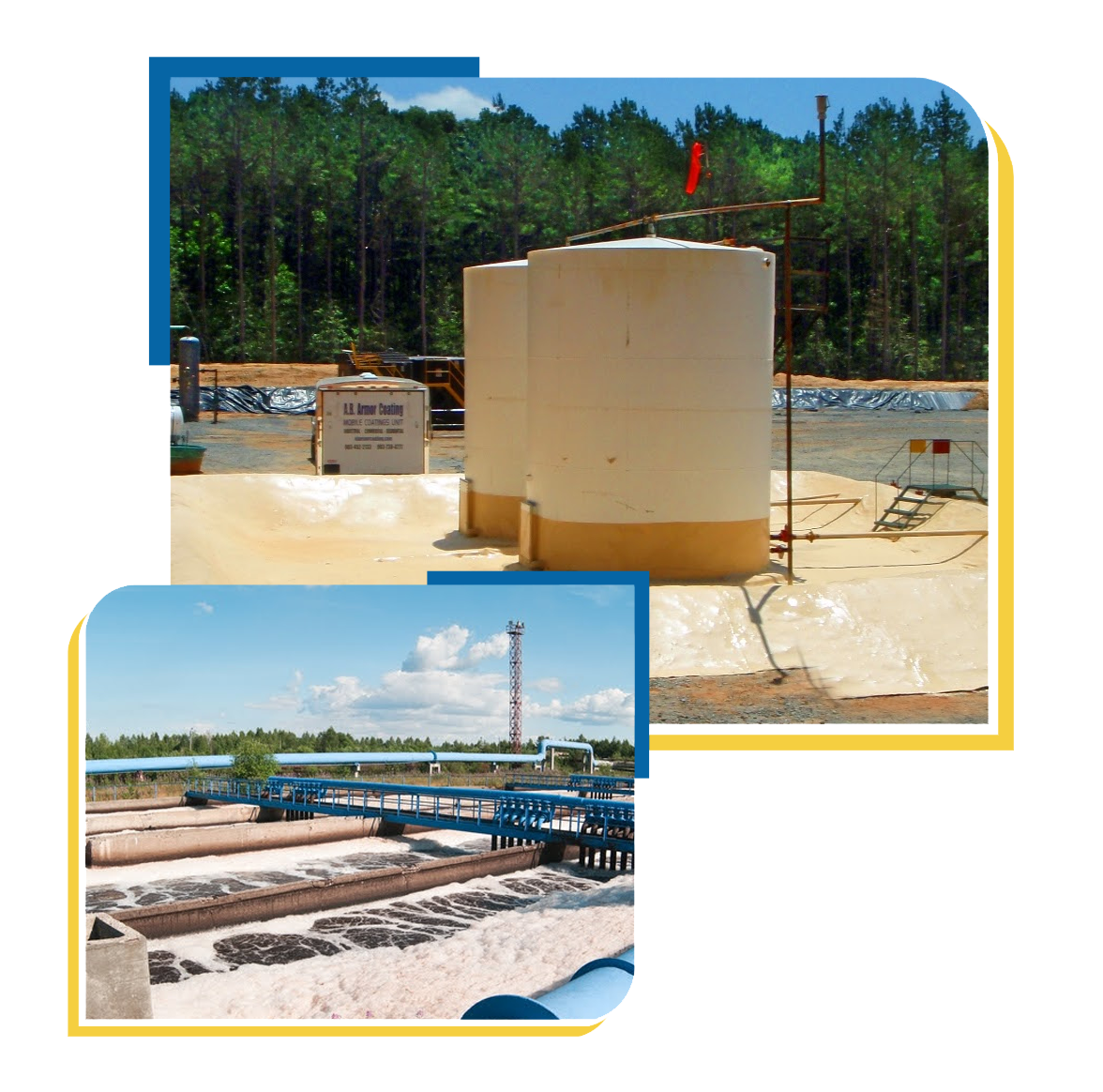 POLYUREA OFFERS MANY BENEFITS
Geo-membranes are normally made from thin, relatively continuous polymeric sheets or a composite of a thermoset polymer applied to a synthetic geotextile. 
The seams between the sheets of geotextile fabric are normally sealed and glued together using weld seaming or glues for polymeric sheet goods or using the coating system for spray-in-place liners.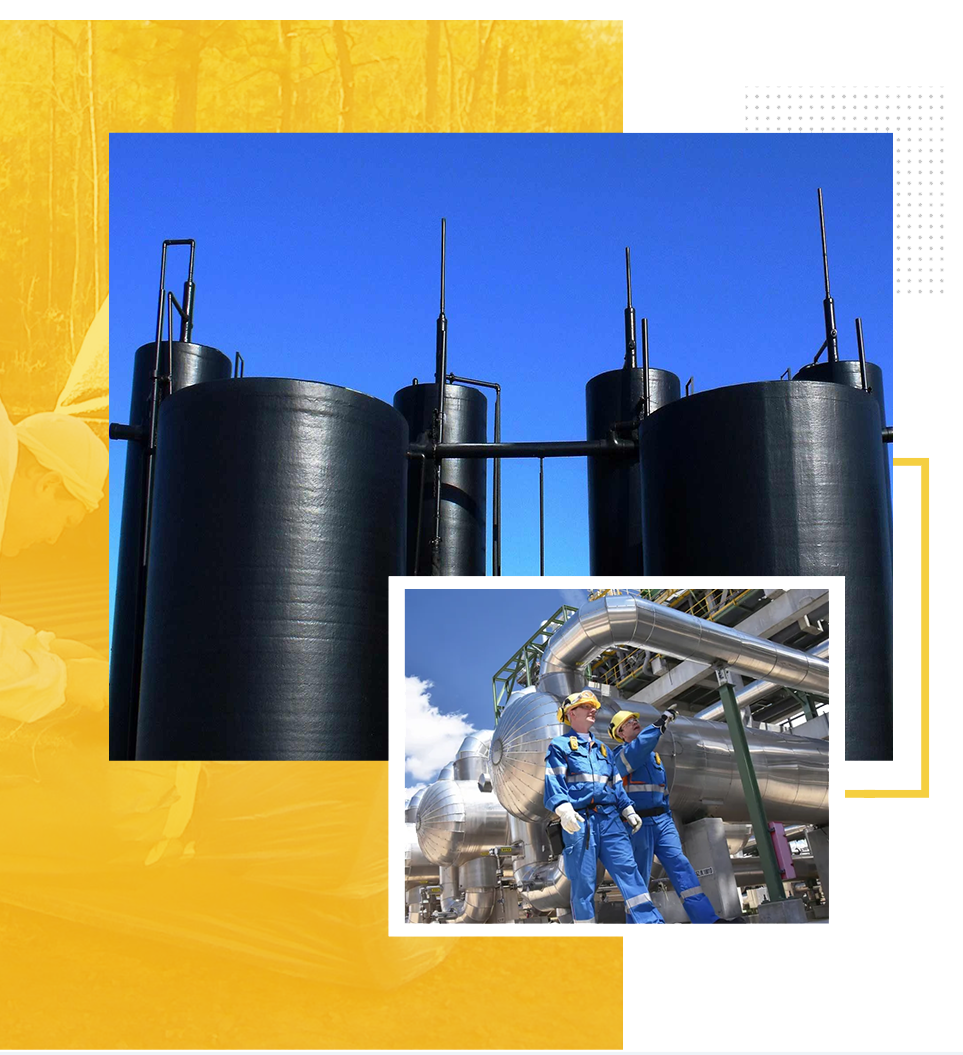 Why is Polyurea the best coating for
Secondary containment on geotextile fabric?

The following are only a few of the many advantages of encapsulating Asbestos and lead with polyurea coating.
· Not the compelling reason to discard expelled Asbestos – brings down the cost
· No requirement for rooftop expulsion – little to no down-time
· Long lasting – Outlives the planned life of the building
· Fireproof Can be connected to wet surfaces
The current trend in secondary containment construction is created by laying geo-fabric in the containment area and spraying a protective coating to provide seamless coverage over the geo-fabric. The coating most often used is polyurea elastomer. 
This system offers enhanced flexibility, rapid application, and cure speed for quick seaming compared to other systems.
Assembly is fast and easy because of this method's ability to conform to various shapes and structures, such as pipes and tanks.
Polyurea provides chemical resistance to contain oil, drilling fluids, and reagents used in fracturing. 
The structural rigidity, fracture toughness, and elongation of the polyurea-coated geo-high fabric provide the strength necessary to withstand the impact of devices and equipment without spilling and superior cut tear resistance. 
Stress cracking is not normally a factor with polyurea products.
Geo-fabric coupling with ArmorThane's Polyurea provides the greatest technical solution currently available. Polyurea-coated geotextile membranes are probably the most advanced secondary containment technology. 
The new secondary containment requirements are looming on the horizon for any firms or groups that deal with hazardous chemicals. Armorthane's Polyurea is specifically designed to be used over geotextile fabric. It is formulated for colder substrate applications and extreme outdoor conditions where water, humidity, or low temperatures may exist.
One of the quickest methods to create a trustworthy containment area around tank fields or drilling well heads is with ArmorThane's Polyurea over geotextile.
Because of its strong adherence to suitably prepared surfaces, ArmorThane's Polyurea is excellent for mainlining and repair operations. 
Just as the contractors always strive to provide the best work possible, various efforts are being made to ensure the best possible Polyurea product. ArmorThane holds the promise to give the best Polyurea for secondary containment systems. One may now picture its significance in providing endless possibilities in the painting and coating industries. So, what are you waiting for? If you've tried various companies that are not working, then you need to go with ArmorThane's products. It's never too late to make a better decision!
WANT TO BECOME AN APPLICATOR?
Without a profit stealing franchise model that restricts business potential, we assist you in developing a financial plan and formulating product costs that position you for success once you join the ArmorThane applicator network. Starting your own coatings business has never been so easy.
Take the first step towards a low cost polyurea, polyurethane, or spray foam business opportunity and call us at 800.227.2905 or fill out our contact form below. Someone from our company will contact you to answer your questions and provide you more information.