Corrosion Prevention
On Steel Structures
CORROSION PREVENTION ON STEEL STRUCTURES
Over time, all metals except gold will rust when exposed to water (H2O) and air (O2). We all know how fast cars become rusted when exposed to a coastal marine environment. Steel corrosion is irreversible and permanent. We previously pointed out that the protection offered by industrial floor coatings is akin to covering the floor with dense, long-lasting skin made from inert materials. This article will explain how steel coatings differ from floor coatings by offering protection against the inevitable effects of steel corrosion or, as it's better known, RUST!
It is crucial to understand how it happens and ways to mitigate the process before your property rusts away into nothingness…
The combinative stability of steel and its workability to be trimmed, shaped, or welded has made it an irreplaceable material in the construction industry. However, scientists and engineers had combated steel corrosion since the Industrial Revolution, when large-scale steel production first began on a large scale.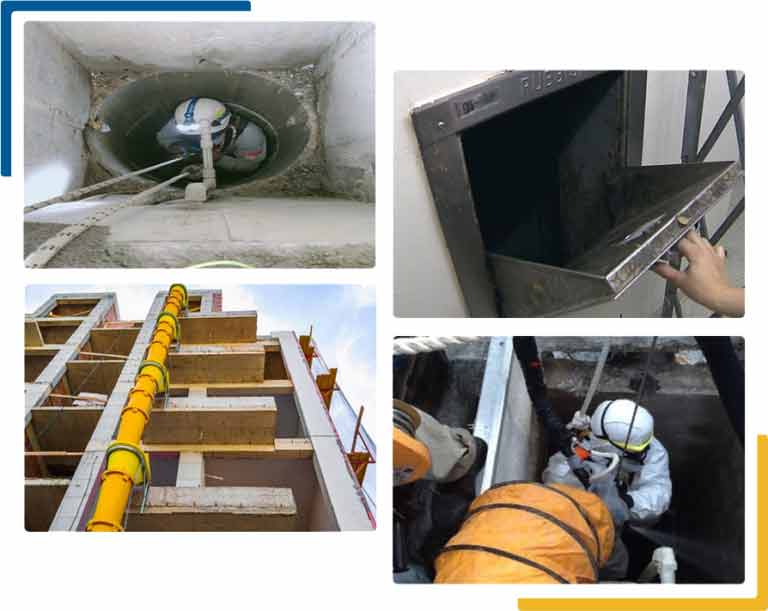 Thankfully, steel corrosion can be mitigated by a careful selec­tion of corrosion-resistant, protective anti-corrosive coatings. The steel specified in buildings by architects and engineers can vary considerably, usually depending on practical factors, includ­ing budgetary constraints and considerations between cost bene­fits versus lifespan. The steel used for factory structures such as steel beams, columns, roof sheeting, gutters, wall claddings to door frames (galvanic coated metal) or water pipes and hinges (stainless steel) differs in formulation durability, anti-cor­rosive properties, and naturally, their price points.
Mild Steel (MS) is widely used for factory structures but will rust quite quickly compared to stainless steel or electro-plated steel if unprotected. It is prohibitively expensive to use stainless steel or galvanized steel throughout factory structures, hence the need to deliver anti-corrosion steel coatings where MS is generally used.
Choosing The Best Coating
FOR CORROSION PREVENTION
Different types of factories operate with varying processes that involve chemicals, high moisture, water immersion, abrasions, or food production. The selection of anti-corrosion steel coatings is usually determined in accordance with these processes and the substrate. Recommended anti-corrosion coatings must consider the type of steel substrate, which can vary between existing and new structures and proximity or exposure.
As with all coatings, the durability hinges on the condition of surface preparations, substrate, and primers.
It is pointless to apply a coating over badly rusted steel. In some cases, re­placement is advised where substrate steel has already reached the end of its lifespan. There are four categories of anti-corrosion coatings, and they come mostly in liquid forms derived from the following base materials with proprietary additives and solvents added:
– Polyurea & Polyurethane
– Epoxy
– Alkyds
– Acrylics
Considerations To Make Before Applying
CORROSION PREVENTION COATINGS
The choice between "conventional" and "heavy-duty" systems will depend on:
– environmental working conditions
– the state of the substrate
– the expected lifespan of the coating
– factory production processes
– timing and allocation
New Production Factory
Steel Corrosion Prevention
The meticulous selection of stainless steel or galvanic plated steel, or other non-ferrous materials in some parts of the facility may reduce the need for protective coatings. However, as these materials may be cost-prohibitive or impractical, welded MS is frequently used for factories. MS structure will rust when exposed to water and air. As a result, some parts of the steel structures are more susceptible to corrosion. Heavy-Duty Coating 3-layer Systems comprise zinc phosphate primers and Polyurea Recoatable finish coat. Conventional Coating 3-layer Systems comprise zinc phosphate primers and micaceous iron oxide finishing topcoats. Some coatings can be applied under ideal controlled conditions (off-site). However, for situational coatings, the procedures for applica­tions must strictly adhere to the manufacturer's specifications. As steel columns are installed on concrete floor slabs, it is im­portant to closely coordinate seamless protective coatings between the floor and steel structures as these are usual locations with high corrosion tendencies. Implement a maintenance program for high-touch and abra­sive points to extend the lifespan of steel substrate and coatings.
To learn more about Polyurea or to become a certified ArmorThane polyurea applicator, give us a call or click here to send an inquiry.