Secondary Containment Solved
ArmorThane products prevent oil, fuel and chemical spills from creating environmental hazards, extensive property damage and potential personnel exposure. With the diversity of applications for our products, dealers are taking the Mobile Coatings Units into oil fields and industrial sites to contain a variety of materials.
This involves dealers building berms and trenches using geotextile materials such as soil, sand and gravel then spraying a coating of either polyurethane or polyurea. This has proven to be the best solution since concrete or metal containment can deteriorate over time and is more expensive than geotextile components.
ArmorThane recommends STS 300 polyurethane low pressure or HighLine 310 polyurea high pressure to deliver the hardest surfaces. High pressure equipment coats up to four gallons per minute, thus speeding up the process. An aliphatic polyurea version is available where long-term color retention is needed.
Another benefit of using these products is the ability to completely seal around wires, screws, pipes, tank feet and other structures within the containment area. The surface is easy to maintain including hosing off and blowing or vacuuming debris. Shape will not break down in harsh weather or high wear. It serves as a fluid-proof barrier that resists corrosion, cracking during settling and warping in extreme heat or cold.
Some of the current uses include secondary containment of surrounding oil production, chemical tanks, sewage treatment plants, pipelines, waste water reservoirs, ponds and pools. It is even safe for food processing areas and drinking water distribution.
Videos and Articles
Check out this videos we have posted on spraying sewers: HK Sewer | Manhole Spraying with ArmorThane Polyurea.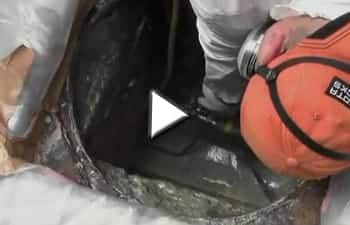 Take a tour of our mobile coatings trailer.  It is customized for specific projects.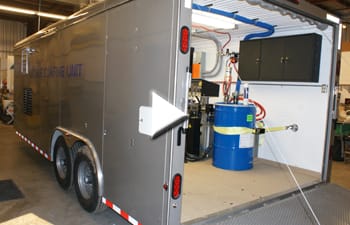 Several articles can be applied to industrial for waterproofing and durability against harsh elements:  Mining and industrial equipment coatings, waterproofing, sealing wood surfaces, military grade coatings.