THE PERFECT SECONDARY CONTAINMENT SOLUTION
SECONDARY CONTAINMENT SOLVED WITH POLYUREA PROTECTIVE COATINGS
Ensuring that your industrial facility meets environmental standards is not only necessary but essential to guarantee its sustainability. One of the requirements for many industries is the use of secondary containment to prevent hazardous chemicals and materials from polluting the environment. However, traditional containment systems made of concrete or steel may not be ideal for every situation. That's where polyurea comes in. In this blog post, we will explore how polyurea is the perfect solution for secondary containment.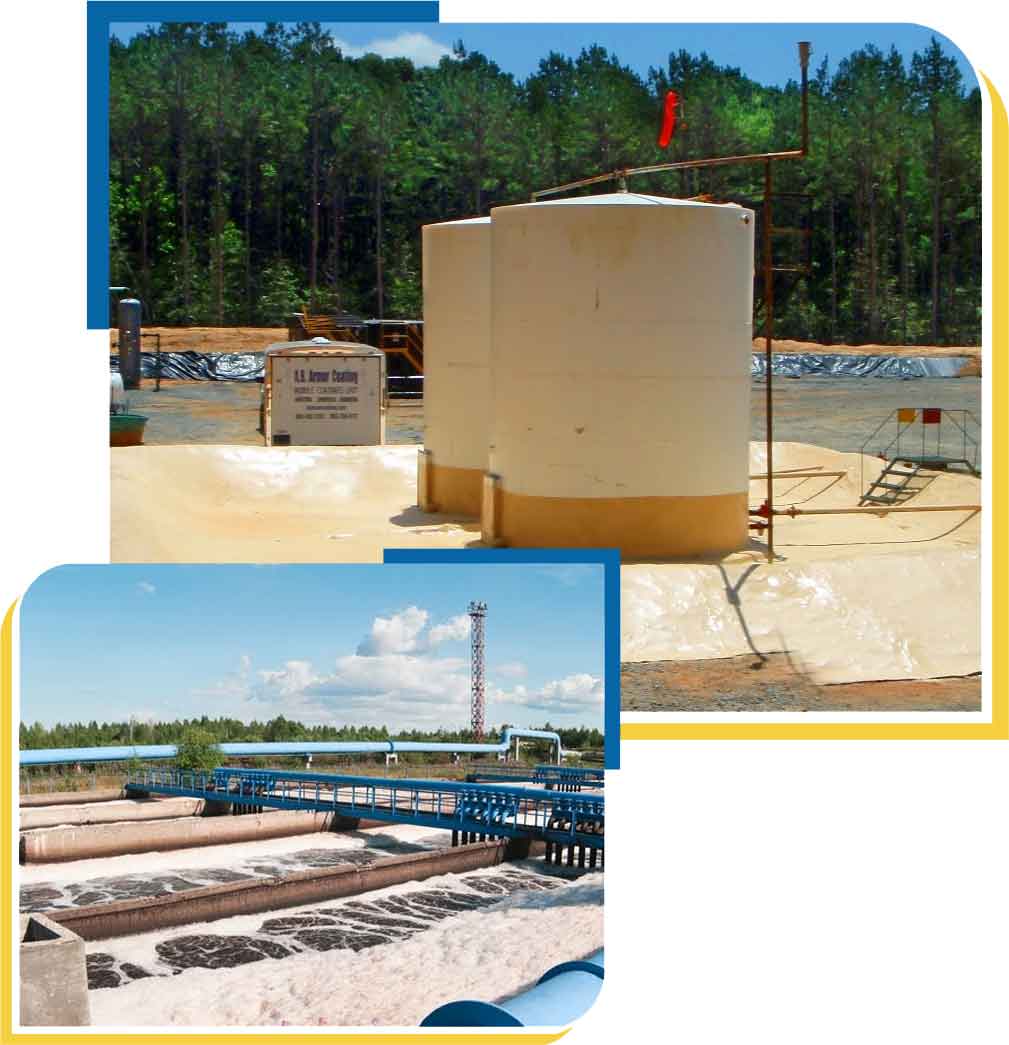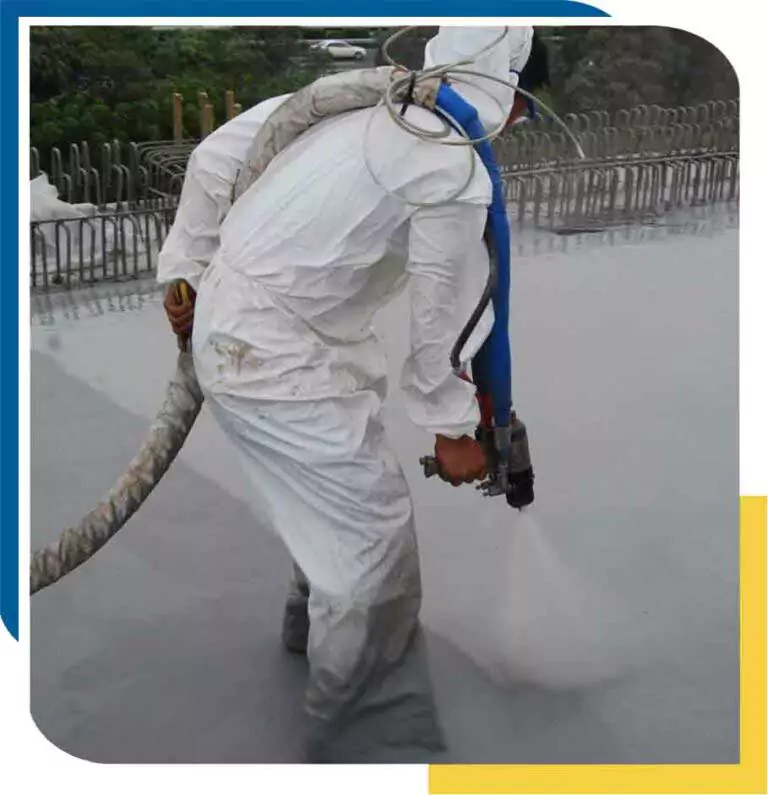 ArmorThane products prevent oil, fuel and chemical spills from creating environmental hazards, extensive property damage and potential personnel exposure. With the diversity of applications for our products, dealers are taking the Mobile Coatings Units into oil fields and industrial sites to contain a variety of materials.
This involves dealers building berms and trenches using geotextile materials such as soil, sand and gravel then spraying a coating of either polyurethane or polyurea. This has proven to be the best solution since concrete or metal containment can deteriorate over time and is more expensive than geotextile components.
WHAT IS IT & HOW DOES IT WORK?
Polyurea is a durable solution for secondary containment. Its physical properties make it a perfect choice for many industries. Polyurea is a flexible material that can be applied to any shape or size of a surface, meaning that you can coat complex shapes without causing stress or cracks on the surface. You can use it as a barrier to contain lubricants, acids, or any chemical compound prone to spillage. Polyurea coatings are even safe to use with food-processing equipment as they do not contain any volatile organic compounds or solvents. Polyurea can also withstand large temperature changes and extreme weather conditions, making it a resilient material for outdoor facilities.
Another reason to use polyurea for secondary containment is that it is easy to install. Polyurea coatings are sprayed in place, which means that you do not need to cut or weld the material, reducing labor costs, and downtime. The quick curing time of polyurea coatings is also a huge advantage to any plant owner as they can go back to operations in no time. Traditional coatings like concrete, on the other hand, require a longer curing time and can be affected by weather conditions, which may cause delays in the project.
Polyurea also boasts high resistance to abrasion and impact. Equipment and human traffic can easily harm a secondary containment area, but polyurea coating is designed to withstand these kinds of damage. In addition, polyurea coatings are also resistant to chemical and water immersion. These types of coatings are also highly durable, and once installed, it will keep the secondary containment fully functional for years to come.
Using polyurea coatings can be beneficial to the environment as well. Containing hazardous materials is a must for any facility; using polyurea in containment systems helps safeguard the environment from pollutants. Furthermore, polyurea does not contain any harmful volatile organic compounds (VOCs) or toxins that could cause harm to the environment. If a spill or accident should occur, you can easily clean it up without worrying about environmental repercussions.
POLYUREA: THE MOST EFFECTIVE SOLUTION
Polyurea is a cost-effective, durable, and practical solution for secondary containment in any industrial facility. Its physical properties make it an excellent choice for complex shapes, temperature changes, and outdoor installations. The quick curing time and ease of installation are also factors that make polyurea coatings an obvious choice for containment systems. The added advantage of resistance to abrasion, impact, and chemicals, along with its environmental benefits, like VOC and toxin-free makeup, makes polyurea the perfect solution for any secondary containment needs.
ArmorThane Polyurea is a superior option for secondary containment solutions. Our polyurea is meticulously engineered to ensure the utmost safety and provide dependable and long-lasting containment solutions that are not only cost-effective but also effortless to install. Our polyurea is composed of a unique blend that exhibits exceptional resistance to a wide array of chemicals, rendering it ideal for environments that demand additional safeguarding.
Cost-Effective Solutions
ArmorThane Polyurea offers an excellent choice for cost-effective containment solutions. Our polyurea is effortless to install, saving you both time and money. Additionally, our polyurea is highly resistant to majority of chemicals, reducing the frequency of replacement as compared to other containment materials.
Adaptable and Customizable
We provide customizable and versatile solutions with our ArmorThane Polyurea. Our polyurea can be effortlessly applied to any surface, making it ideal for meeting diverse containment needs. Furthermore, it can be tailored to match the aesthetics and functionality of your facility, offering a visually appealing and dependable containment solution.
In today's fast-paced world, where efficacy and durability are of utmost importance, polyurea-based secondary containment solutions present a cutting-edge and innovative approach to safeguarding the environment and your assets. For professionals operating in industries that handle hazardous waste and materials, polyurea-based secondary containment systems offer a distinct advantage over alternative materials, enabling the safe and secure containment of hazardous leaks, spills, and waste.
ArmorThane's secondary containment solution is devoid of volatile organic compounds (VOCs) and solvents, rendering it an environmentally conscious choice. Moreover, its exceptional chemical resistance effectively mitigates the risk of environmental hazards arising from fluid spills.
WANT TO BECOME A
CERTIFIED POLYUREA APPLICATOR?
A small investment for coating equipment and products will get you started in a new polyurea, polyurethane, and spray foam business or increase the revenue of an existing company. With no franchise fees or royalties, starting a business or other ArmorThane dealer business is a relatively low cost venture.
We provide personal training to get your new polyurea or polyurethane system up and going. Plus, we have a dedicated support team ready to assist you anytime you need us. We sell to dealers around the world who use our products for a wide variety of applications. These include everything from truck bed liners to animal habitats.

NO FRANCHISE FEES

TRAINING PROVIDED

24/7 TECHNICAL SUPPORT

MARKETING ASSISTANCE