What are the Advantages of Polyaspartic Coatings?
What do you do when tough isn't tough enough? 
Polyaspartic Coatings: The benefits and uses
Polyaspartic Coatings have many advantages, including high durability, quick return to service, and UV Stability. They also resist abrasion and chemical resistance in harsh environments. Concrete flooring and machinery can be very tough, but they will eventually wear out without proper sealing. Whether you're in a gritty garage or a heated high-traffic commercial space, indoors or outdoors, a Polyaspartic coating can give you incredibly strong, long-lasting protection.
What about Polyaspartic coatings is revolutionary?
Polyaspartic coatings protect the paint underneath, have a 2900 psi tensile strength, and are 3-5 times harder than epoxy. Below is an example of a garage floor that was not protected with a polyaspartic coating. The picture shows a DIY kit (like what you get from Lowes or Home Depot), and these pictures are after three years of use on a garage floor.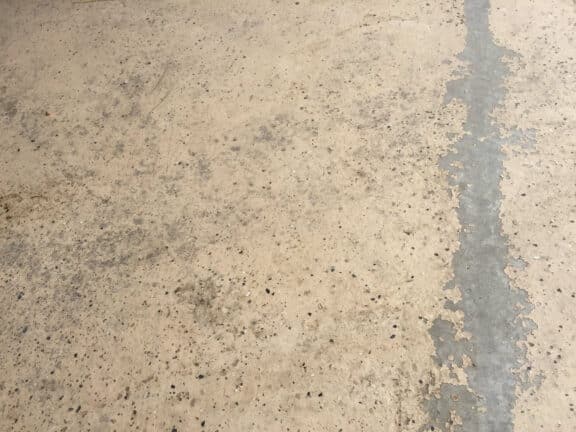 Polyaspartics provide similar performance as a polyurethane coat but at a higher level. It's also a low-to-zero volatile organic compound (VOC), so the cure time is significantly faster.
Its flexibility, protective strength, and chemical resistance make this a popular choice for:
Garage floors: offer great resistance to oil, grease, and gas.
Industrial applications: Including pipes, pipelines, coatings, sewer linings, tank linings, and water treatment plants.
Automotive refinish and molded parts industry: (due to its fast cure time, even at ambient temperatures)
Excellent corrosion protection
Corrosion can destroy not only your equipment but also your budget. Polyaspartic coatings provide excellent protection against corrosion in construction, agricultural, and commercial vehicles and wind power stations, wind turbines, and other machinery exposed to weather conditions.
Ideal for decorative concrete in high-traffic areas
Traffic is the most important thing for any restaurant, retail store, mall, or hotel. A floor that isn't able to handle traffic is the last thing you want. A polyaspartic protective coating such as ArmorFloor is extremely durable and resistant to abrasions. It's ideal for concrete overlays and stained concrete in high-traffic commercial areas. It can also be used to restore faded colors due to its clarity and shine.
Little or no downtime
It has very low or no volatile organic chemicals (VOCs). In other words, it is less time-consuming to cure and requires less downtime. Amazingly, your customers and employees can return to your space in a matter of hours.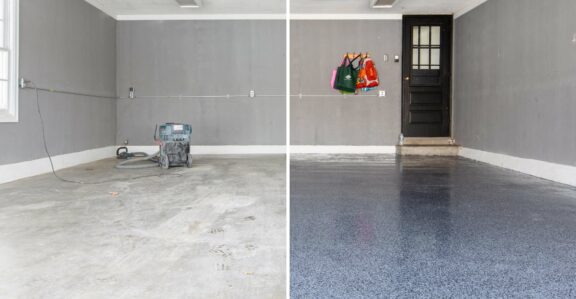 Other benefits of Polyaspartic coatings include:
Extreme temperatures can be used
It is UV stable, so it will not degrade when exposed to sunlight
Stain, scratch, and industrial chemical resistance (resists oil, salt, fat, and mild acid)
Concrete adhesion with geat adhesion at 500+ psi (measurement for adhesion strength).
It will not discolor or blush if it is exposed to moisture.
Good weatherability
Concrete will form a strong bond
Flexibility (different curing agents may be used to produce different results).
Polyaspartic coatings are more durable than Epoxy & Urethane Coatings.
For environments that require abrasion-resistant concrete coatings, epoxy and polyurethane have traditionally been popular choices. However, Polyaspartic coatings have proven to be superior to them in these environments. Taber Abrasion testing revealed that Polyaspartics are almost three times stronger and more durable than epoxies.
They are also stronger, more flexible, less likely to yellow from sunlight, and resistant to scratches. They are more stable, less likely to crack, won't peel, and cure quicker for a shorter time. Polyaspartics contain very few or no VOCs because they are 100% solids. This means that they are more sustainable and better for the environment.
Find out more about the Polyaspartic concrete coating ArmorThane offers for your business. Click here to find a certified ArmorThane applicator in your area, or click here to find out how you can become a certified applicator yourself.