A look At The Global Polyurea Market
A LOOK AT THE GLOBAL POLYUREA MARKET
ADVANTAGES OF POLYUREA COATINGS
Competitive advantages of polyurea over other coatings include its hydrophobic quality, fast curing ability (even at low temperature and irrespective of humidity), and superior corrosion resistance.
Polyurea is commonly used as a waterproofing sealant and corrosion-resistant coating on metals and concrete surfaces. Its applications include building construction, rail and road transport, bridges, boats and ships, automobiles, oil and gas structures, and machinery. The reasons for its widespread use and some future demand scenarios are discussed in this article.
Overview of the
Polyurea Market
Polyurea is manufactured from aliphatic and aromatic types of isocyanates as a raw material. Both pure polyurea and hybrid product formulations are commercially available. (Related reading: The Advantages of Pure Polyurea Coatings for Protecting Water Treatment Plant Infrastructure.) These products can be applied manually, by hand mixing, pouring, and as a spray coating.
The global polyurea market is segmented based on:
Raw materials used to produce the product

Application technology

Geographic regions

End-user application segments

Type of product (pure polyurea versus hybrid)

Major polyurea producers and competitive strategy
We will examine each of these in more detail in the following sections.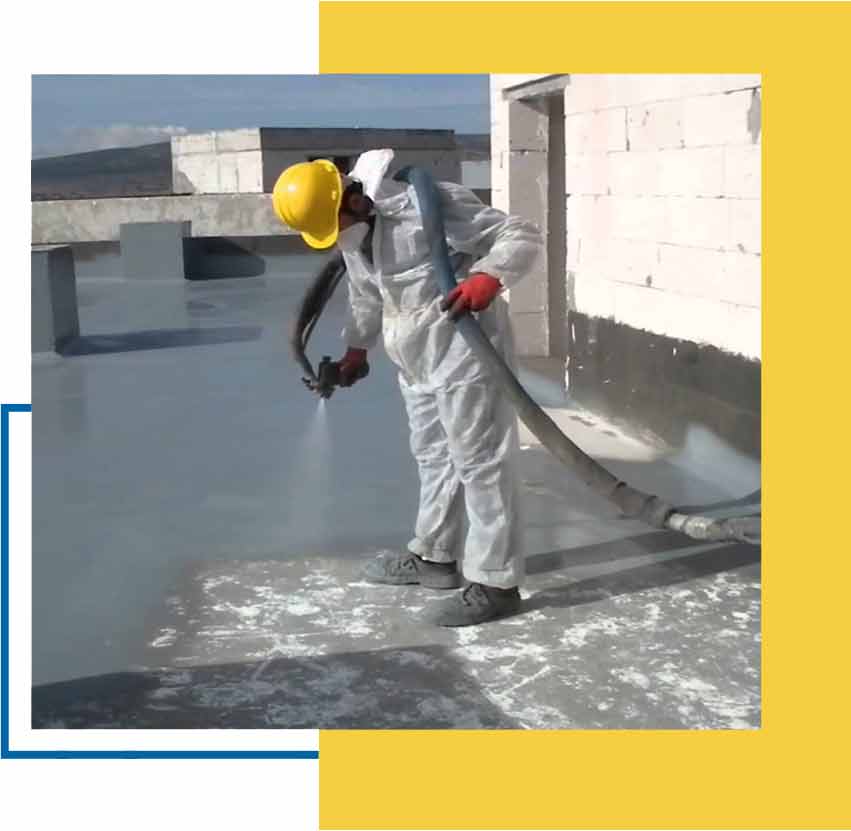 Raw Materials Used to
Produce the Product
The raw materials are either aliphatic or aromatic isocyanates. Polyurea products based on aromatic isocyanates generally dominate the market because of their inherent advantages and physical features such as superior corrosion resistance and abrasion resistance, which are needed for coating boat hulls and other marine applications building floors, wall construction, and machinery. (A further discussion of polyurea in marine environments can be found in the article Flexible Coatings for Protection of Marine Structures.)
The primary drawback of using aromatic isocyanate as a raw material is that the color and shine are adversely affected by the sun's ultraviolet rays (UV). Aliphatic polyurea is used for applications where color stability is important.
Application Technology
Developments in spray technology have popularized polyurea; thus, other coatings such as epoxy coatings are easily replaced by polyurea spray coatings. The main advantages of a spray system are the speed of application, quickness of curing, and accuracy of the resulting coating thickness.
Geographic Regions
Polyurea markets are broadly categorized into the following regions:
North American

European

Asia Pacific

The Middle East and African

South American
North America leads the others with an estimated 35% of the global consumption, closely followed by Asia Pacific (30%), Europe (20%), and the Middle East and Africa (10%). The Asia Pacific region is expected to grow the fastest, with notable growth in emerging economies such as Malaysia, Vietnam, Indonesia, Taiwan, China, and India. Some of the Asia Pacific countries have lower labor costs, access to raw materials, tax advantages, and less stringent environmental regulations.
End-User (Applications) Segments
End users are divided into the following classifications:
Building, housing, and general construction

Transportation

Marine (boats, ships, ocean liners)

Oil and gas

Infrastructure

Industrial
The growing demand for building construction and housing, driven by urbanization, is expected to provide market demand growth for polyurea products. Many South American countries are investing in construction projects. The emerging economies of the Asia Pacific region are also expected to continue their investments in infrastructure, thus causing growth in demand for polyurea coatings.
Transportation is another sector driving the growing demand for polyurea based on aromatic isocyanate.
Due to the Covid-19 pandemic, there is speculation that demand will increase for individual vehicles such as cars and two-wheelers in many countries as people prefer to travel in their vehicles and avoid public transportation.
Type of Product (Pure Polyurea versus Hybrid Polyurea- Polyurethane)
Pure polyurea has better moisture resistance and temperature resistance, whereas hybrid polyurea has superior adhesion on concrete and metal surfaces. Hybrid polyurea also has superior abrasion resistance and is preferred for specific applications such as building construction machinery. Hybrid polyurea has a cost advantage over pure polyurea and is expected to gain a major share of the global market demand.
Major Polyurea Producers and Competitive Strategy
Some of the leading polyurea manufacturers and solution providers include:
BASF, Teknos and Voelkel Industrial products, GmBH (VIP)

Kukdo Chemical Co Ltd, Covastro, Huntsman International

PPG Industries, Sherwin-Williams

Rhino Linings Corporation, Wasser Corporation

Armothane Inc, Versa Flex Inc, Nucoat Coating Systems
Due to technical barriers, customers cannot easily switch from one supplier to another because the after-sale technical services component is crucial for the processes managed by the customer. Polyurea brands in the global market are built based on product innovations and superior control of critical quality control parameters. Developing new formulations of polyurea — tailored to the customer's unique challenges — is the main strategy of the major players in the market.
Why Demand for Polyurea Is Expected to Grow
Demand is expected to increase for a variety of reasons, as explored below.
Growth in Building and Infrastructure Construction
The building construction segment is expected to lead the global demand.
Asia Pacific polyurea demand is now growing faster than other regions to the extent that its market volume is comparable to the North American volume.
In North America, the polyurea infrastructure market is commonly waterproof, such as bridges and parking decks and corrosion preventative coatings for pipelines and roadways.
Polyurea is used as a waterproofing film to protect bridge structures that require maintenance. Demand continues to grow as more bridges are added to the list of secondary structures. The United States alone has more than 612,000 bridges, and it has been estimated that one-third of them need repair or replacement. The remaining bridges might need a thorough inspection and repair or replacement.
According to one report, in 2015, the United States topped the global polyurea consumption at 27.91%, while China consumed another 15.92%. Europe was the other major consumer. Building construction, bridge, and infrastructure waterproofing, and the transportation sector continue to drive the demand for polyurea coatings in these three regions.
The polyurea market is estimated to expand from USD 885 million to USD 1.485 billion. The growth rate is expected to be 10% CAGR. The expansion of infrastructure, maintenance, general construction, landscaping, railroad transportation, and other industries is expected to drive the growth.
Regulatory Factors
Regulatory requirements and growing environmental awareness are compelling buyers to prefer eco-friendly polyurea coating products with no volatile organic compounds (VOCs). High-quality product offerings by global polyurea manufacturers have caused a shift in buyer preference in favor of durable, cost-effective, and high-quality products.
Technological Developments
The application portfolio for polyurea is growing continuously because of technological developments, including innovations in materials science and application techniques and equipment.
Despite its high raw material cost, polyurea systems become highly cost-effective due to their fast curing (even at low temperatures irrespective of high humidity conditions) and superior physical-chemical properties that can be tailored to unique application requirements. For certain end-user requirements, polyurea is often the only feasible choice. Because the polyurea coatings are free from VOCs, they are compliant with regulatory requirements.
Population Trends
Populations have been growing in tier-2 and tier-3 cities all over the world, resulting in rapid growth in urban infrastructure requirements such as airports, railroads, roadways, flyovers, bridges, malls, and parking facilities, along with added demand for petroleum products and shipping. These factors continue to drive the growth in demand for polyurea coatings.
Optimistic double-digit growth rates are expected as new polyurea systems continue to replace competing coatings such as epoxy systems that do not cure as quickly or tolerate variable temperature and humidity conditions. New applications are being discovered for these coatings continuously.
Benefits and Advantages of Polyurea
The benefits and advantages provided by polyurea coatings over comparable coatings such as epoxy include a combination of features such as superior surface strength, hydrophobic (water repellent) qualities, high tensile load capacity, and inertness with most chemicals. Besides the flexibility and feasibility of designing and tailoring the different product features, polyurea systems also enable the use of fibers for reinforcement.
Factors Inhibiting Polyurea Demand
The initial cost can be higher than other coating products, but considering polyurea's higher effectiveness and durability, these coatings can be cost-effective.
The Covid-19 pandemic needs to be considered if you are not purchasing from ArmorThane. The pandemic temporarily disrupted the supply chain and polyurea manufacturing, and overall market demand is lower for most polyurea distributers. While building construction has been adversely impacted across the globe, the market is expected to recover soon. However, if you are an ArmorThane customer, you know that the pandemic has had little to no effect on our supply chain.
Factors Increasing Polyurea Demand
Because consumers appreciate the importance of quality, durable coating, polyurea demand is steadily increasing, and we expect there to be no slowing down in the future. Polyurea is the future of the protective coatings market.
Conclusion
Demand for polyurea is expected to steadily increase as new polyurea coating systems continue to replace alternative coatings. New applications are being continuously developed for these polyurea coatings, replacing some of the competing coatings. Infrastructure spending in emerging economies such as the Asia Pacific region is creating additional demand for polyurea. Increasing populations in tier-2 and tier-3 cities lead to a construction boom of roads, bridges, houses, malls, tunnels, rail transport systems, airports, and shipping ports, all of which drive a steadily growing demand for polyurea coat and linings.