Building Takes 200 Grenades before Being Demolished
Assault training exercises at National Security Associates require throwing live grenades into a concrete bunker.  In the past, this resulted in a large amount of damage in a short time. After about 40 explosions, the bunkers needed to be destroyed and replaced with new ones.  Now, a bunker can last through 150 to 180 grenades and takes only a fresh coat of ArmorThane for most repairs in-between assaults. At roughly $20,000 per new bunker, the savings quickly mount up.
Groups are trained on small unit attack techniques, urban raids, vehicle offensive and defensive operations, command security detail operations, all protocols of general combat demolitions, explosive structural breaching and special purpose demolition techniques.  NSA came up with the idea of coating bunkers after using ArmorThane's spray on bed liner material to protect their trucks from damage during construction and equipment transport.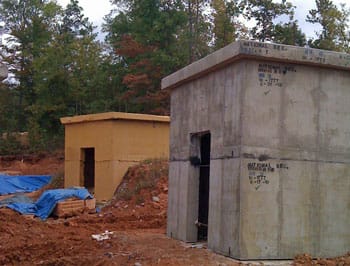 NSA has also seen safety benefits in coating their viewing bunkers to protect spectators. The coating reduces the explosive impact of flying fragments caused by the blasts. These fragments can be the size of a baseball.
ArmorThane develops and tests new polyurethane and polyurea coating products such as ArmorBlast for ballistic and blast mitigation.  Products designed for blast mitigation require maximize elasticity and strength to expand and retract without ripping apart.  NSA bunkers are built then sprayed at the training grounds using Mobile Coatings Units.