BLAST PROOF coatings REDUCE STRUCTURAL DAMAGE & INJURY
ArmorThane Reduces the Impact from Bombs and Bullets
BLAST PROOF coatings REDUCE STRUCTURAL DAMAGE & INJURY
ArmorThane Reduces The Impact From Bombs And Bullets
In the world we live in today, it is crucial to prioritize safety and protection, especially in areas where the risk of explosions or blasts is higher. That's where ArmorThane blast-proof coatings come into play. They are revolutionizing the way we think about defense against explosions, providing a powerful shield against devastating impacts, and ensuring the safety of people and infrastructure.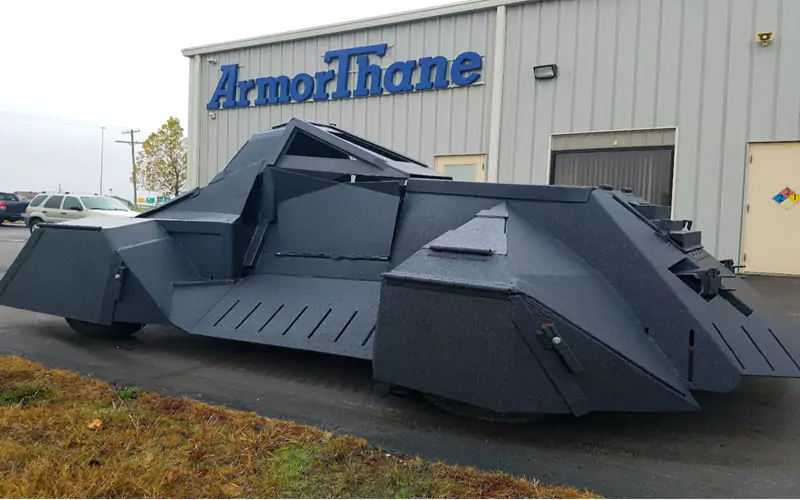 How ArmorThane

BLAST PROOF COATINGS

WORK??
Looking at the anatomy of an explosion, most devastation occurs from the massive pressure that blows apart a structure.  By forming a strong "skin" that holds the structure together or reduces fragmentation, the blast.  Therefore flying debris that acts like shrapnel is less likely to cause severe damage.
Two primary coating products, ArmorBlast and UltraBlast, are developed from a two-component 100% solid polyurea.  They are sprayed on a variety of surfaces.  Temperature exposure ranges from -40°F to 350°F with high tear-tensile strength and chemical and water resistance.
Independent

BLAST PROOF

TESTING
While ArmorThane products have been proven effective in the field, ArmorBlast was also scientifically tested by the Missouri University of Science & Technology Explosives Laboratory.  A series of tests were conducted on a structure of concrete masonry units (CMU) to simulate public building walls.  Results showed our military-grade polyurea significantly reduces building damage from explosion, compared to non-coated surfaces and other products.
"Previous blast tests by MO S&T researchers of other polyurea materials bonded to reinforce concrete showed that the polymer would debond, and in some cases split under blast loading," reads the UMR report. "ArmorBlast proved to have extremely high elongation, toughness and adhesion."
FIND OR BECOME

AN APPLICATOR
Find an applicator in your area or take the first step towards a low cost polyurea, polyurethane, or spray foam business opportunity and call us at 800.227.2905 or fill out our contact form below. Someone from our company will contact you to answer your questions and provide you more information.