MILITARY / BLAST MITIGATION
ArmorThane Reduces the Impact from Bombs and Bullets
MILITARY / BLAST MITIGATION
ArmorThane Reduces The Impact From Bombs And Bullets
ArmorThane UltraBlast™ -
THE ULTIMATE BLAST MITIGATION COATING
ArmorThane UltraBlast™ is the strongest, toughest coating known to the industry, having physical properties that are approximately triple those found in other high quality polyureas. This is important for the safety of people, property and the environment.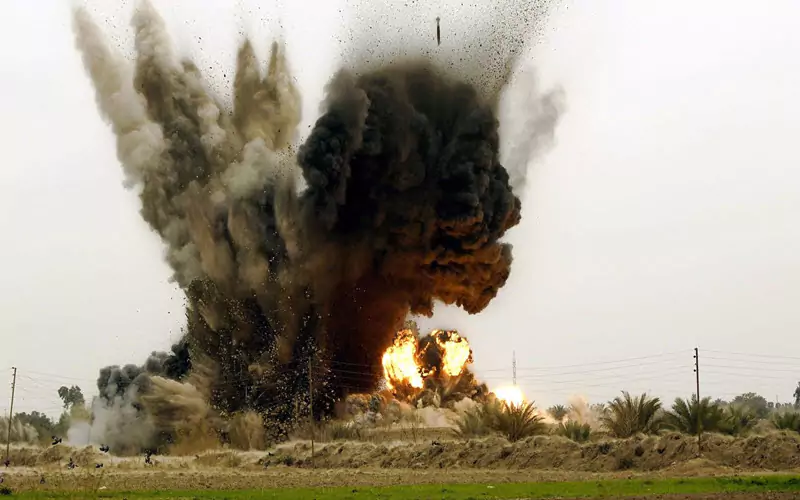 HOW DOES

AN EXPLOSION


CAUSE DAMAGE?
An explosion is a catastrophic event that can cause extensive damage in its wake. The sheer force and energy generated by an explosion can result in the destruction of buildings, infrastructure, and surrounding environments. When an explosion occurs, a sudden release of gases, heat, and pressure causes an immense shockwave to propagate outwards from the epicenter. This shockwave, along with flying debris and the intense heat generated, can lead to the collapse of structures, shattering of windows, and severe damage to surrounding areas. The impact of an explosion can be devastating, leaving behind a trail of destruction and posing serious risks to human life and safety.
HOW DOES


BLAST MITIGATION

WORK?
Our Polyurea blast mitigation coatings are specially designed to withstand the destructive forces and impact of high-speed projectiles, shock waves, and other extreme forces that can compromise the safety and integrity of structures and equipment. Our advanced coatings deliver excellent strength and durability, as well as unparalleled resistance to abrasion, weathering, chemical exposure, UV radiation, and other common hazards.
HOW DOES

ULTRABLAST

WORK?
ArmorThane's UltraBlast forms a strong "skin" that absorbs the shock to hold the surface together.  This maximum tensile strength and high elongation prevents or lessens cracking and fragmentation. The increased concussive force deflection and absorption works well with another of UltraBlast's characteristics, its anti-spall protection.  These superior properties reinforce the matrix of a structure, adding protection at every point it is applied.
ArmorBlast™ is the original product developed to protect against explosions.  It is somewhat less expensive but still effective for many uses.
ArmorThane's military-grade blast coatings have been tested on several structures consisting of concrete, tile and concrete masonry units (CMU) to simulate public buildings. These tests showed the products to significantly reduce building damage from explosion, compared to non-coated surfaces and other products.  Five types of testing sites have been used:
Uses of

UltraBlast and ArmorBlast Coatings
Targets most likely at risk for damage caused by bombs include:
Not all dangers are due to terrorism; some facilities can be at risk for explosion.  In addition to planned attacks, these coatings can protect areas that can be vulnerable to industrial accidents such as oil, gas and chemical facilities. Products also protects against excessive friction and highly corrosive chemicals. These failures can cause costly damage and consequential environmental hazards.
Our coatings also add maximum durability against extreme weather such as high winds, flying debris and flooding.  In tornadoes, hurricanes and earthquakes, coated structures resist cracking, spalling and water damage, depending on how and where the coating is applied.
UltraBlast and
ArmorBlast

Compositions
Both blast protection products were developed by ArmorThane from a two-component 100% solid polyurea.  They are a 1:1, fast set, spray-applied hybrid polyurea elastomer that is 100% solids and VOC free.  Coatings are professionally applied with HighLine high pressure spraying equipment.
Read more about Damage-Resistant Products.
| Physical Properties | Tear* | Tensile* | Elongation* | Surface Hardness* |
| --- | --- | --- | --- | --- |
| ArmorBlast Pure Polyurea | ASTM D-2240 550 pli | ASTM D-412 3600 psi | ASTM D-412 350% | ASTM D-1737 95-97 Shore A |
| UltraBlast Pure Polyurea | Die "C" ASTM D‐624* 250 +/- 25 pli | ASTM D-412 7100 psi | ASTM D412 800% | ASTM D-2240 50/95 Shore D/A |
*Please note, spray equipment, testing parameters, and application environment may result in differing properties. Users should perform their own independent testing as properties are approximate. Technical Data Sheets offer more information.
Read more about Blast Mitigation.
Watch Blast Testing Videos at University of Missouri Explosion Lab and in Iraq.
Learn more about all of the Polyurea Products.
Please contact ArmorThane to determine which is the best product for the project.  Call 1.800.227.2905.

FIND OR BECOME

AN APPLICATOR
Find an applicator in your area or take the first step towards a low cost polyurea, polyurethane, or spray foam business opportunity and call us at 800.227.2905 or fill out our contact form below. Someone from our company will contact you to answer your questions and provide you more information.