PART 2
In Part 1, we showed the strength and durability of Blast Mitigation Coatings. Products have been scientifically tested by Missouri University of Science & Technology Explosives Laboratory and benefits are proven over and over on the battle field and in non-military applications.
The most obvious application of blast mitigation coatings is military and government security facilities. This includes:
Military Vehicles, Equipment
Bunkers and Military Facilities
Political / Government Facilities
Police Vehicles, Water Patrol Vessels
Barricades
A number of commercial and private venues are also taking advantage of security coatings for more blast resistant buildings and transportation. These include:
High Profile Executive Residences
High Visibility Public Buildings
Venues such as Sporting Events
Armored Vehicles, Banks
Limousines and Other Transportation Targets
Exposed Pipes, Bridges, Chemical Tanks
Sensitive Facilities Attracting Protestors
In addition to coating building walls and vehicles, products such as blast mats are being manufactured. ArmorThane blast material is sprayed over a special blend of polypropylene and polystyrene foam. This creates a lightweight, portable protection for vehicle floorboards, barricades and other areas.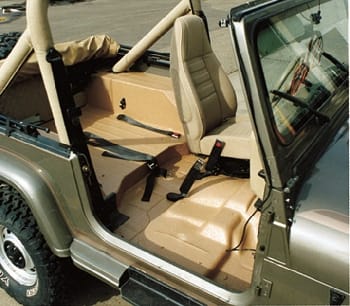 Concrete training bunkers for Military and Police that are sprayed with ArmorThane have proven to save thousands of dollars to facilities such as National Security Associates. Read how these bunkers can take nearly 200 grenades before being re-coated.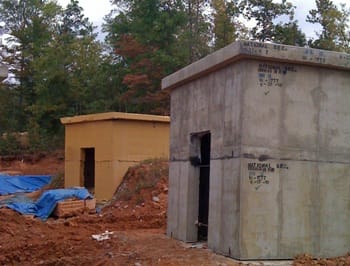 Not all dangers are due to terrorism; some facilities can be at risk for accidental explosion. Combustible environments such as chemical plants, refineries and a variety of tank applications can benefit from safety features of these coatings. An added benefit is the chemical-resistant and leak-proof nature of the coatings.
Besides reducing the impact of explosions, our coatings add maximum durability against earth tremors, extreme weather, highly corrosive chemicals. These failures can cause significant consequential damage and costly environmental hazards. Coating items such as sewage treatment systems, excavating machinery, chemical tanks and containment linings will repair and protect from further damage.
Read Part 1 on how blast resistant coatings work.
Read the study on blast mitigation.
Learn more about Blast Mitigation coatings.
Learn more about security and military vehicle blast protection.