Which Is Better:
Spray-on Bed Liner or a Drop-In Version?
WHICH IS BETTER?: SPRAY-ON OR DROP-IN BED LINER?
SPRAY-ON
VS DROP-IN Bedliner
First of all the decision should be between installing a do-it-yourself drop-in bed liner and having one professionally sprayed on. It's a fact that if you must install yourself, a drop-in is the way to go since DIY versions of spray-on or roll-on can end up being a costly nightmare.
However, a drop-in has to be attached and that usually means drilling permanent holes in the floor and sides. The bulky nature reduces cargo space, adds weight and can create noise and vibration that you won't have with sprayed-on bed liners.
Fit is critical with a drop-in, whether the one-piece or snap-together. However, a spray-on covers any shape and model, even custom designs. That's why owners of trucks and vehicles of all sizes have chosen the ArmorThane spray-on method.
Another factor is that polyurethane sprayed-on liners form a permanent bond with the metal to become completely water, dirt, and chemical resistant. The number one complaint of a drop-in liner is that it will vibrate and move around, scratching the paint underneath. Gaps can allow water, grit and other materials to seep between the liner and the truck and can lead to corrosion and rust. The spray-on liner completely seals to the surfaces so there's no chance of debris reaching the metal, even in a monsoon.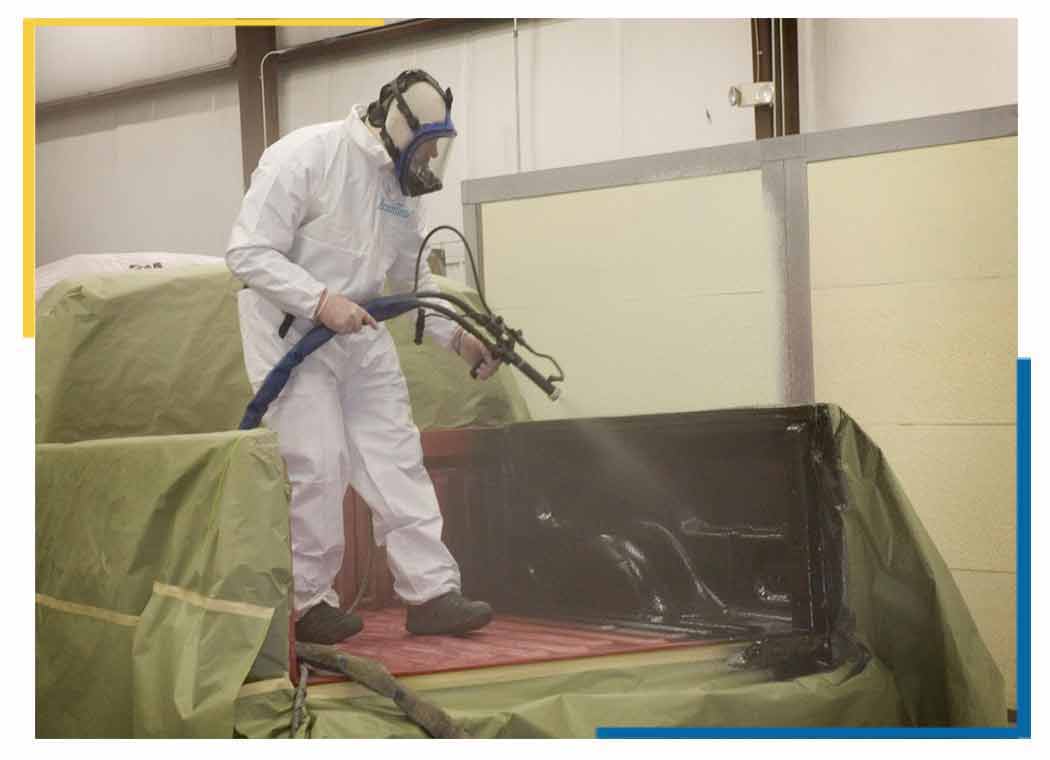 BENEFITS OF
SPRAY ON Bedliner
The spray-on bed liner is easier to clean and just washes out with a hose or going through the local car wash. To thoroughly clean a drop-in, you have to unbolt it, drag it out and scrub both the truck and the mats; waxing the truck bed is a good idea too.
Sprayed-on liners remain flexible and never become brittle in the coldest of temperatures. In extreme heat and prolonged direct sunlight, they don't soften or become tacky. They are as tough as the terrain and climate for anywhere you chose to travel.
Cosmetically, spray-on bed liners have a much more attractive appearance. It may be a working truck, but who doesn't take pride in driving something nice?
And, if you expect to remove the drop-in later and put it in another truck, you will likely be disappointed that it doesn't fit or is too worn to reuse. The damage left behind makes selling more difficult. On the other hand, because a spray-on liner lasts so long, it actually adds value to a resale.
WHAT ABOUT
DROP-IN Bedliners?
Drop-in liners often tout price-savings, but in the end can cost more in repairs to the truck. And, given the overall cost of the truck and maintenance, a few dollars more for a reliable, permanent liner is worth it.
Of course, quality depends on the installer and that's why ArmorThane dealers go through a rigorous training process for both prepping, coating and curing the bed liners. Other brands may not have that regimen.
When you take your truck for a quote, make certain to ask the right questions, especially about the preparation step in removing the paint and fixing any existing scratches, dents or rust. Make sure they plan to remove all of the parts such as tailgate and rails and keep holes from being permanently covered.
How thick will the coating be? ArmorThane specifies spraying of 125-250 mils or 1/8 inch to 1/4 inch. Other applicators may not spray thick enough. Adequate coating ensures against scratching or chipping, even under heavy usage. Drop-in liners hype their protective ability but spray-in liners are equally effective if sprayed correctly.
With spray-on bed liners, the same material can be used to protect and repair bumper, fenders, undercarriages, and floors. All matching, all ultra protected. You can't do that with drop-ins.
Drop-in liners are typically black. ArmorThane's ColorCoat system matches any auto maker color, even metallics. With ArmorThane, you can get an aliphatic material with UV prevention. The last thing you want is to have a permanent surface that's fading.
If your drop-in liner causes damage, where are you going for repairs? ArmorThane gives their products a lifetime warranty; ask your installer for specifics. Even if you have an accident, a dealer can usually fix it.
Whether you are protecting a new truck from day one or bringing an old one back to life, choose an ArmorThane bed liner. Spray-on bed liners may cost a few dollars more but the result is priceless.
Check out this video of what it takes to spray on an ArmorThane bed liner.
Here's how one customer turned to ArmorThane for repairs and restoration of cladding problems on a Chevy Avalanche.
WANT TO
BECOME AN APPLICATOR?
Without a profit stealing franchise model that restricts business potential, we assist you in developing a financial plan and formulating product costs that position you for success once you join the ArmorThane applicator network. Starting your own coatings business has never been so easy. Fill out the form below to become an applicator today!