How To Repair Truck Bed Rust With ArmorThane
HOW TO REPAIR TRUCK BED RUST WITH ARMORTHANE
Truck beds have a difficult existence. They are constantly exposed to the elements, have things dropped and thrown on them, and generally get beaten up while being the reliable, utilitarian, and functional gear hauler you've dreamed of. Inevitably, this means your truck bed can start rusting out years before the rest of the vehicle begins to show any serious wear. It's only a matter of time until your truck's bed begins to show signs of wear. While those dings and dents that adorn your truck's bed from a life well lived might add character, it's only a matter of time until it starts to rust. A little rust isn't the end of the world. But once it starts to spread (which it always does), it becomes a much more significant problem. Whether you've got a small rust spot or the rust reaper has lived a long life in your bed, ArmorThane is here to help.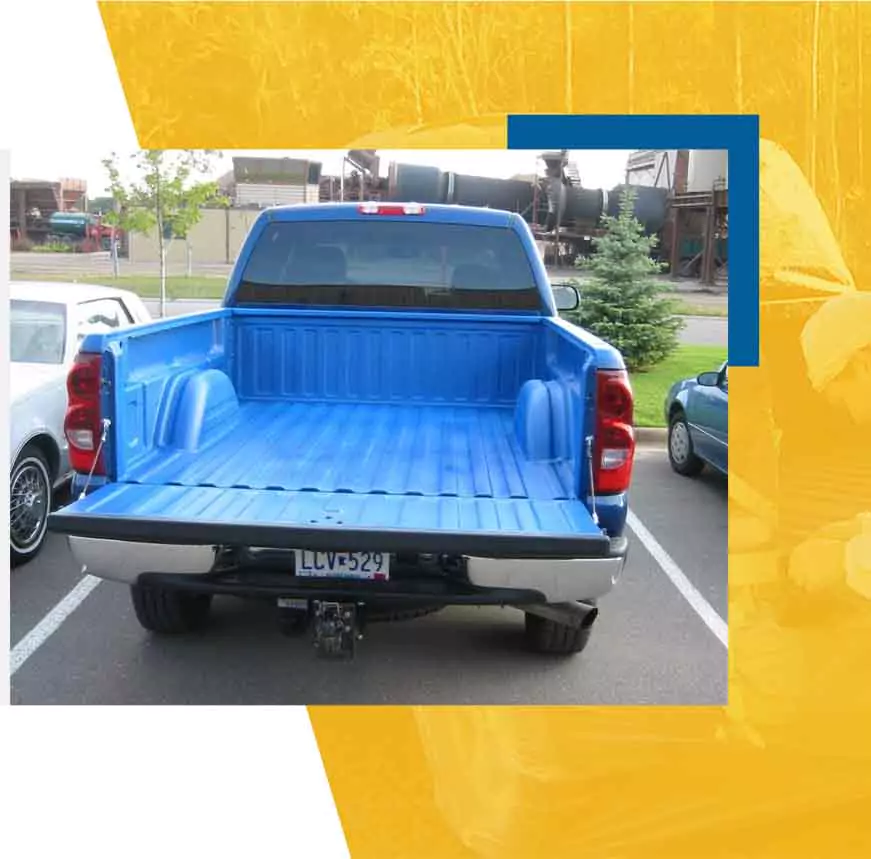 This DIY approach to remove rust from your truck bed presumes you don't have special tools or an unlimited budget. Like most things in life, there are various methods to do it.
In addition, this rust repair technique presumes there's only surface rust, maybe some mild pitting. Truck beds that are rotting or missing significant amounts of metal will need a different approach, such as welding in patches and using body filler, which we do not cover in this blog.
Aromatic is generally used for black color and is the least expensive option. If a colored bedliner is desired, Aliphatic can be implemented because it is more stable over time in ultraviolet light. However, this pure polyurethane chemical will drive up the cost around 30-45%.
Aliphatic material can be sprayed in a wide range of colors, and UV rays will not alter this color, unlike Aromatic will.
Remove
Start by removing the rust using a wire wheel mounted on the angle grinder. Then, work your way up to the rusty region and in the paint to ensure that no rust is hidden beneath the paint.
Then, make use of a sanding disk on your angle grinder. Smooth the rough surface. Finally, you can blend the repaired area into its surrounding paint. Start with a grit of 80 and then gradually move upwards to 400grit. The process of fusing the paint is a bit difficult, but not necessary should you opt to opt for using a bedliner in place of paint (which we will discuss below).
Clean
If you're using a chemical rust removal agent, make sure to use it before cleaning your truck's bed or following the manufacturer's recommendations. When the bed is free of rust, it is necessary to thoroughly wash it using water and soap, followed by an agent to remove the grease. Then, thoroughly dry the area before proceeding.
Paint
One of the toughest things to repair rust in the bed of your truck is making the repaired area blend in with that original paint. This isn't a problem when it's a beater farm vehicle. However, your everyday driver has a different story. If you regularly drive an older farm vehicle, then good for you. The most effective way to incorporate the rust repair zone in the original finish is to paint the entire bed. However, if you find this too difficult, keep looking.
The auto parts shop in your area will assist in finding the appropriate paint or primer that is suitable for the vehicle. Inform them that you're fixing the bed of your truck that is rusty, as there are specific primers designed for such projects. Each automobile paint differs, and you should follow the manufacturer's instructions for the most effective outcomes.
Apply primer and paint when it is cured. It would help if you allowed enough time and the perfect weather conditions. You may require several coats, and certain paints need a couple of hours between coats before applying another. Cover up areas surrounding the repair area to avoid overspray.
Another option is to get the entire bed covered with an ArmorThane bedliner. It covers the repair area and provides protection for your whole bed against dings and scratches that could result in rust within a short period of time.
TRUCK BED RUST REPAIR
NEAR YOU
When it comes to chemistry, not all bedliners are created equal. As the leader of all high-performance spray-on bedliner businesses, ArmorThane takes its products very seriously. ArmorThane has been the best bedliner company for over thirty years.