Measuring Your
Truck Bed Correctly
MEASURING YOUR TRUCK BED CORRECTLY
If you own a truck, there are a variety of reasons to know the dimensions of your truck bed. The primary reason is to assess the capacity for transport. In simple terms, you need to know the amount you can haul before attempting to transfer something that is too big.
Maybe you're planning to furnish your truck with a few accessories. Looking at your bed or following the manufacturer's specifications for size isn't always the best way to get the desired outcomes.
Vehicle manufacturers hide important information like bed length to keep you from bolting aftermarket accessories by being as obscure and complex as possible. But it doesn't end there. The mentality of "the dealership knows and does the best" continues with manufacturers who blatantly mold a gigantic emblem in the middle of your liner.
No worries, we take pride in ripping that junk plastic right out and replacing it with a spray-in bedliner that will outlast the vehicle itself! If you would like to have this done by one of our professionals, click here to locate an applicator in your area. Otherwise, read on to learn more about how to correctly measure your truck bed.
We've created an overview of the best way you can measure the dimensions of your trucks 
bed accurately. Let's start with the basics , before moving into special applications, and measurement methods. Let's get started.
TRUCK BED MEASUREMENT BASICS
Before we discuss measuring for specific accessories, let's get started by defining the basics of how to measure the dimensions of your truck bed. To begin, you'll require at minimum a 10-foot or larger tape measure and an eraser and paper to document your measurements. The calculator from your smartphone could also be helpful for more complex calculations.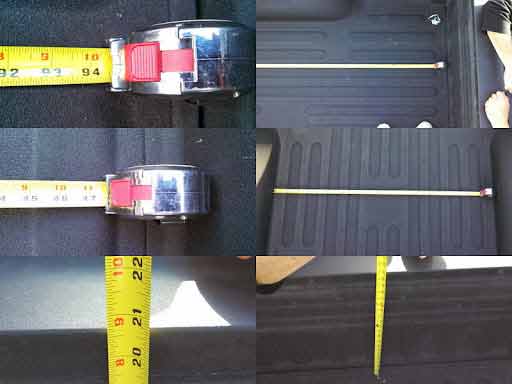 To make this measurement, place the tape on the edge on the inside of the wall's side, or " bulkhead." While keeping your tape measure straight and extend it over the inside of the opposite bulkhead and record the measurement.
Take note that many pickups come with wheel wells that extend to the sides of their bed. If you're planning to flatten something for transportation, measure between the inside of the wheel wells instead.
CALCULATING SQUARE FOOTAGE
To determine your truck bed's square footage, multiply the length of the truck by its width, in inches, then divide by the number of. Here's a quick example:
Assume that a truck bed is 48 inches in width and the length of 96 inches.

We could calculate: 48 x 496 = 4,608.

We can then determine: 4,608 x 144 = 32. This means that our truck bed is 32 square feet..

In the majority of cases, the main concern with the contents of your truck is the weight, not the quantity. However, it's not legal in a lot of places to carry a load that is stacked over the rear of the tailgate. So in these cases, you'll need to determine your cubic yardage. You'll need the square footage to accomplish this, so you should begin by calculating the amount of square footage.
After you've determined this number, measure your tailgate's height from the bottom of the truck bed and then divide that measurement by 12. This gives you the bed's length by foot. For example, if the tailgate measures 18 inches in height then you'd write "1.5". Then, all of your measurements are in feet, so you must calculate the amount and then change it into feet.
If we assume our truck's bed in this case 32 square feet, at an elevation of 1.5 feet, 1.5 feet, would be 48 cubic feet. 48 cubic feet (32 1.5 x 1.5 is 48)
To calculate how much cubic yards, you need to divide your cubic foot by 27. Thus, we'd determine 48 x 27 = 1.78 square yards.
Bedliner measurements are done exactly the same way as regular measurements. You'll need the tape measure along with a pencil as well as some paper. While the process is easy, remember that this process will only give you the dimensions in raw form but it will not reveal the bed's shape or shape.
Because of this, the majority of drop in truck bed liners are made to fit specific models of trucks. Beds for trucks can change between years or even between different versions of the identical model. The more you know regarding your vehicle, the more optimal fit you'll get. This is why we recommend going with a spray in bedliner. With spray-in bedliners, there is no need to know these measurements. Leave it up to an ArmorThane applicator specialist to know and worry about these dimensions for you.
MEASURING FOR A TONNEAU COVER
Many truck beds don't have round-numbered measurements, a short bed (F-150) being a prime example. It has an advertised bed length of 67 inches, but the actual length is 67.1 inches. If you're confused, there are plenty of online charts with actual bed lengths listed.
If we divide size and the length in inch by 12 it will give us the measurements of feet. Liners for the rails and tailgates could also alter the measurements. Be sure to account for the thickness of their liners when you calculate your numbers prior to buying a Tonneau cover
If you are looking at the bed box, it is possible to see you can find two distinct length measurements. The first is what's the length of the bottom and bottom that the boxes sit on (which is positioned on the rails) and the other is the size of the inside container that fits in the vehicle bed. The smaller of the two figures is what that you need to be concerned about.
The height is another factor to consider. It's okay to have an instrument box that is smaller than your rails. It'll leave a gap between the lower part of the toolbox and the bed's bottom of your bed. But, if the bed is too large it will be difficult to secure it to the rails. Be sure to account for this measurement in your selection of the bed box.
MEASURING FOR NERF AND RUNNING BOARDS
Running board and nerf bar measurements are a bit different from the typical measurements. One reason is that you don't measure how long the bed. Instead, you'll want to measure the distance between wheels. measure how much distance between wheel and wheel.
There are two kinds of Nerf bars. One is cab length and is designed only to aid you in getting into and out of the vehicle and get to at the very top of your cab. Others are fully in length, and extend to the rear wheel..
To protect yourself To ensure your safety, don't measure the exact distance between your rear and front tires. It is better to measure what distance is between wheel wells and then reduce it to the closest inch and provide ample space for your wheels to spin in a safe manner.
You've got all that you need to know in order to measure the size of a truck bed for the most general purposes. If you're interested in learning more, feel free to message us and we will be happy to answer any questions you might have.
Take the first step towards a low cost polyurea, polyurethane, or spray foam business opportunity and call us at 800.227.2905 or fill out our contact form below. Someone from our company will contact you to answer your questions and provide you more information.