Repair Leaking Roofs with ArmorThane Coatings
Commercial metal, hot asphalt "tar & gravel" and many other roof materials are prone to leaks, especially when flat or low slope or have multiple angle/valley seams.  Leaking most often shows up around flashing, HVAC units, vents, piping, sky lights and other structures penetrating the surface.
Removing an old roof to install a new one is very expensive.  Many inadequate repairs simply involve pouring on more asphalt but this seldom fixes the problem long term.  And, asphalt is climbing in cost.  Instead, consider these ways of repairing with polyurethane or polyurea coatings and sprayed polyurethane foam (SPF).
Quite often leaking is not the fault of the original roof.  Something causes a gap between the roof and penetrations.  Commercial roofs have many vulnerable points such as flashing around HVAC, pipes, vents and cables as well as construction seams and screws.  Here are seven primary concerns:   Ponding on Flat Roofs from clogged drains and scuppers.  Sagging occurs with extra load, algae and vegetation lead to rust on metal, and freeze/thaw cycles add damage.
Ponding on Flat Roofs from clogged drains and scuppers.  Sagging occurs with extra load, algae and vegetation lead to rust on metal, and freeze/thaw cycles add damage.
Separations from Vibrations creating gaps over time that can eventually leak.   A major vibration is from HVAC units.
Temperature Extremes causing subtle expanding and shrinking.  Freeze/thaw cycles allow ice dams to move and cause damage from "scrubbing" the roof membrane.
Storm Damage from hail, high winds and falling debris.
Human Foot Traffic whether from workers or socializing tenants in a gathering area.
Failed or Worn Out Roofs that have rusting metal or cracked and peeling asphalt or concrete.
New HVAC Equipment and Duct Work that doesn't have quite the same dimensions.
Replacing a roof may be inevitable with major damage but is very expensive and often avoidable.  Not only are labor and material costs skyrocketing, but other factors add expense to the project.  These include removal of the old roof and replacing, moving or working around existing penetrations.
If minor damage is confined to relatively small areas and the roof still has no additional layers of covers, the best choice is to repair. ArmorThane mobile applicators have a number of solutions that are exceptionally effective in sealing a roof.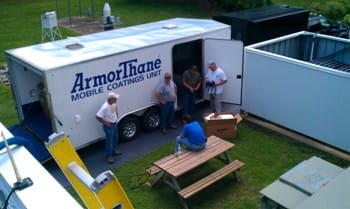 The first step is to repair damage including patching holes or removing rust to prevent further deterioration under a new coating. Next, applicators using long hose lines from a mobile equipment trailer spray a coating with very strong adhesion properties. These products fix and prevent leaks with many additional benefits:
Creates a waterproof barrier
Fills in cracks and minor imperfections
Withstands extreme weather conditions ranging from 80 degrees below zero to 280 degrees Fahrenheit
Does not soften in heat or become brittle in cold
Stretches three times length without breaking so doesn't crack with settling or vibrations
Reduces noise and vibration
Comes in a variety of colors
As an example, PICI NH successfully sprayed a metal roof where the roof attachments were leaking.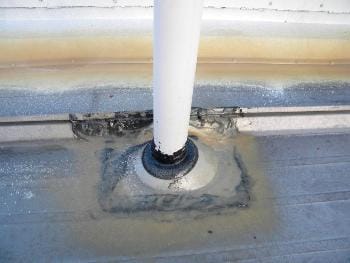 Several metal portacabins used for offices in Nigeria were leaking due to the flat tops corroding. ArmorThane coatings stopped the damage being caused by water seeping into the interior.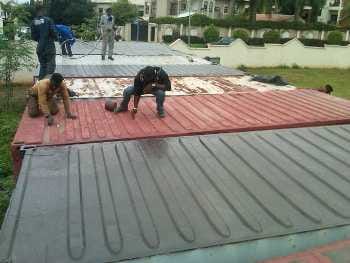 This project was on the concrete roof deck at Cadbury.  With a flat surface, they had a severe leakage problem.  Every time it rained, water seeped into the concrete and was ruining the interior. Spraying ArmorThane STS 200 polyurethane solved the problem.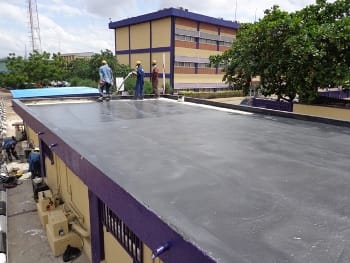 A major manufacturing plant with multiple pipes going through the roof surface found the best solution for repairing leaks and preventing future problems was to have ArmorThane polyurethane or polyurea sprayed throughout.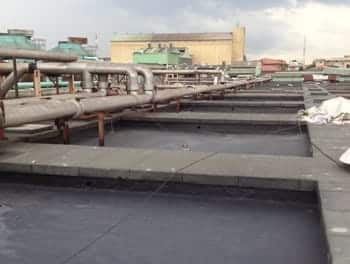 The saying goes "prevention is the best medicine."  Companies with flat or low slope roofs or ones with multiple angles and valleys are waiting for trouble.  The alternative is to proactively seal around penetrations and seam attachments. Even better is to coat the entire surface.  This can add years to a roof, preventing both natural deterioration and many types of storm damage.
TOUR A CUSTOM-BUILT MOBILE COATING TRAILER

LEARN MORE ABOUT BECOMING A PROFESSIONAL ARMORTHANE APPLICATOR