Repair Aging Concrete Refuse Chutes
Trash Chute COATINGS in Singapore Flats
Eighty-five percent of Singapore citizens live in publicly built and governed housing. These high rise apartment buildings, called flats, are designed with one or more trash chutes running the height of the building. The waste falls through the hopper into collection bins which are then removed. This garbage disposal method is installed everywhere for convenience, but can become an unhealthy environment for bacteria growth, foul odors and vermin.
Many of the 900,000 living units built in Singapore by the HDB (Housing and Development Board) since 1960 use concrete refuse chutes which are now deteriorating. A number of renovation projects have been initiated, including the repair of these concrete trash disposal hoppers.
ArmorThane's High Humidity Solution:
Trash CHUTE COATINGS
In consulting with applicators in Singapore, ArmorThane quickly addressed the problem of high humidity which often causes polyurethane and epoxy polymers to lose their properties needed for long-term repairs and structural integrity. It would be unrealistic for applicators to wait for the optimum spraying conditions.
Instead, ArmorThane recommended the HighLine 510 material sprayed at a 1:1 ratio for this type of concrete rehabilitation project. The ArmorThane 510 is an elastomeric polyurea specifically designed to cure properly in highly humid environments found in areas such as Southeast Asia. Because of the decreased moisture sensitivity of 510, crews can spray the chutes on any set schedule.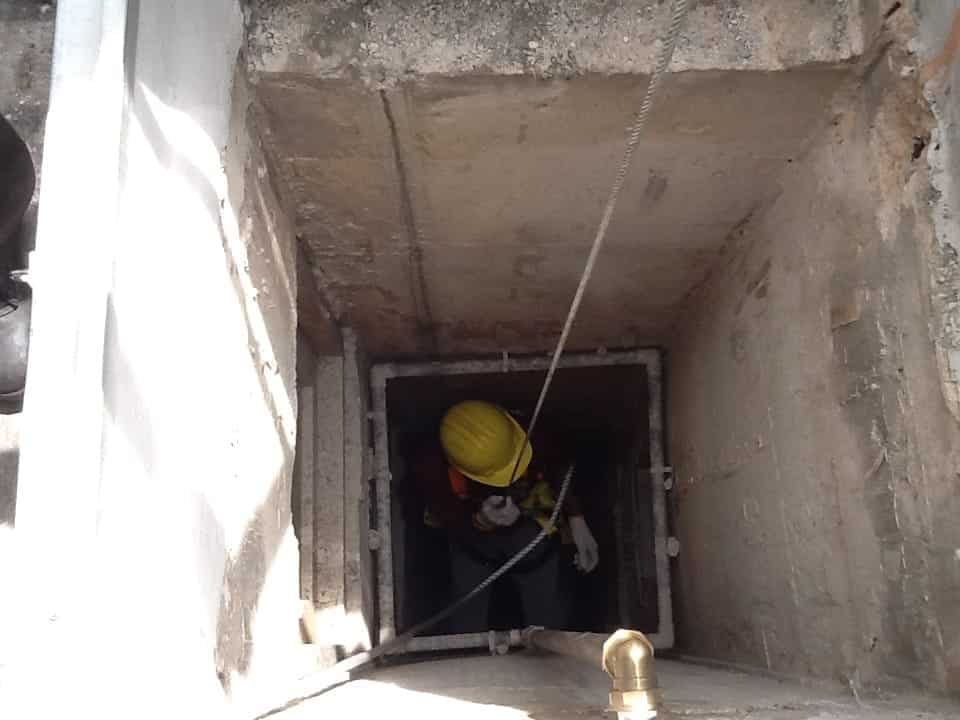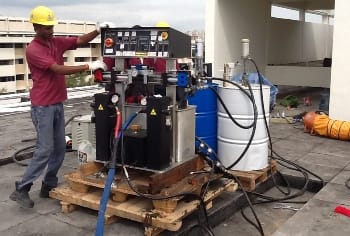 The process for coating these types of chutes is relatively simple. A clean and dry concrete surface with a rough profile can be sprayed without first applying primer/sealer. Once the hopper is cleaned and inspected, the high pressure spraying equipment is set up. Applying the coating involves lowering the trained technician down the chute, spraying all four sides as he goes. These chutes are often 12 stories high and can reach over 25 stories. Spraying was accomplished covering about 30 feet per hour.
Benefits OF Trash Chute & Sewer
Reclamation / COATINGS
The sanitation protection and rehabilitation industry uses elastomeric coatings to keep existing structures and equipment in working order. ArmorThane polyureas like the HighLine 510 are proven to provide the following benefits to concrete and steel rehabilitation projects, and specifically to the "trash" industry.
Increased Wear Protection – the service life is greatly improved, in some cases even by a factor of 4 or more
Corrosion Resistance – corrosive elements that could potentially cause structural failure over time are blocked by the chemically-resist polyurea coating
Easier to Clean – even a simple washing of a coated surface can remove refuse and organic build up; cracks and crevices are sealed
Reduction of Bacterial Growth – the combination of the inert and impermeable nature of a cured ArmorThane coating reduces the ability of bacteria to gain a foothold and subsequently, the easier-to-clean environment slows accumulation of bacterial strands
Sound Dampening – the movement and impact of falling refuse to the structure walls has a lower level of noise with coated refuse chutes
The HighLine 510 has superior performance compared to any other coating option involving concrete rehabilitation, high humid climates and maximum sanitation control. Check out the YouTube videos of spraying both the trash chutes in Singapore and the sewer manholes in Hong Kong.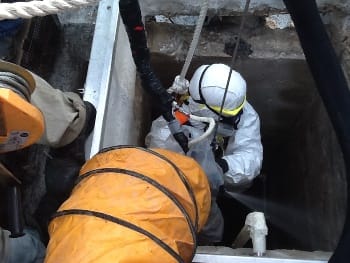 The advantage ArmorThane offers applicators is both the knowledge of polymers and a wide variety of coating options for public infrastructure projects, such as deteriorating concrete buildings, bridges, waterproofing systems, secondary containment, trash chutes and sewers that are often decades old. Even with proper maintenance, they eventually need repair to prevent costly replacement. Better yet, the coating of newly installed projects extends the life of structures and makes maintenance more effective, thus reducing costs long term.
In addition to public works projects, the ratios of our materials and physical properties of each coating make them suited for many applications. These elastomeric sprayed-on coatings are developed for concrete, wood, steel and other materials and are used the world over. A few of our other projects include impact and corrosion protection in mines of Peru, metal roof repair and waterproofing along the coast of Nigeria, truck and heavy equipment protection in Australia and explosive blast mitigation and protection for the US Military.
Take the first step towards a low cost polyurea, polyurethane, or spray foam business opportunity and call us at 800.227.2905 or fill out our contact form below. Someone from our company will contact you to answer your questions and provide you more information.