Why Coat Concrete Surfaces?
Concrete is porous despite its solid look.  That makes it particularly susceptible to cracking, chipping or flaking (spalling) during freeze-thaw cycles and ground shift.  Occasionally, damage starts with a poor new project set up.  At other times, simple wear and tear of use over time does enough damage to ruin a floor.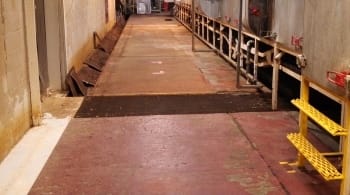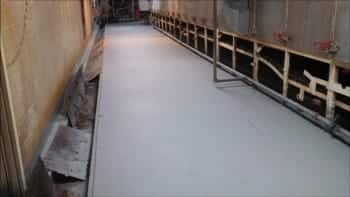 While paint and other floor coatings last a comparatively short time, ArmorThane floor coatings will retain benefits for years.  Besides the attractive look of a coated concrete floor, here are just some of the benefits for permanent surface protection: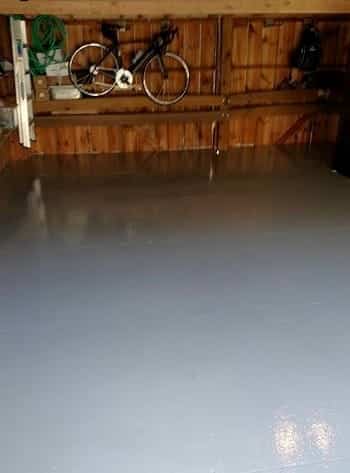 No chipping or peeling
Resistance to cracking, spalling and rebar rusting
Flexible without cracking under heavy weight or weathering
Impact, scratch and abrasion resistance to heavy foot or vehicle traffic
No softening in heat or becoming brittle in cold
Easier to clean
No oil and dirt staining
No discoloring when exposed to chemicals
Waterproofing to seal joints and cracks
Ability to add color chips or UV stable abrasives for a professional, more attractive appearance
Slip and skid resistance
Excellent color and gloss retention, no fading
Add New Life to Old Floors
Whether residential, commercial or industrial settings, there is no need for owners to settle for plain or clear coated concrete floors.  All of these areas can benefit from attractive, long-lasting protection.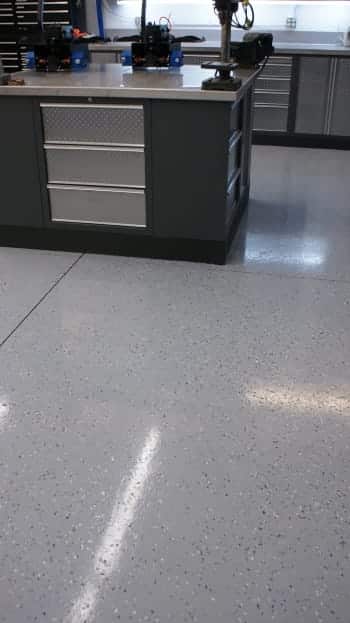 Indoors and Outside Surfaces
Decks, Porches, Patios
Basements, Mud Rooms, Dens
Garage Floors, Driveways, Parking Lots
Entryways, Showrooms, Retail Outlets
Manufacturing, Warehouses, Loading Docks
Schools, Daycare, Healthcare Clinics
Kennels, Animal Habitats, Veterinary Clinics
Food Processing Areas
Workshops, Office Complexes
Note that high-gloss floor coatings may become slippery when wet.  Abrasive aggregate can be applied to add slip-resistance.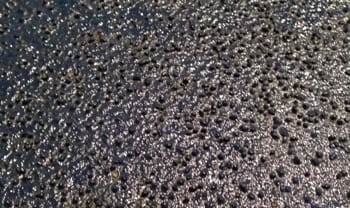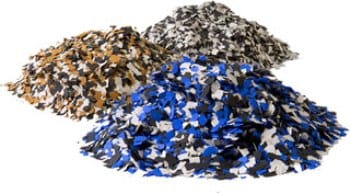 Steps for Applying Coatings
Unless a coating is being applied to new concrete, the first step is to assess existing damage.  Surfaces need to be relatively clean and cleared of loose debris.  Dealers are trained to repair cracks and other damage for a smooth, professional look.  Any exposed and rusting rebar needs to be fixed because the rebar can continue to rust and corrode the concrete from the inside even after coating.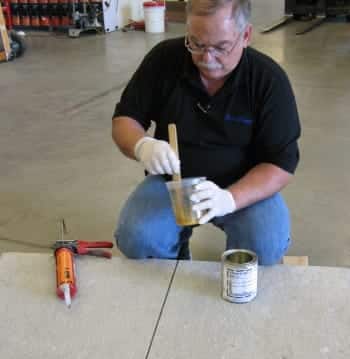 Second, determine how waterproof the floor should be.  In other words, if the surface is exposed to water either through rigorous cleaning, rain or potential flooding, decide how far up the wall should be sealed and coated.  Check out these articles on Reduced Risk of Spreading Bacteria on Floors and Waterproof Barriers Require Connecting Two Surfaces.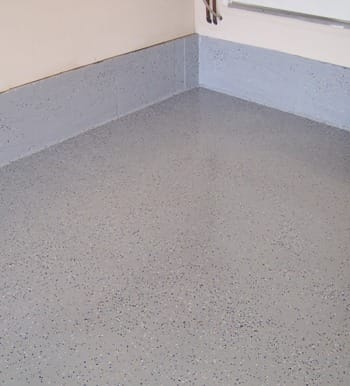 In addition to the primary coating products, we also supply primers, topcoats, pigments, and solvents selected to specifically work with ArmorThane chemicals.   These add to the repair and design of the floor.
Coating Options
All of our products repair damage and protect new concrete for residential, industrial and commercial applications.  Two are designed more for concrete, either indoors or out.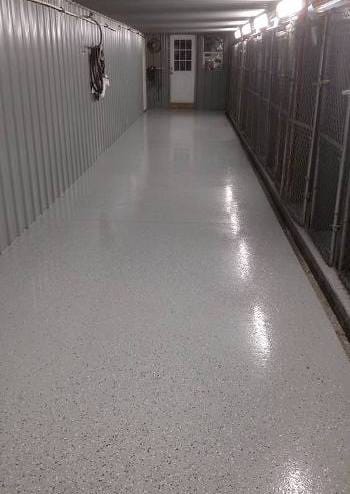 ArmorFloor PA™ is a two-component, color-stable aliphatic polyester polyurethane for use in moderate to severe chemical environments in indoor or outdoor applications.
ArmorDeck™ is a two-step process.  The first is a single component, high solids, solvent-free, low odor, environmentally safe, liquid applied, moisture cured, aromatic urethane polyurea elastomeric waterproofing base membrane.  This is typically used as an exterior coating on concrete or plywood decks, patios, walkways, marinas and sports areas.
The second step is an ArmorDeck™ Topcoat.  This is a polyester, color-stable aliphatic, single component, liquid applied, moisture cured, urethane polyurea surface protection coating applied over ArmorDeck.  It adds durability, excellent weatherability, seamless waterproofing membrane, UV resistance and abrasion resistance.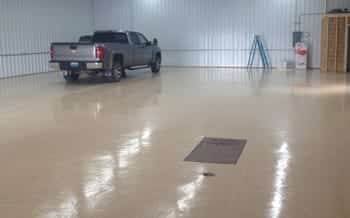 All of these products may be applied with a roll-on or trowel process or they can be applied with airless or conventional spraying equipment. Coatings are put on by trained ArmorThane applicators.
Slip Resistance comes from Color Quartz or other abrasive materials being applied.  Decorative Color Chips are often used for design.
ArmorThane also offers a number of Polyurethane and Polyurea Spray options.  While these are most often used in commercial and industrial settings, they make a great floor coating anywhere.  Choices range from broad use to specific environments.  For example, some Polyurethane and Polyurea products are more resistant to slip/skid, high moisture, high impact, cracking or corrosion and would work better on floors exposed to these problems.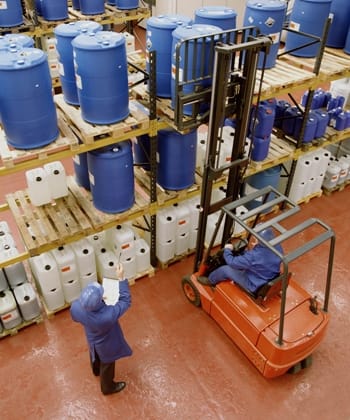 For more ideas, check out this article: Best Way to Fix Patios, Porches, Concrete Floors.
Check out these two videos to see the strength of ArmorThane: Torture Test to Prove ArmorThane Crack Repair and Torture-Test for Polyurethane-Coated Deck.